We may include affiliate links to products and services that we believe will benefit our readers. As Amazon Associates and affiliate program participants, we earn from qualifying purchases. Details here.
Who would have expected to find Singapore's oldest Hindu temple smack dab in the heart of Chinatown?
It's unexpected, to be sure, and the story behind it is interesting.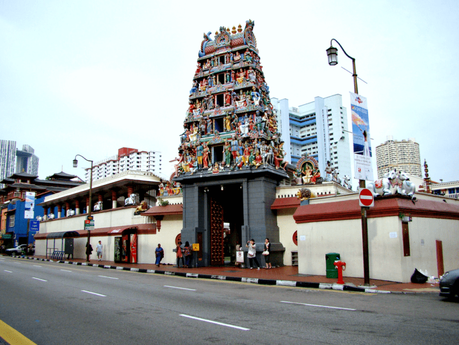 History of Sri Mariamman Temple
Sri Mariamman Temple dates back to 1827, which was eight years after the British East India Company established a trading settlement in Singapore. It wasn't supposed to be there originally; the British first offered land in Telok Ayer Street for a Hindu Temple along with sites for a Chinese temple and a mosque. The Hindus turned down the offer because Telok Ayer did not have the convenient source of fresh water that Hindus require for their rituals.
After the Brits offered this site at South Bridge Road (1823), a treasury clerk, who was the first recorded Indian immigrant to Singapore, built a humble wood and atap hut on the spot. It was dedicated to the goddess Mariamman, who nourishes and protects all things. Mariamman is also known for her healing powers in epidemic diseases such as cholera and smallpox, which were rampant in early Singapore's jungle environment.
In 1843, South Indian immigrants replaced it with something more substantial. The temple soon became a refuge for new immigrants, who stayed there till they found work and accommodation.
Sri Mariamman Temple remains the oldest Hindu temple in Singapore. However, since then, the temple has been rebuilt and expanded to better serve the Hindu community. It is now a 3-story complex, complete with an auditorium and rooms for weddings, meetings, cultural events, and so forth. Anmd yet, the oldest parts of the temple are from the original 1843 structure. Its history remains.
Interesting fact: Two nearby streets got their names because of this temple: Temple Street (for obvious reasons) and Pagoda Street, because of the shape of the temple's gopura.
Visiting the temple
In the early evening, priests, worshippers, and musicians take part in age-old rituals and present beautifully-arranged offerings to their gods. These offerings are carefully selected according to what they symbolize. For instance, mango and coconut leaves are signs of purity, and bananas symbolize abundance. Worshipers always walk in a clockwise direction in the temple, for an odd number of times, in order to have good luck.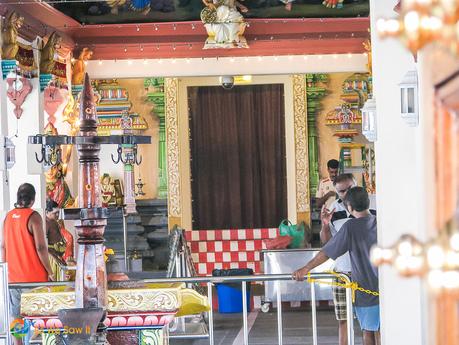 Sri Mariamman Temple is best known for the colorful and elaborately carved 6-tiered tower over the temple gates. Towers like this, called gopuram, are quite typical in Dravidian architecture. (The famous Angkor Wat in Cambodia was also based on this style.)
Although not every one is painted like this one, every gopura is made from sandstone, soapstone or granite, and every oneo is intricately carved with Hindu deities and mythological beasts. Gopuram are always pyramid-shaped, tapering straight up toward the sky.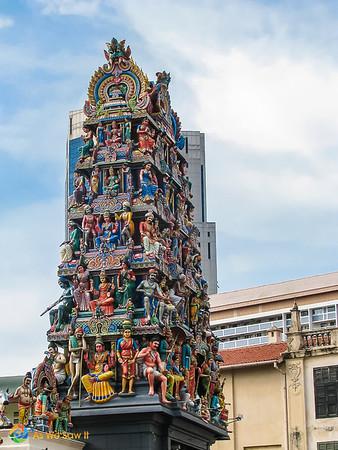 Important gods
Next to the gopura at this temple are sculptures of two important HIndu gods: Murugan and Krishna. Murugan is the god of war and the Tamil patron deity. This is the same god that is honored at Batu Caves in Kuala Lumpur. There, you will see a massive golden statue of a god and, if you're there in February, you can attend the annual Thaipusam festival.
Read more: How to Photograph Thaipusam at Batu Caves
Krishna is easy to spot: He is always a blue-skinned cowherd boy playing his flute. He is greatly beloved by Hindus as a divine warrior, gentle lover, and teacher.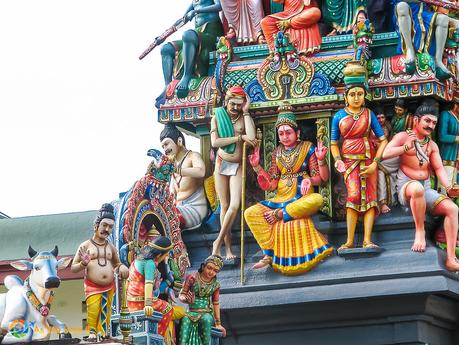 Temple doors
Beneath the gopura are imposing wooden doors. Their massive size is quite deliberate, designed to remind the worshippers of their insignificance in comparison to the divine. And the grids of bells on the doors? Devotees believe that ringing them will bring good luck.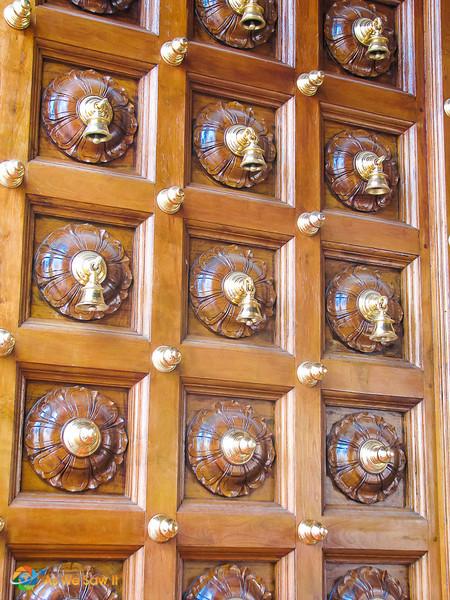 Inside the temple
The inside of the temple is as colorful as the outside, with colorful paintings everywhere, even on the ceiling. The main prayer hall contains the central shrine of Mariamman. On both sides are the shrines of two secondary deities - Murugan (you saw him outside) and Rama.
Nearby are a series of free-standing, dome-roofed shrines for different deities.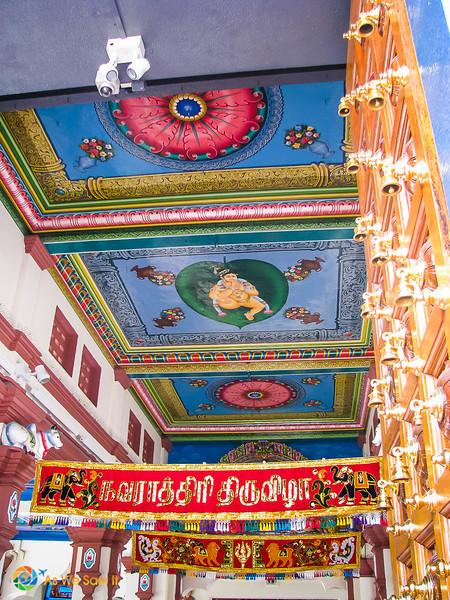 Firewalking at Sri Mariamman Temple
If you are in Singapore between mid-October and mid-November, you are welcome to one of the temple's main festivals. Sri Mariamman Temple holds an annual fire walking ceremony (timiti) about a week before Deepavali, the Festival of Lights, and it is an impressive sight.
Details on Sri Mariamman Temple Firewalking 2018
The annual Fire Walking Festival will be held at Sri Mariamman Temple on Sunday, 28 October 2018. Click here to download the brochure.
Live video streaming will also be available. The festivities begin at 1 pm, singapore time (GMT+8).
Inspired?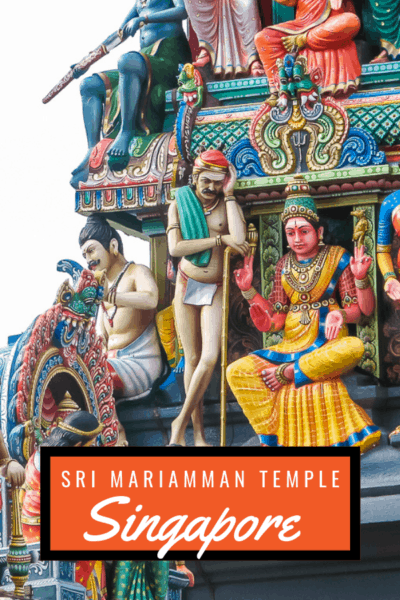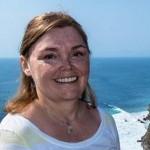 Written by Linda
Linda is multilingual and has been to over 50 countries. Her insatiable love of travel, cuisine, and foreign languages has inspired her to create As We Saw It with her husband Dan, a professional photographer. Her goal is to make travel easier for others and to offer a brief escape to another land.
You may also like...