'Tis the season of giving back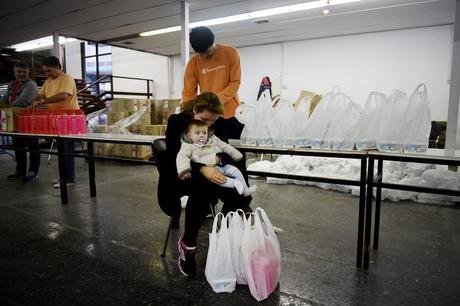 From food drives to coat drives to creative gift-giving opportunities, there are countless ways to give back in Chicago, and it's needed now more than ever. Spread holiday cheer to those in need by participating in one of these inspiring donation and volunteer programs.
Chicago Cares
Greater Chicago Food Depository
1 City, 1 Food Drive – Program that works with over 500 food pantries and over 250 public donation locations to collect food during the holidays.
Chicago Broadcast Drives
NBC5/Telemundo Chicago Coat Drive – Donate new or gently used coats to various locations throughout the city for the Salvation Army.
WGN Morning News Toy Drive – Participate in WGN-TV's annual drive-thru toy drive on December 22.
Children's Home + Aid
Snug Hugs for Kids – Donate new or gently used winter clothing to infants through 18 year-olds, or participate in a Crochet and Knit-a-Thon on November 5 to craft winter accessories for the Snug Hugs for Kids drive.
Heartland Alliance
Adopt-a-Family, Stuff-a-Stocking – Provide items from a wish list for a family in need in the Adopt-a-Family program, or provide smaller items for stockings for adults and children in residential housing in the Stuff-a-Stocking program.
Chicago Wolves
Child Link Chicago
Annual Holiday Toy Drive – Donate new, unwrapped toys and games to infants through adolescents before 5pm on December 2.
Lurie Children's Hospital
Toy & Gift Donations – Donate a toy or gift for infants through adolescents, and see their wish list to reference current needs.
Meals on Wheels Chicago
Holiday Card Drive – Create or purchase hand-signed holiday cards that will be distributed with holiday meals to seniors and disabled citizens.
Lakeview Pantry
Annual Winter Coat Drive – Donate new or gently used winter coats to adults and children in need from November 21 – December 30.
Common Pantry
Thanksgiving Donations – Shop at Jewel stores on Lincoln and Cullom and on Roscoe and Western and donate toward meals for families for the holidays.
Winter Essentials Drive – Donate new or gently used cold weather clothing to adults and children in need. Individual drives can be organized at schools, churches, and community centers.
Irving Park Community Food
Lincoln Square Friendship Center