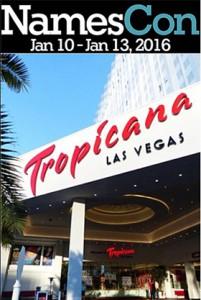 The 2016 NamesCon Conference $399 Early Bird ticket offer expires at the end of the day tomorrow Saturday October 31.
So you should take advantage of this treat because the regular price to attend the conference is $999.
Namescon will be held at the Tropicana Hotel in Las Vegas from January 10-13 which is just 10 weeks away!
Show organizers are promising that this 3rd annual edition of NamesCon will be by far the biggest ever.
Co-Founder Richard Lau is forecasting more than 1,000 attendees will be on hand.
RightoftheDot.com will be holding its live/online Premium domain name auction on January 11th.
NamesCon has become the most attended domain industry conference and is the can't miss event.
See you there.