More and more people are surfing the web on their smartphones now. That is why, for any big or small business, having a smartphone app is almost as important as having a website. Smartphone apps are excellent way to connect with users. Of course, you can hire an expert app developer to get a high-quality app.
But if you need a simple app, you can now create your own smartphone app. And the good news is that you can develop an app without any coding knowledge.
There are several services available that allow you to develop smartphone apps using simple drag and drop user interface . All you need to do is create your account, develop your app, and publish it. I can't say that these services are cheap, but they do make it easy to create a smartphone app without any coding. You don't even need to download any software.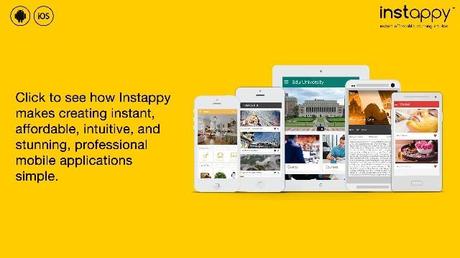 Instappy.com is a cloud based DIY platform for creating mobile applications. It has a simple user interface for designing an app which is intuitive and easy to use. You just add the name of the app, choose its theme, and click Finish. Your basic app structure is ready. Now you can edit and delete its contents and customize it using various customization options. You can create an app without any coding and publish it on app stores. I have tried Instaappy (see my Instappy review) and I found it quite easy and simple to use.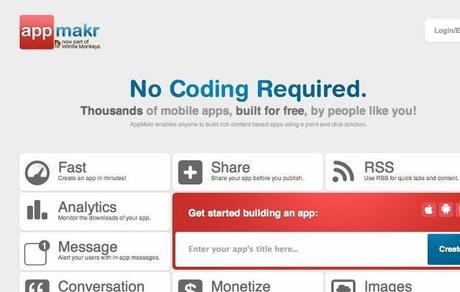 AppMakr is also a simple DIY app creation platform. Using it, you can create iOS, Android and HTML5 apps without any coding.
It was founded in 2009. Recently, it was acquired by Infinite Monkeys to form one of the largest DIY app publishing platforms worldwide .
Usinng AppMakr, you can create apps with features like push notifications, live updates, high resolution photo galleries, chat rooms, music and video streaming, Google Maps integration, shared events calendars, in-app shopping etc. It allows you to preview your app in real time . You can publish your app to the markets with a single click.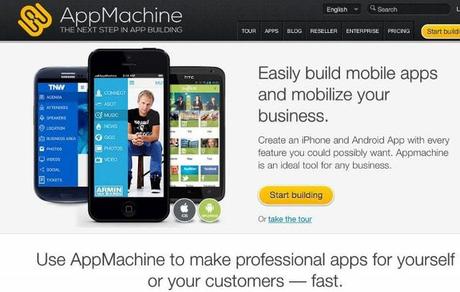 AppMachine is another easy-to-use platform to developt apps for iOS and Android devices. It gives users simple drag-and-drop building blocks to develop apps without coding. Besides, hosting text, photos, videos etc., these apps can also link to Facebook, Twitter, or online stores . AppMachine offers several app customization options like different navigation paths, fonts, colors, and icons . You can preview your app in the Previewer and even test it as you build it. Once you are satified by your app, you can publish it on Apple's App Store and Google Play.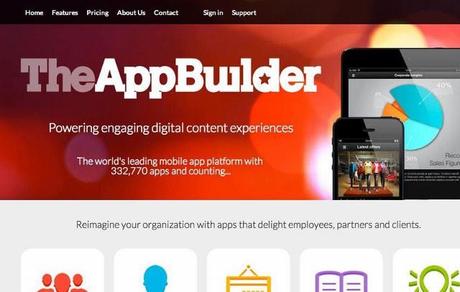 TheAppBuilder provides a suite of apps. These apps follow two different approaches and are suitable for employees, clients, events and brochures, TheAppBuilder offers toolkit and training to build your smartphone app . Using this toolkit, you can build the structure of the app and equip it with initial content. You can even customize it with your own branding. TheAppBuilder allows users to develop public as well as private apps secured with usernames and passwords . This service has a dedicated AppLibrary which you can use to showcase your app. You can also distribute your apps on app stores.
These DIY app builders make it easy to build a smartphone app without any coding skills . They also help in publishing the apps on app stores and analyzing their performance. I can't say that developing apps on these websites is as easy as setting up your Facebook profile. It is not. You do not need any coding knowledge, but you do need to be comfortable with technology and using web tools. But they do make it possible for anyone to become a smartphone app developer.