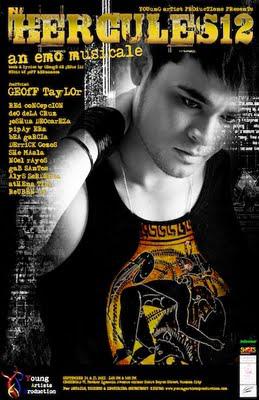 Young Artist Productions presents, "Hercules 12," a new musical with book and lyrics by George de Jesus III and music by Jeff Hernandez.
Among the Greek myths and legends, nothing comes close in popularity and mass appeal to the story of Hercules. The son of the Greek God Zeus and the beautiful mortal Alcmene, Hercules is a great figure of valor and strength, whose bravery would earn him a place among the gods on Mount Olympus.
"Hercules 12" is a contemporary retelling of the story of Hercules, highlighting the 12 labors or tasks that he must undergo to purify his soul after unwittingly killing his wife. Using contemporary emo, R&B sounds and alternative rock rhythms, the musical combines current-sounding tunes with a stylized visual rendition of Greek theater traditions, updated through multi-media technology.
This original musical features Red Concepcion, Deo dela Cruz, Joshua Deocareza, Pipay Era, Bea Garcia, Derrick Gozos, She Maala, Noel Rayos, Gab Santos, Alys Serdenia, Athena Tibi, Reuben Uy and Geoff Taylor as Hercules.
"Hercules 12" runs Sept. 14, 10 a.m. and 2 p.m., and Sept. 15, 1 and 5 p.m., at Crossroad 77, Mother Ignacia cor. Scout Reyes Street, QC.
For tickets, please contact 0917-8178927.