A fresh and delicious pasta salad that tosses orzo pasta, cherry tomatoes, mint and feta cheese in a red wine vinaigrette.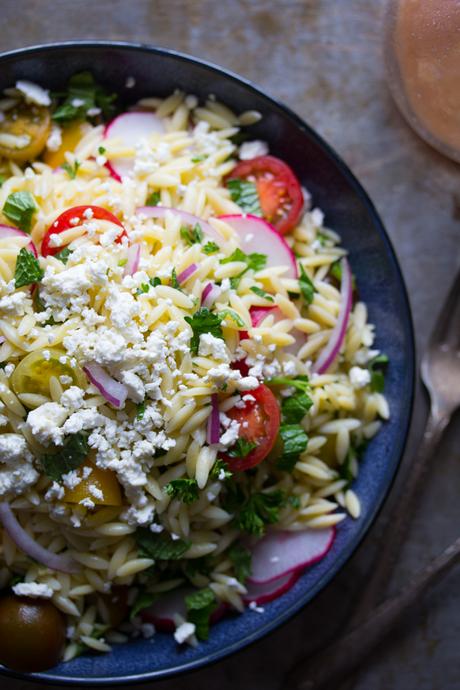 Sometimes I think my life could make a very entertaining sitcom.
Take this morning, for instance.  I am standing at the bathroom sink, trying to put on my make-up…one foot on the toilet lid, contorted with my knee bent to stop my one and a half year old Kai from getting to the trash can.  Then he averts his attention from the trash can, and quickly dives for the roll of toilet paper…which I am not ready for.  He yanks on it, and manages to get a good length of it before I can stop him.
Then he's gone in a flash…disappeared into my bedroom, and it is eerily quiet.  Quiet is bad in my house.  So I go to find him, and what do I find?  My humidifier.  The little humidifying hole plugged up with toilet paper.  There is also a corner of paper hanging out of his mouth.  He says "mmmmm!"
Not an end-of-the-world catastrophe, just a snapshot of my life these days.  One eye always to be on Mr. Trouble, and never, ever a dull moment.
Continue reading: HERBED ORZO PASTA SALAD WITH TOMATOES & FETA