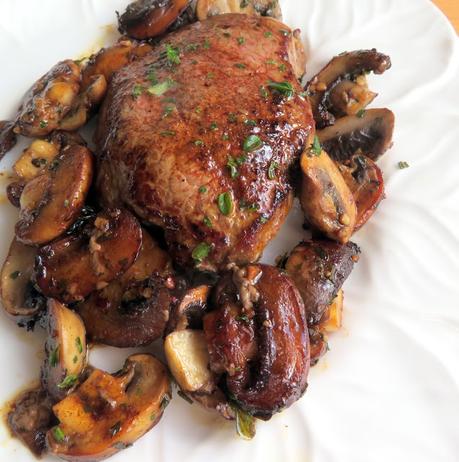 Red meat is not something we eat very often in our house.  Most of the time we will eat chicken or fish and often we won't have meat at all.  When we do have red meat however, it is usually in the form of chops or steak.
I do love a good beef steak.  It is my love of a good steak which keeps me from going off meat entirely.  I just crave one every now and then. And when I do get a steak I am very picky about where it comes from.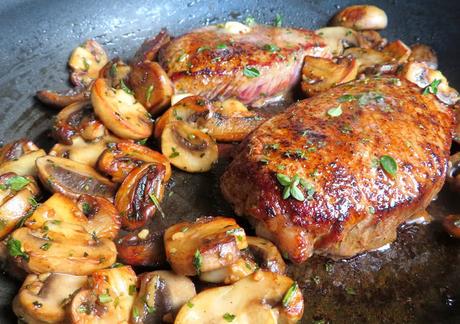 My preferred cut is a rib eye. Well marbeled with soft fat that melts and no gristle.  About 1/2 to 3/4 of an inch thick.  Of course I also love a tenderloin steak, but those are not very often in the budget! 
My mother loved t-bone steaks. She and my father would buy a hind of beef every year for the freezer.  She would carefully jot down which cuts she wanted, how many roasts, steaks etc. We never got our meat from a shop, wrapped in plastic. It came from the freezer, wrapped in brown paper.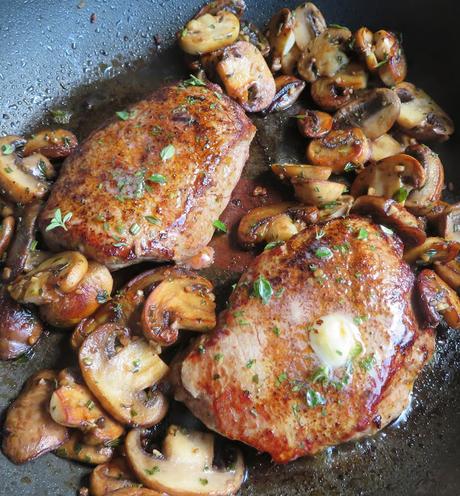 Unfortunately my mother did not really know how to cook a steak.  She didn't like getting her cooktop all dirty and so she pretty much stewed any steak she cooked by cooking it on a low temperature so that it wouldn't spatter. 
They were never brown. No properly brown, with sticky gilded edges that are all caramelised and delicious. I never truly learned to appreciate steak until I became an adult and learned how to properly cook one.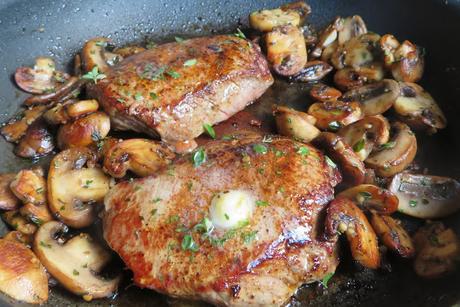 I am not afraid of a dirty cook top.  You cannot be a decent cook and be afraid at getting the top of your stove dirty. I know, it can often be a pain to clean up, especially if we are tired and it is at the end of the day.
It is always worth the extra effort however. It really only takes a few minutes and food which is properly browned and cooked tastes ever so much better!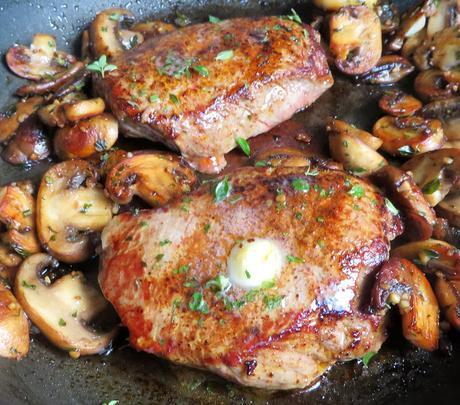 These steaks I cooked today were Strip Loin Medallions. I couldn't get any rib eyes and had to settle for what they had.  They came two medallions to the pack. 
Here is a good tip. If you are buying supermarket steaks they will have been injected with water and food colouring to make them look nice and pink.  Take them out of the plastic wrap, pat them dry and leave them uncovered in the refrigerator to dry out overnight.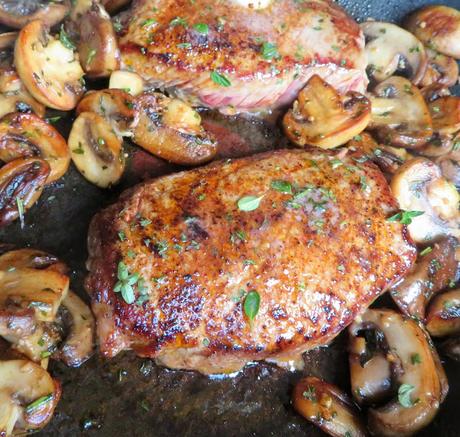 This is the best way to get the nicest color when it comes to browning your steaks. And a nice color means a nice flavor. When cooking a steak on the stove top you always want to start it off on a high heat.
This will give you a really good sear on you meat. Also don't flip it more than once. Agitating your meat by flipping it over and over again causes it to release too many juices.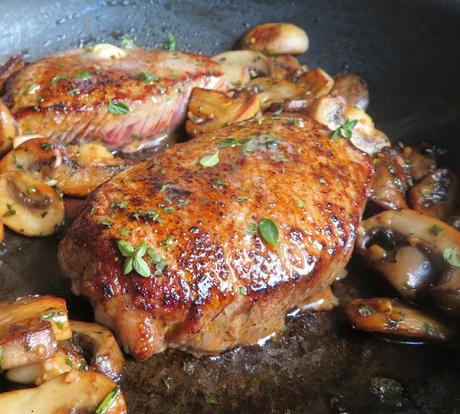 Its the same with mushrooms. There is no need to wash your mushrooms in water.  They will become waterlogged if you do. Simply wipe them clean with a damp cloth. I cut them into thick slices.
Add your fat to the pan over medium high heat, and as soon as it begins to foam, add the mushrooms. Leave them to cook for a good 3 to 5 minutes without stirring. That way you will get nice caramelised edges on at least one side.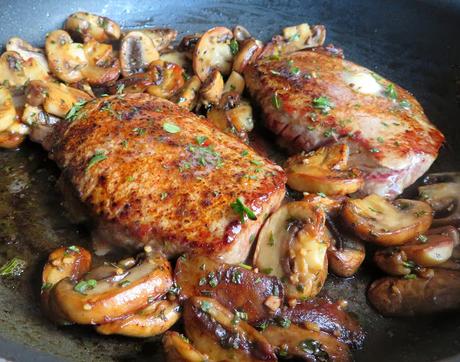 The only mushrooms we had in our house when I was growing up came in a can. I don't remember ever seeing fresh mushrooms in a shop.  And they all came from China. I shudder now at the thought. Who knows what we were eating.
They were always a gray brown color and quite rubbery, but we ate them because we thought they were exotic.  I guess they would have been considered exotic. I doubt my grandmother ever cooked a mushroom in her lifetime!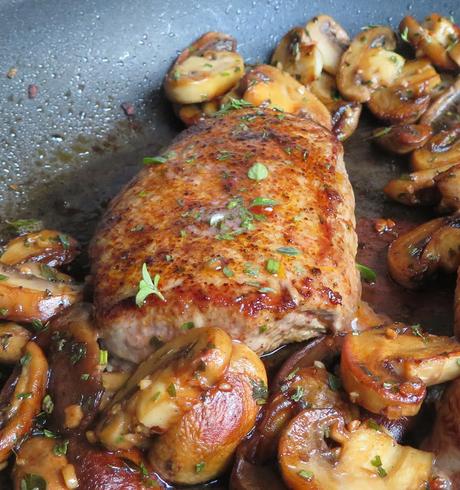 We used to throw these rubber mushrooms on top of pizzas and all sorts.  We would fry them up with onions and smack our lips. What we were tasting was butter and maybe garlic (another rare ingredient.) 
I don't think I had an actual fresh mushroom until I was well into adulthood. What a taste revelation! I love them raw in salads and of course fried.  I especially love fried mushrooms with steaks!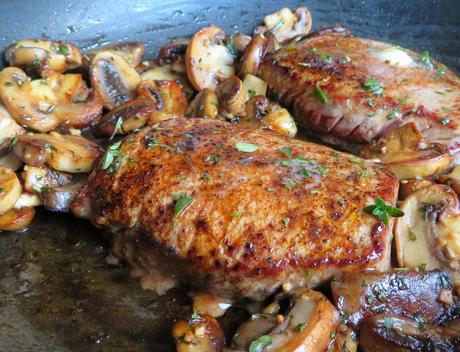 Especially if they have been properly cooked. Golden brown at the edges and tender, and if you add some herbs and garlic to them, so much the better.
That's where most of the flavor in this dish comes from today.  From the mushrooms, which are fried til golden brown.  The addition of fresh garlic and herbs lifts them from tasty to sublimely delicious.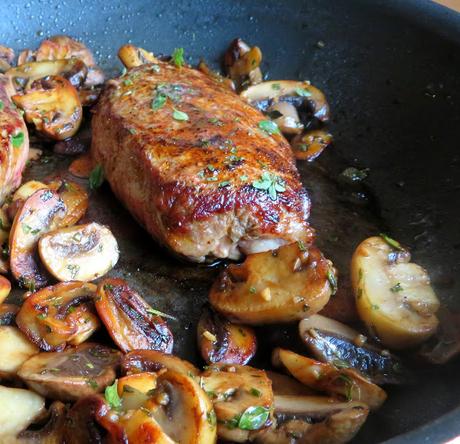 There is no rubber her. Just lush perfectly cooked mushrooms, well flavoured and delicious, spooned over perfectly cooked steaks.
The steaks are simply seasoned with salt and pepper. You need nothing more. If you have a good steak and it is properly cooked the flavor speaks for itself.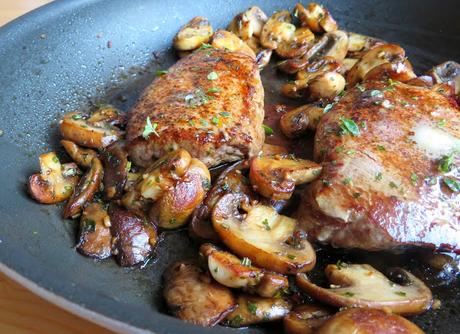 The mushrooms are the perfect accent. Herby and woodsy and rich with butter and garlic. But that's not all that lifts these steaks to perfection, no . . . that's not all.
A final pat of butter is situated on top of each cooked steak so that it melts down into the flesh adding an extra special touch of flavor.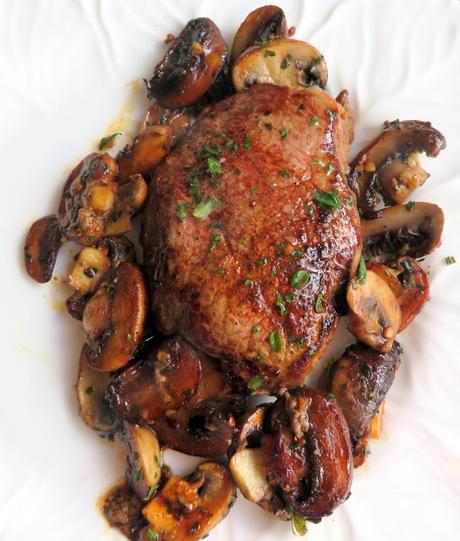 Its not alot really. Just a touch, but it is enough and it is gorgeous. I like my steaks medium rare, if you prefer yours more well done you may want to cook them for a bit longer. 
Back in the day we used to go to the Ponderosa restaurant for a steak dinner.  With baked potatoes, and mushrooms, fried onions and salad. We were in heaven.
This beats that by a mile.  Just sayin . . . .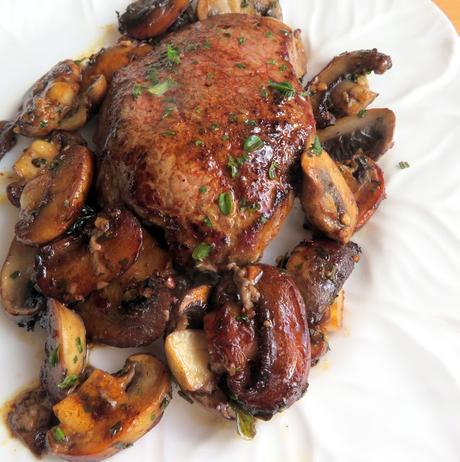 Print
Herbed Garlic Butter Steak & Mushrooms
Yield:
4
Author:
Marie Rayner
prep time: 5 Min
cook time: 20 Min
total time: 25 Min
Tender and juicy steaks cooked to perfection and served with herbed butter mushrooms. Delicious!
Ingredients
1 TBS light olive oil
1 TBS butter
1/2 pound mushrooms, thickly sliced (8 ounces. I used a mix of white closed cap and chestnut)
3 cloves of garlic, peeled and minced
1 tsp chopped fresh thyme leaves
1 tsp chopped fresh rosemary
1 tsp fresh chopped oregano
2 lean Strip Loin steaks, or 4 medallions
salt and black pepper to taste
To finish:
2 TBS butter
a bit of chopped thyme, rosemry and oregano
Instructions
Heat a large skillet over medium high heat. Add the oil and the butter. As soon as the butter begins to foam, add the mushrooms. Leave without agitating or moving until they start to turn golden brown. Add the herbs and garlic, give it all a good stir and cook for a further 3 minutes. Remove to a bowl.
Season the steaks all over with salt and pepper.  Turn the skillet heat to high. Add the steaks and cook for 3 minutes  per side. They should be nice and brown. Turn the heat down to medium and cook for a further 5 to 8 minutes for medium rare.
Return the mushrooms to the skillet.  Divide the butter between the steaks, placing a small pat in the center of each, and allowing it to melt.  Sprinkle with the additional herbs and serve.
Did you make this recipe?
Tag @marierayner5530 on instagram and hashtag it #EnglishKitchenCreated using
The Recipes Generator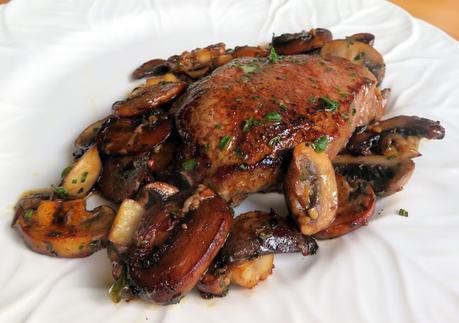 Red meat is not something I generally eat a lot of. I have low iron levels however and so I thought I might try to eat some red meat once a week instead of the once a month. I know liver is supposed to be good for you, but I cannot abide it.  Just the smell of it cooking makes me gag. Me <----spoilt brat. 
This content (written and photography) is the sole property of The English Kitchen. Any reposting or misuse is not permitted. If you are reading this elsewhere, please know that it is stolen content and you may report it to me at: mariealicejoan at aol dot com Thanks so much for visiting. Do come again!