Herb & zucchini egg bake recipe is perfect for brunch or for meal prep! Loaded with veggies, herbs, cheese and a secret ingredient that prevents it from being too 'mushy' when reheating. Low carb and gluten-free!
While I do love this Overnight Breakfast Casserole with Sweet Potatoes & Bacon, it is a little bit labor intensive. A much easier solution? This herb & zucchini egg bake recipe, which you can get into the oven in as little as 15 minutes!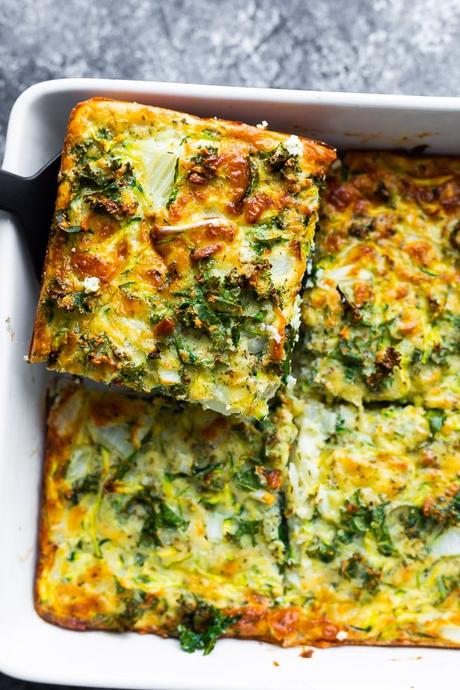 This recipe was originally posted in 2017 but has been tweaked, rephotographed and rewritten…and given a brand new video in 2019!
Eggs have a way of hiding veggies…and this is one of those recipes that is FULL of veggies, but you don't really notice because you're so distracted by the delicious flavor.
You could make this herb & zucchini egg bake recipe as a delicious brunch option, but my favorite way to enjoy it is as a meal prep breakfast.
I love that by cooking this ahead, breakfast is so easy to pop in the microwave and re-heat. Plus I get some greens in for breakfast and the eggs are so filling, they really do fuel me through the morning!
Reasons you'll love this herb & zucchini egg bake recipe
it's full of greens but is not liquidy/watery
it reheats incredibly well thanks to a secret ingredient
it's absolutely delicious!