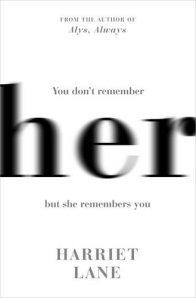 Psychological Thriller
5*'s
This intriguing and well-constructed thriller starts when Nina recognises Emma on a street near her London home more than twenty years since she last saw her. As the reader you can't help but wonder why Nina is so obsessed with Emma especially as Emma doesn't appear to recognize her at all when they first meet. What connects these two women and why Nina wants to insert herself into her life is the crux of the whole book.
We have Nina and her poised life as an artist, mother of the teenage Sophie and partner to the almost detached Charles provides a stark contrast with Emma the mother of two-year old Christopher mired in domesticity wondering where her 'true' self has gone since marriage and motherhood. Emma is clearly overwhelmed, pregnant and frazzled when Nina inserts herself into her life and with precision finds the weak spots in Emma's life and exploits them with precise cruelty. The casual way she hurts Emma while pretending to be her friend is in many ways more shocking than any open hostility could ever be.
Harriet Lane cleverly tells the story from both women's viewpoints by overlapping the narrative thereby dragging the story back to a specific point before moving it forward from the differing perspectives as Nina and Emma narrate alternate chapters.
The writing is understated, and all the more chilling because of it but the prose still manages to conjure up scenes in London and France without ever seeming mired in detail. This style of writing is what made me fall in love with Harriet Lane's debut novel Alys Always which was published in December 2012 and like those in Alys Always , the characters are set firmly within the middle-classes. Like her debut it is the off-hand way that the details are imparted makes me feel like I was watching Emma almost as avidly as Nina, but unlike Nina, I dreaded the finale.
This is a relatively short book with 235 pages of intrigue, frankly bizarre behavior and undisclosed secrets from the past, well until the end which says just enough to allow the reader time to reflect.
I received a copy of this book which is due to be published on 6 June 2014 from Amazon Vine in return for my honest opinion. My opinion, is this one is worth getting hold of!