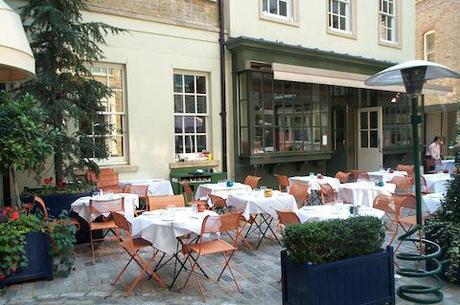 For a more modern take on afternoon tea rituals try Hush whose peaceful courtyard and elegant dining room are a quick detour from Regent Street and New Bond Street.
The decent selection of sandwiches and scones are ample to snack on while drinking the Hendrick's Gin-based cocktails. There are a couple of moleculars, a couple of infused martinis and a hot tea infusion for the brave. Try the Hendrick's Spring from the infused section, Hendrick's Gin infused with Lavender and Cucumber, garnished with a Lavender Flower.
Once you've worked your way through the short but effective menu bring yourself round with a sugar-shot from a Bougie mini macaron and prepare for some frivolous shopping. Our advice, head straight to Sandro on South Molton Street, a pleasant 2 minutes wobble away.
£24.74 for High Tea with one cocktail
Surplus cocktails are £9 each
8 Lancashire Court, Brook Street, W1S 1EY
020 76591500