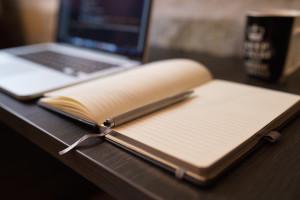 If your goal is to write your story in 2016, then you've come to the right place. Writer…Interrupted is undergoing a transformation not unlike the transformation I've been undergoing for the last few years. I'm still the same person, but with more life lessons under my belt. I'm still passionate about helping interrupted writers, but I've narrowed my focus to help writers, young and old, get their books written and published.
My commitment to helping you write your story will be reflected in a new website design and content. I'm focusing on teaching you to write your novel, memoir, or nonfiction book. Sure, there will still be the encouragement and transparency in my own writing journey, however, I hope every thing I offer gets you one step closer to your writing dreams.
During this phase of my business plan, my own fiction writing has been shelved as I work on creating classes and programs to help you reach your writing goals. Don't worry, I'll be back to fiction once I get all my programs in place, but for now helping you write your book is a priority.
Here are a few ways I'm committed to helping you write your story in 2016:
Practical blog posts that teach you how to write your story
Motivational blog posts that encourage you to write your book
Dynamic go-at-your-own-pace online classes at teach.ginaconroy.com that offers one-on-one teaching and coaching
 Free resources to help you finish your story in 2016
Compassion and empathy because I KNOW what it's like to have a story burning inside and not know how to let it out.
A kick-in-the-pants attitude because I've spent way too many years being a victim and complaining about how hard things are. And why I can't finish my books. And how no one understands what I'm going through or what I have to do… waah, waah, waah. Ever notice the ones publishing books are the ones NOT whining about things? They have their butts in the chair, and they're writing despite their circumstances. I'm not saying I've "arrived" in this area, but I'm here to give you that kick you need to keep you in your seat. And feel free to kick back if I need it.
Am I missing something you want in a writing coach or online classes? Just leave me a comment. I'd be happy to brainstorm ways I can help you write your story in 2016.
***
For a limited time get my online writing course "Release the Novel in You!" for $50.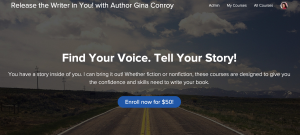 You have a novel inside of you. A dream to tell your story. But you don't know where to start? Maybe you don't even know what to write. Perfect! This course will release the novel in you, guaranteed. As your instructor, I commit to creating an environment where your voice can be released to tell the story only you can. I'll provide the tools and motivation for you to make your writing dream come true. My guidance will inspire your voice to be released and the lectures will shape your ideas into a cohesive and impactful message. When you commit and do the work, you will release your story within and your book will become reality.
Everything you need to get started on writing your story is in this course. Don't put your dream off another day.

 Gina