Check out the original post Helping you #Canadians to Conquer the Cold! on Bewildered Bug
I've been shivering across here in England on my couch daily. Not because it's cold, but because I'm seeing all the photos of my friends' yards in Canada and just imagining how you guys are feeling. I can't believe the amount of snow you're getting over there! I keep thanking my lucky stars that I'm not shoveling along side you. Then I remember – oh yeah, I don't shovel snow. Years ago when we got a lot of snow and lived in a townhouse near York Mills and Don Mills in Toronto, I shoveled. That was the first and last time I ever shoveled snow. Why? Because I hate the cold.
Let me repeat that.
I-hate-the-cold.
Ever since I was born, I have been really bad with extreme temperatures. My Mom has told me many times that when it was really hot I used to turn red and scream and scream until she dumped me in a bath of cold water. Then there's the story of a Disneyland family trip that went late into the night. I got cold. Really cold (fine Canadians, I know Florida doesn't get that cold! This was before I even visited Canada). So my Mom put the blankets they brought on me…and my lips went blue and I continued to shiver. So I got piled with everyone's sweaters and the heat was blasted in the car…eventually my lips became normal again and I was fine.
That type of cold was nothing like the cold I had to deal with when I went through my first Canadian winter however, and this cold came with a whole slew of weird and surprising effects. My skin and hair got dryer and more brittle than I ever could have imagined. My nose bled every morning and I was constantly thirsty. Not only did Canada get cold, it got DRY. After that, I was based in Waterloo, Ontario for a bit – and I have to tell you, I NEVER experienced snow nor WIND the way I did then. This weird thing I had only heard of once, WINDBURN happened.
I gotta tell you. After that:
I truly LOATHED the cold.
I could not figure out how this was possible and after a lot of trial and error I figured out that the secret is to moisturize, moisturize, moisturize (not just your hair and skin, but the air as well – hello humidifier, do you know how much I love you?!). The best way to do this is to build up an arsenal of products.
So what do you use to combat the dry, itchy skin and frizzy, brittle hair?
Allow me to suggest a few products:
If you are like my sister and have curly hair, your hair is naturally drier than those with straighter locks. Unfortunately, dry hair also results in frizz – something we all want to avoid, straight hair or not. Why not infuse your hair with moisture with a shampoo and conditioner like Herbal Essences None of Your Frizziness Shampoo and Conditioner? The formulas are serum-infused to moisturize your hair with the right amount of conditioning ingredients for soft, shiny, frizz-free hair.
If your hair is like mine, it gets really brittle in winter. I think this also gets worse because I use heat-styling tools more often in winter than in summer. In summer, I let my hair air dry with a little argan oil and it is good to go – not that it looks spectacular, but because I'm lazy. In winter, however, because of the fact that icicles in the hair are not a good look, nor do I want to tempt fate and get the cold more than I have to, I blow dry and straighten almost daily. This makes my hair even more brittle. Therefore, I need extra help, and, especially when nothing else is working, I rely on the Pantene Pro-V Daily Moisture Renewal line – my favorite of which is the Silky Moisture Whip. There's also a shampoo, conditioner and moisture mist in the line. They also actually smell sorta nice!
And lastly, I'm constantly looking for a solution for my dry skin – because that bugs me most of all. I hate the cracks that just appear out of the blue when my skin is dry. I also hate my skin looking like snake skin because it's so dry. So I pile on the lotion when I can – and because "when I can" is not very often (yes, this is me admitting I'm very bad at keeping up with the lotion), I need a lotion that works well and achieves brilliant results when I do use it. So if you're looking for relief, try the Olay Ultra Moisture Lotion. This is one of my go-to products, especially for my extra dry areas such as my elbows and feet. Of course, my problems are not solved with one application – after all, no lotion can achieve that magic with my skin – but every once in a while I go a week with frequent lotion application and I do see the difference in that short time.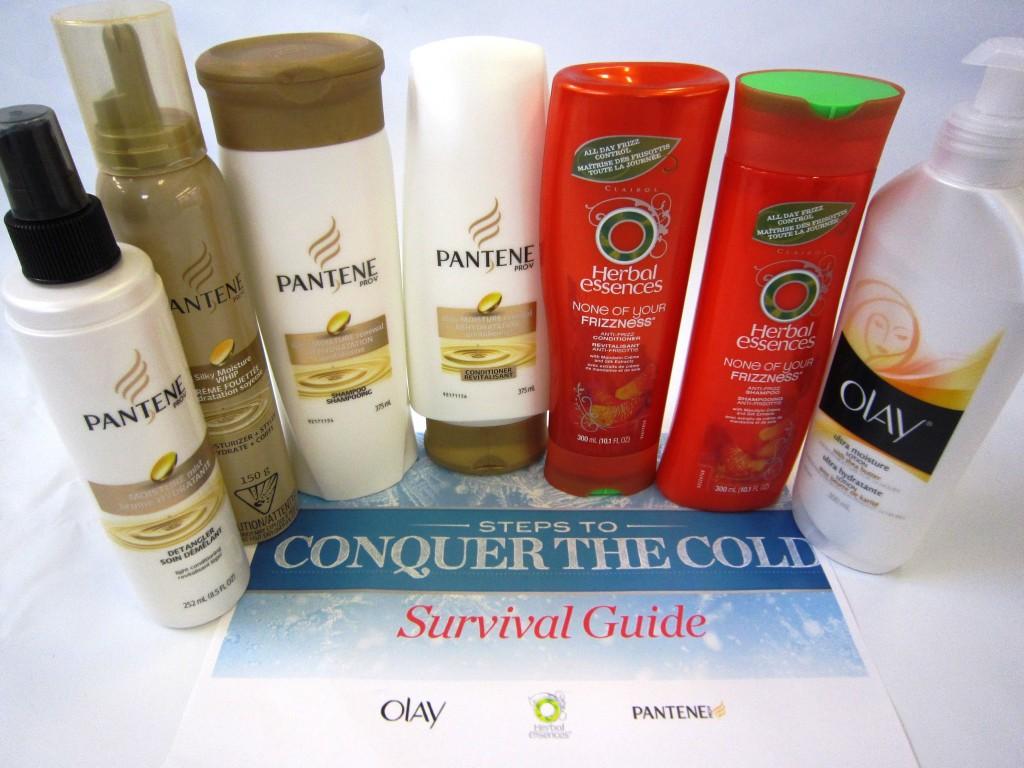 So, I know you guys are freezing, so I'll get on with it. P&G is offering one of you lucky readers a prize pack with all of these awesome products for you to try, along with a Conquer the Cold Survival Guide with neat tips and tricks to Conquer the Cold this winter! All you have to do is enter through the Rafflecopter form below.
a Rafflecopter giveaway

And just as an extra, just in case you don't know about this – here's a little jab at Canadian winter….always makes me *giggle*.
I was compensated for this post, but regardless of compensation or not, the opinions expressed in this post are mine and true, as are all opinions expressed on Bewildered Bug.
Bewildered Bug - ...just trying to navigate through this obstacle course called life...