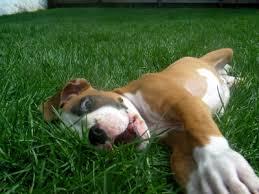 Dogs are inquisitive by nature and don't understand danger the way we do. It is impossible to prevent accidents from happening, so be prepared to provide emergency care if your dog, or someone else's, is injured.
(Check out Basic Dog First-Aid Principles)
Helping An Injured Dog
An injured dog usually needs to be examined by a veterinary surgeon. If you know the basic rules of first aid, you will be able to provide help untile the vet arrives, or the dog can be transported to a surgery.
When attending to an injured dog, you may need to muzzle him; if he is in pain and frightened he may snap. Move him only if absolutely necessary or if you are sure moving him will not cause further injuries. In the case of bleeding, attempt to stem the flow of blood from any major wounds with direct pressure, carefully raising the injured area above the level of the heart if possible.
Bear in mind that there are parts of the world where dogs may have rabies. If you are in such an area and see a dog requiring help, you should keep at a safe distance and call an animal control organization.
At home, it's useful to keep your vet's telephone number somewhere handy: by the telephone, stored on your mobile phone, or behind a fridge magnet. Make sure you know what arrangements are in place for obtaining veterinary attention if it's needed outside normal surgery hours.
First-Aid Kit
Accidents can happen at any time, so always keep a few basic aid necessities to hand. Compact kits equipped with a range of times for dealing with minor emergencies are readily available. These are particularly useful for taking in the car or carrying in a backpack on long walks.
Your first aid kit must at least have the following in it: