Happy New Year everybody!
How is it January already? I am still stuck somewhere back in October, I don't know where the time has gone. It's been all quiet on the blog for the last 10 days or so as I took a break from blogging and spent Christmas in Norfolk with Simon's family.
Isabelle unfortunately managed to time our arrival in Norfolk with a rather nasty case of the chicken pox, so she spent a day or two very miserable, itchy and exhausted. I say miserable, generally she was happy enough to play with Simon's family, but let's just say she was very touchy...
By Christmas Day itself, however, she was over the worst of the pox and feeling much better. We had a really quiet Christmas overall, just enjoying spending some family time together. On Christmas Day we opened Isabelle's gifts from Santa, before she got her bike from Granny and Grandad and went for a ride on it. She loves her bike - her face absolutely lit up when she sw it and she yelled "My bike! My bike!" and every time she is on it, she yells "Cycle, cycle, cycle!" It is definitely a big hit.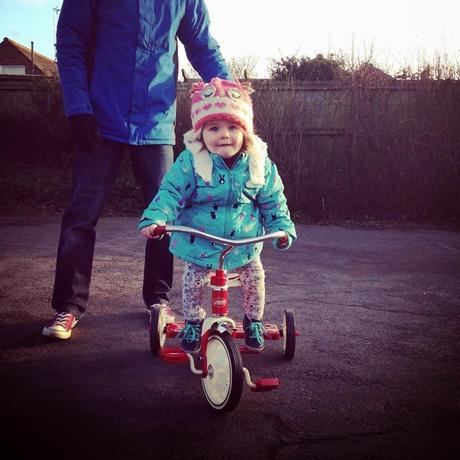 As well as her bike, Isabelle got a teepee, a doll's pram, a kitchen (more on this soon), a Happyland set, a wooden camera and a set of farm animals. We were also delighted to receive some absolutely gorgeous gifts as part of two secret santa givings we were part of. We got a great cupcake set and a lovely wooden clock jigsaw - both of which are two of the Christmas hits! I'm very thankful to have friends who know us so well!
The rest of Christmas was quiet in Norfolk, before we flew back home and joined my family for New Year at our holiday home at the coast.
We have lots to look forward to in the next few months - a trip to Centre Parcs, Isabelle's second birthday and the installation of a brand new kitchen.
I am most excited, however, about the change in my working pattern. I'm dropping down from working 5 days a week to working just 2! It will be lots more time at home with Isabelle and both of us being free to spend time with our friends much more regularly. At the same time, I get to keep teaching (GCSE and A level classes only from now on) which keeps my brain ticking!
Lots to look forward to, and a whole year ahead to do lots of exciting things! Here are a few pictures from our Christmas - sadly the camera died after just 1 picture (and I forgot the charger!) so they are all from my phone.