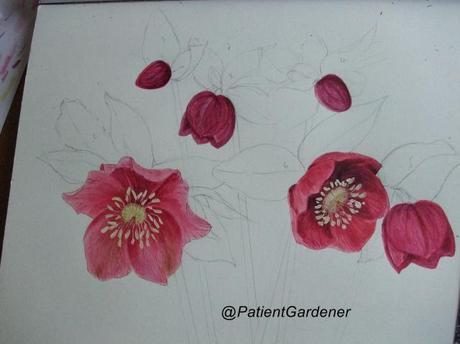 Some readers will know that I dabble in botanical art.  I am far from an expert as I only go to a class once a week during term time and have been going for a couple of years now.  As I have said before my biggest challenge is getting to grips with watercolour.  I can draw and am used to doing larger pictures in pastels so doing neat and fine is quite challenging for me, but I am slowly getting more confident with the brush and slowly improving.
The current picture is hellebores as you can see.  I started it back in January so have probably spent around 16-20 hours on it from scratch and if I am honest some classes I tend to daydream as I am just so tired by the time it gets to Thursday evening.  Most weeks I have to convince myself to go due to tiredness but it is always a good evening.  Nearly everyone has been going for some time and as well as being an art class it is  kind of support network for those going through a tough time or who just want to get something off their chest – it always ends up in laughter, the best medicine of all.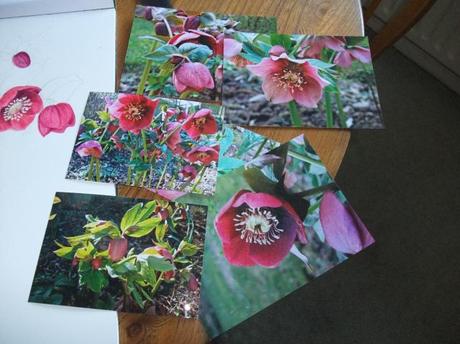 Because I only have two hours a week and despite the odd good intention I rarely do any work on my pictures in between classes, we generally work from photographs.  For this picture I started with a selection of photos of a hellebore I have which I took a couple of years ago.  Of course being a blogger I focus on the actual flower but when you are doing botanical art you need to have images of leaves, stems etc.  I have found myself considering this more and more when I take photos of flowers.  At the moment I am taking daily shots of an opening Meconopsis poppy with the intention of trying to capture the vibrant blue at some point in the future.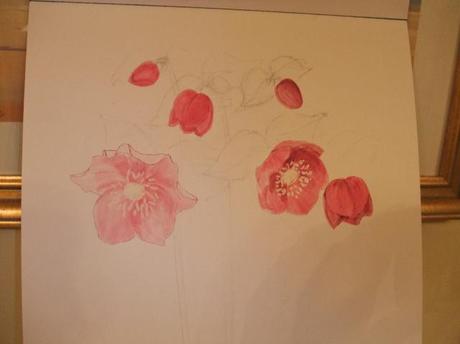 So because I had no photos with leaves on I had to start the picture with just the flowers and I have been taking photographs of the plant as the leaves have appeared.  Yesterday, in order to gain  brownie points with my tutor, I sketched in the leaves and stems.  I have  had to number them and the various photos so I can find them to paint from.  I have realised that the picture probably starts too far up the page so I may have to rejig the top leaf but that's not as difficult as trying to get straight stems.  I have to admit to cheating and using a ruler for this picture as hellebores have such straight stems.  I am sure my tutor will raise an eyebrow at my perfect stems – something never seen in my picture before.
One of the best bits of doing this picture is that I have used masking fluid for the first time to mask out the center of the flowers (see above).  It is amazing how much easier the painting is with this technique, you can get good sweeps of color and then you just rub out the masking fluid and add in the anthers, stamens etc – fab
Anyway, in about six weeks I may have managed to make significant progress with the leaves and stems and I may even have a consistent shade of green – something which is harder than you imagine.