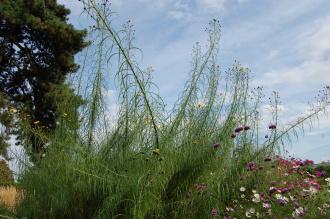 Helianthus salicifolius (28/09/014, Kew Gardens London)
Position: Full sun
Flowering period: Late summer to early autumn
Soil: Moist, well drained
Eventual Height: 3m
Eventual Spread: 1m
Hardiness: 4b, 5a, 5b, 6a, 6b, 7a, 7b, 8a, 8b, 9a, 9b
Family: Asteraceae
Helianthus salicifolius is a deciduous herbaceous perennial with an upright clump forming habit. Its mid green leaves are lanceolate with entire margins, up to 20cm long and 1cm broad. Its yellow flowers are disk shaped with brown centres and up to 6cm across. Its roots have rhizomes which aids its slow spread.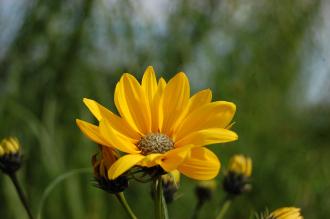 Helianthus salicifolius Flower (28/09/014, Kew Gardens London)
Helianthus salicifolius, commonly known as Willow Leaved Sunflower, is native to south central USA. In its native habit it grows in on open grass land.
The etymological root of the binomial name Helianthus is derived from the Greek helios meaning 'sun' and  anthos meaning ' flower'. Salicifolius is derived from the Latin meaning 'Willow leaved'.
The landscape architect may find Helianthus salicifolius useful as a large, late flowering herbaceous perennial.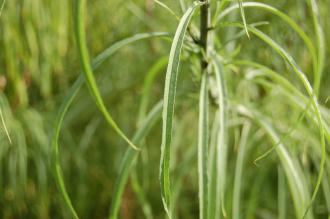 Helianthus salicifolius Leaf (28/09/014, Kew Gardens London)
Ecologically, Helianthus salicifolius flowers are attractive to pollinating insects. Its seed are attractive to some birds.
Helianthus salicifolius prefers moist, fertile, well-drained soils. It tolerates most pH of soil.
Helianthus salicifolius requires little maintenance. Large clumps may be divided in late autumn or early spring.