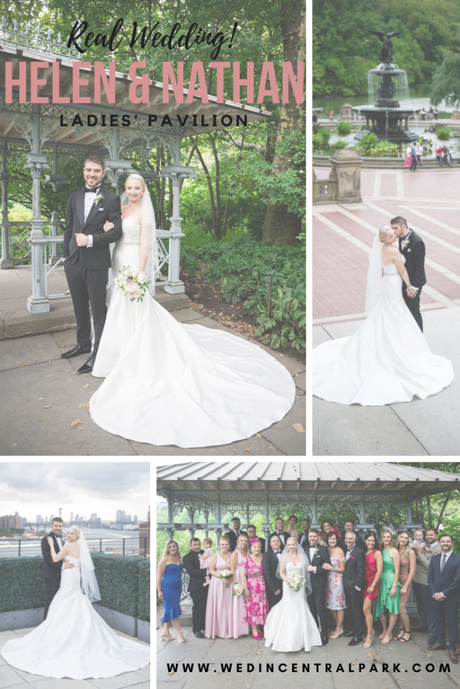 Helen and Nathan brought a group of close family and friends over to New York from their home in Southampton in England for their wedding in Central Park.  Their wedding ceremony took place in the Ladies' Pavilion in early September.  Nathan was 30 and Helen 28 when they got married.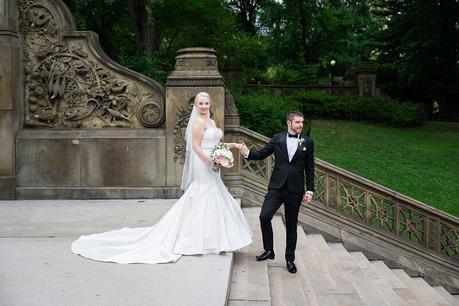 The couple met on Tinder and very soon realised that they both went to the same school and had lots of people in common that they both knew.  They were together for over six years before they got married.  They got engaged in April 2021 just before their sixth anniversary of being together.  Nathan proposed at home and had decorated the house with rose petals, flowers and candles.  They felt truly ready to get married.  "Marriage is the ultimate commitment," said Helen.  "Being married makes you a family and formalises your relationship," she said.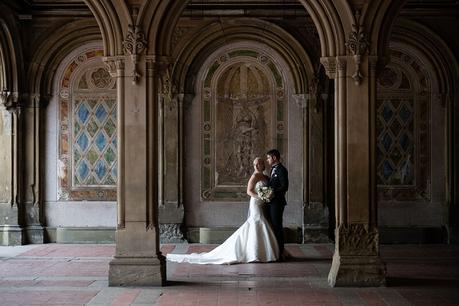 After getting engaged, Helen and Nathan agreed that a destination wedding was for them.  Helen told me that they know quite a few other couples getting married abroad.  They briefly considered some locations in Europe but decided they didn't suit them.  "We wanted an elegant city vibe which we felt only New York could offer us," said Helen.  I completely agree with this, although of course I'm biased.  A beach wedding is lovely, but there's nowhere else quite like New York.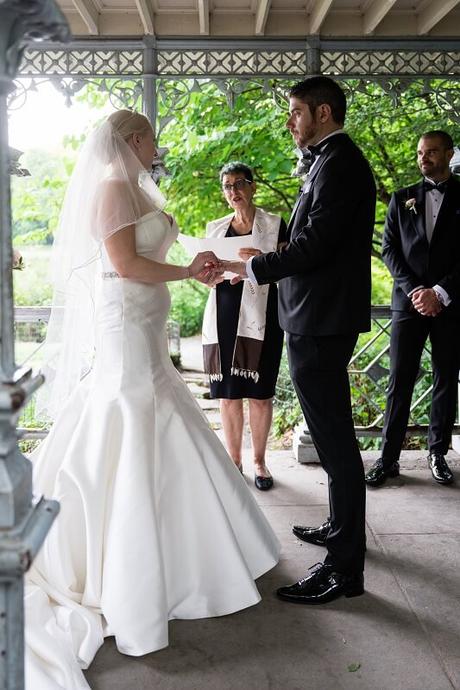 Helen and Nathan's party arrived on the Saturday and got married on the Wednesday.  They stayed in the M Social Hotel in Times Square for the first part of the trip.  Helen said the guests all said that they had a wonderful time and loved the city.  The couple then moved on to stay in The Plaza for the wedding, checking in on the Tuesday.  So, we had their photographer Jakub Redziniak go the hotel first to take getting ready photos with the bridal party and first look photos with the father of the bride.  The Plaza is a beautiful hotel and very close to Central Park.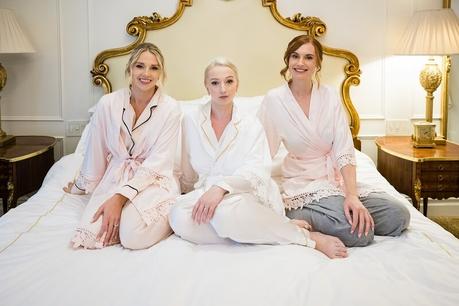 As the bride and her party were getting in a cab the groom and guests were meeting the officiant, videographer and violinist at the Ladies' Pavilion.  We had the violinist play background music for the guests while they waited for their bride.  When Helen arrived, she walked down the pathway to the Ladies' Pavilion to the violinist playing Wagner's Bridal Chorus.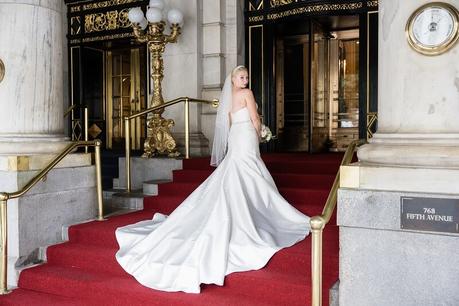 Helen wore a Mark Lesley gown, purchased from Brides of Southampton and Nathan wore a traditional black tuxedo.  They had pink and cream neutral flowers, all in season.  Miss Harlequin did Helen and her party's hair and makeup beforehand in the hotel.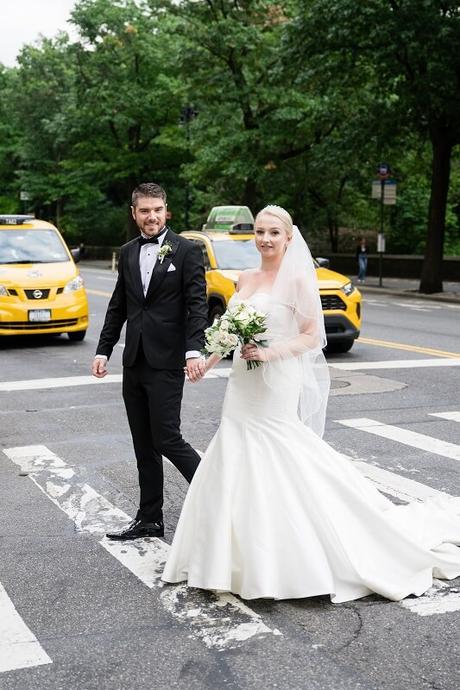 We kept the ceremony fairly short, with a reading from the maid of honor and traditional vows.  After the ceremony, the guests went to the open top bus while the couple took some photos at Bethesda Terrace, and they joined them soon afterwards.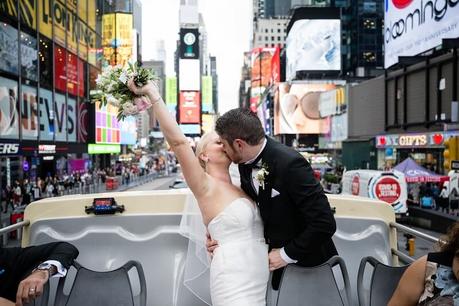 Helen and Nathan's party drove around Manhattan on an open top bus from Central Park to their reception venue over in Brooklyn.  "The bus was a real hit with us and our guests," said Helen.  They had struggled to find an evening reception location within their budget that they really liked, but in the end they found Bridgepoint in DUMBO, when they were enquiring about another venue.  "We didn't want to have a restaurant meal, we wanted a fully private venue to have a proper party!" said Helen.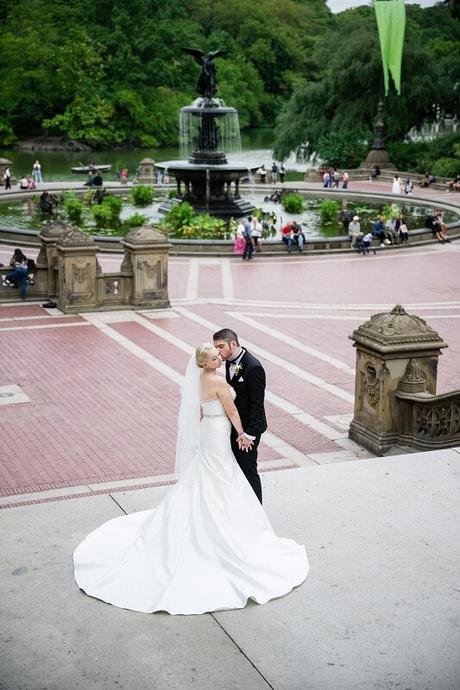 While working on the plan of timings for their wedding day, Helen and I went back and forth quite a lot.  Understandably, Helen wanted to get the most out of her wedding day in New York and fit in lots of photo stops along the way.  I've been planning weddings in NYC for over ten years and I prefer to add in a little buffer in the plans to allow for any issues.  The main culprits for lateness are bridal parties getting ready and the dreaded traffic.  Helen was sure that she could keep to time and was happy with a busy schedule, we discussed my concerns but she wanted to stick with her ambitious plan.  I think this may have been in part because she had decided on the plan early on and wanted to stick with it.  "Listen to Claire and also avoid confirming your timings with guests too early on.  Although you might think this is a good idea and you're being organised, it can cause you difficulties later down the line if you need to make any tweaks to your schedule," Helen said.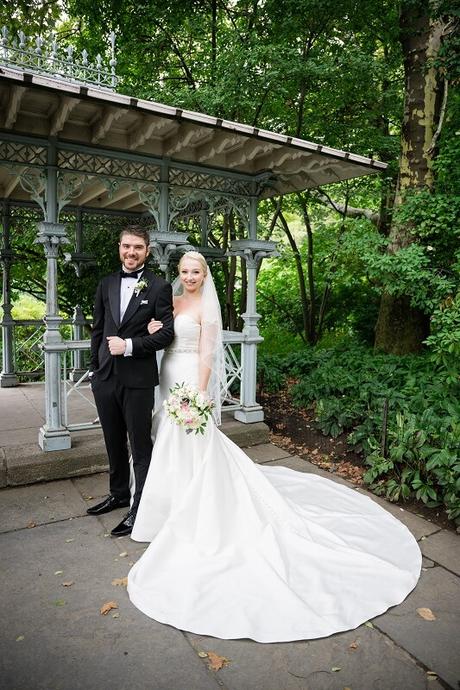 In the end, things worked out great, and everyone had an awesome day, but there were some photo stops that had to be missed out due mainly to the ever-problematic traffic and the open-topped bus being limited in what streets it could go down to shave some time off the journey.  "Listen to Claire!  She is the expert and will know the timings even if you think you know it all!" said Helen.  "Make sure you give yourself another 30-45 minutes to get ready and get to Central Park even if you don't end up using it," she advises.  This is the problem – couples aren't keen to add in that buffer time because it seems like a waste, and I can empathise.  In the grand scheme of things, losing a few photo opportunities didn't spoil their day, and that open topped bus added so much to the memories of the day for all involved.  "We can't recommend Central Park enough to get married.  It is beautiful, it is unique, it is iconic and you'll look back in 20 years and it'll still be timeless," said Helen.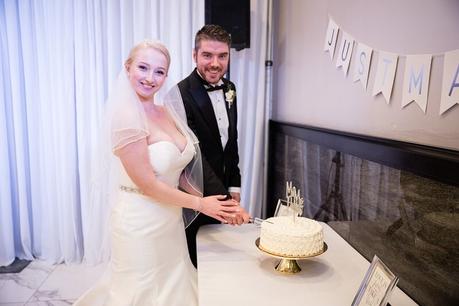 I asked Helen how we did.  "Claire was truly fantastic, is fast at replying and answers all your questions and has provided an excellent service throughout," she said.  There was an afternoon when we got close to the date and Helen was feeling overwhelmed so I called her to talk it through.  "Claire was kind enough to offer a video call when I was getting stressed about final arrangements which helped settle my nerves," she explained.  Sometimes all it takes to feel a little calmer is to walk through the plan with someone who knows it all as well as you do!  "Lastly, if you are thinking about getting married in Central Park, just do it!  And make sure to book Claire of course," was Helen's final recommendation.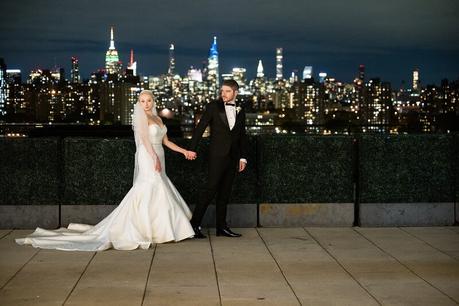 It was an absolute pleasure to plan your wedding with you, Helen and Nathan, and I wish you both lots of luck for your future together. If you would like me to help you with planning your own Central Park wedding or elopement, whether you live locally or are planning on traveling to New York to get married, visit our website.  Keep updated with our news and see lots of beautiful photos, "like" us on Facebook, follow us on Instagram and follow us on Pinterest.