Heidi Gardner's Waterland Collection is an homage to the creatures of the sea. You could say it's like a fashion Sharknado...minus the bad. The presentation consisted of jewelry hung on the fingers and thumbs of plaster hand forms, while models in flesh-toned garments stood on pedestals flashing jewelry at the ogling crowd.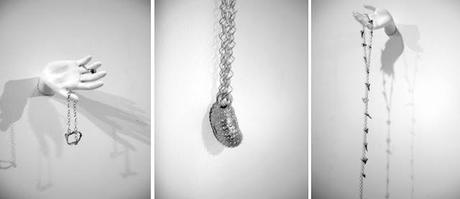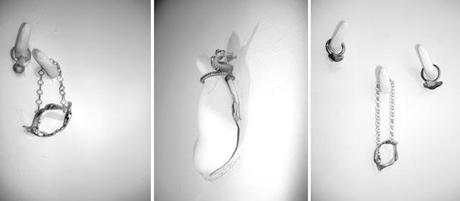 A gold ring shaped like a sea horse wound its way around a plaster thumb, both whimsical and sensual - the type of ring you would turn around on your finger in endless play, all day long. A long silver chain, adorned with tiny teeth, was a nice counterpoint to a delicate silk blouse, and perfect with a jacket and bare skin. I particularly adored the sea cucumber pendant and the octopus necklace (shown in the last photo below)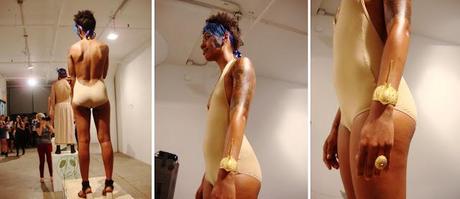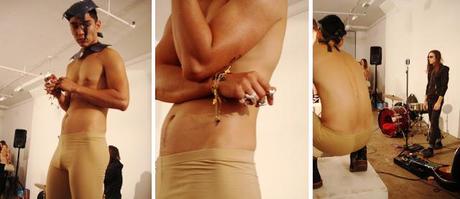 With the live models, an up close and personal inspection of the pieces was necessary. One model wore a gold stingray bracelet with a ring that looked like a sea urchin adorned with a pearl, both pieces prickly with sculpted spiny protuberances. I envision the stingray cuff paired with a sleeveless jumpsuit and combat boots. It's an elegant piece that you could build a contrastingly rough look around.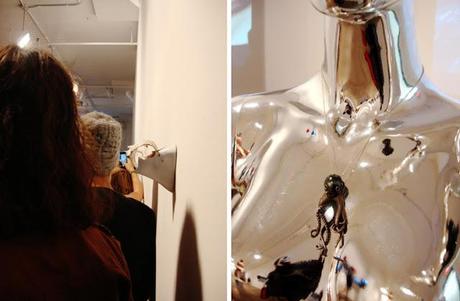 A male model wore the toothy chain wrapped around his wrist and a silver sharktooth rings on every finger. While four rings may be too much, a simple black sheath and one sharply dangerous ring can speak volumes. This collection is the visual equivalent of Bjork's 'Medulla' album, clever riffs on a watery inspiration.


Post and Photos by Faith Bowman




Edited by Glasgow Skinner




Thank you to 

NY Fashion and Trends Examiner, Faith Bowman

 for attending and covering the Heidi Gardner Spring 2014 Waterland Collection this season. Please check out her work here - 

http://www.examiner.com/fashion-trends-in-new-york/faith-bowman