It's a glorious, sunny Saturday afternoon and here I am inside blogging on my computer, when I should be outside weeding, digging, planting and, well you know... gardening! Never fear I am just giving my poor old back a long, late lunch break before I saunter outside for a final burst of activity. But I haven't been slacking this morning: I've been doing some heavy lifting, all in a good cause.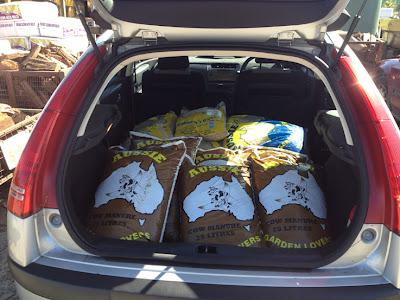 I went out to Turtle Nursery at Rouse Hill in north-western
Sydney. It's about an hour's drive from my inner-western
former crime den now trendy village of Marrickville. I
was on a mission to buy some sand, the right sand, for
my succulent beds, and Turtle Nursery is the place to go,
so I've been told. As Turtle also has the pebbles and
manures I also need, I loaded up my poor little Citroen
with about 380kg of bagged garden goodies there, then
slowly drove home, my little car looking like a lowered
hot-rod, when the truth was a lot slower.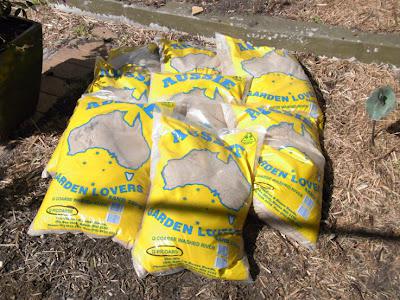 Once I got home, the serious heavy lifting began.
Eight 20kg bags of 'P-Coarse' sand, at $6 a pop. It's
the right stuff: nice, clean, washed, coarse-grained
river sand, ideal for adding to potting mixes or to make
soils sandier. Not having a trolley or barrow at hand,
I pressed our wheelie garbage bin into service, popping
two bags at a time on the lid and wheeling each load up
the narrow passage along the side of our house.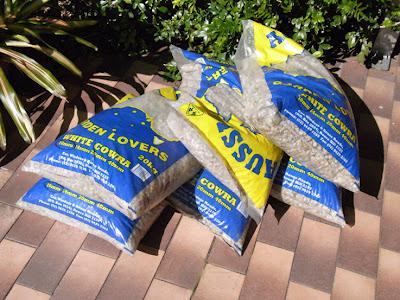 Six 20kg bags of 10mm-size Cowra white pebbles,
at $10 a pop: the future mulch around the planted
succulents. An organic mulch (eg, bark chips, leaf litter)
would hold too much water during one of Sydney's week-
long drenchings that happen a few times every year.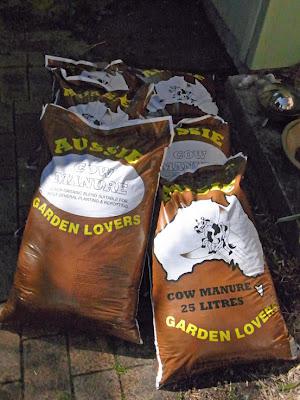 Six 25-litre bags of aged cow manure,
at $6 a bag. These are to enrich the soil
where I will be planting the gardenias, and
the leftovers will go into the vegie patch,
along with lots of home-made compost.
Well, that's the heavy lifting done: I'm going to give my back a rest today and begin on the digging in and spreading around chores tomorrow. In the meantime, there is still plenty more to do in the way of removing existing plants, weeding and cutting back. 
I'm making progress on this garden renovation every day now. As I work from home it gives me the chance to do a bit of gardening in the early mornings, just an hour of activity before I start work each day. And yes, it's hard to drag myself back to the desk sometimes. I'm in the mood to be out in the garden all the time, right now. I think I've got my gardening mojo back!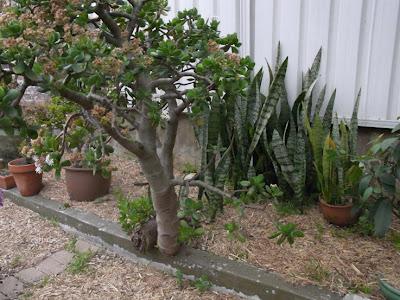 Almost everything in this photo had to go. Pam has
never liked the mother-in-law tongues in the background
here, although I admired their tenacity, if not their looks.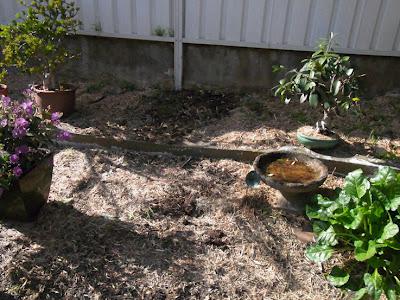 Gone now, the mother-in-laws and the money tree.
The mulched foreground was once occupied by quite
a large sage bush, but it is making way for that
purple-flowered tibouchina on the left. I've dug up
a small piece of the sage bush with a good root system
attached and new baby leaves all over it, so I hope sage
junior keeps up the fine tradition set by its parent plant.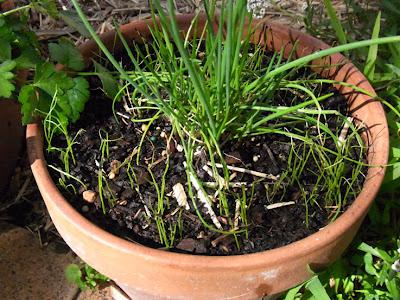 All is not sand, manure and destruction here right
now. The potted herbs are all off to an early spring
start. I already had a packet of chive seeds, so I
combined a cheap new pot of chive seedlings with
a surrounding sprinkle of seed. The seed has come
up nicely, the seedlings are happy and this should
be a nice, dense clump in a month or so.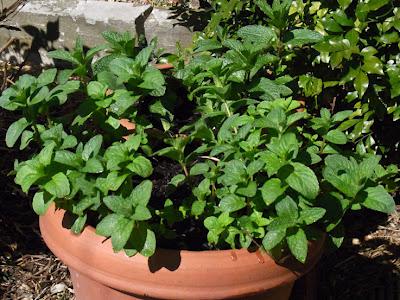 The common mint and spearmint are both thriving
in their new potting mix and the regular liquid feeds
haven't done any harm, either. Happy plants.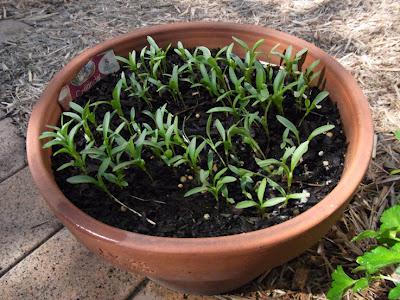 A few weeks ago, I saw a Mr Fothergill's packet of
coriander seed set into little circular pads of seeds
(like seed tapes, only round). I've never used seed tapes
much and so something in me said 'give them a try' and
they seem to be working quite well.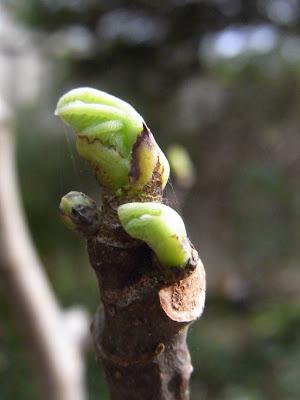 Finally, the rest of the garden is very
definitely of the opinion that spring has
sprung. My potted Turkish Brown fig,
which was Underperformer of the Year
in its first year in the garden last year,
is off to an early promising start in its
second growing season. Good!
Well, lunchtime is over, my back seems (touch wood) to feel fairly normal, and I'm back out into gardener's playland for an afternoon session. I think I'll stick to weeding, though. That's enough heavy lifting for one day.