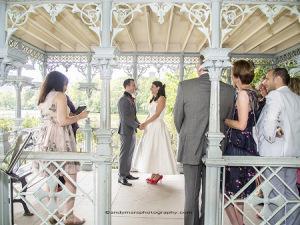 Heather and Scott, from Banbury in the UK, brought their family and friends to New York this Summer to get married in the Ladies' Pavilion in Central Park. They had been together for almost six years before they go married.
They got engaged during a beach holiday in 2013. Scott proposed on the beach at their favorite hotel, The Beach Club in Walt Disney World. He managed to time it so that fireworks were going off in the background as he popped the question.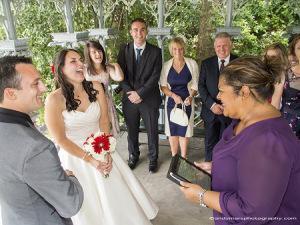 Heather and Scott considered getting married in Walt Disney World, too, but they thought it might be too expensive to ask their family to join them there. They had visited New York together in 2012 and had been stranded there by Hurricane Sandy. They considered the extra time a bonus. They knew they had wanted a small wedding abroad and had fallen in love with the city so they decided to go with New York for their wedding. They chose Central Park because it is one of the most beautiful places in the city.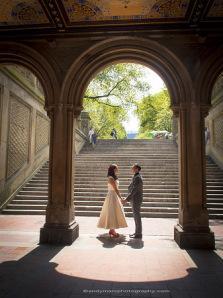 I asked them if they had had any concerns about having a destination wedding. They said that they did not have concerns as such. They said that they found it a little strange to hand over the control of organizing everything to someone else, but "Claire made it so easy," they said.
They stayed in New York for six days. They stayed in the Holiday Inn Express Times Square, they said it was "lovely and well located but reasonably priced."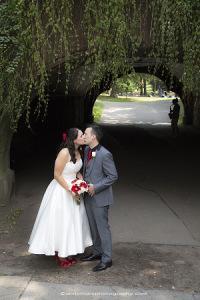 Their ceremony was at the Ladies' Pavilion. A structure well-suited to their group size. They had an acoustic guitarist, Brian Ripps. He played a little for the guests while they waited for Heather to arrive, then he sung "Best Day Of My Life" by the American Authors as Heather walked down the pathway "aisle" to the Pavilion. Scott had written a poem to be read out during the ceremony, then we had planned for Brian to sing "You've Got A Friend In Me" by Randy Newman just after the poem. Heather did not know that this was part of the ceremony, so it was a nice surprise for her. At the end of the ceremony Brian played "Happy" by Pharrell Williams. Brian played a little more while some photographs were taken around the Pavilion. He plays in Manhattan bars almost every night of the week, so with all those hours of practice he is able to play almost any request that couples have with enough notice.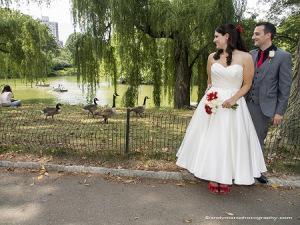 They also had photographs taken by the Lake, on Bow Bridge, by the Fountain and at Bethesda Terrace, "all of which were stunning locations for photographs," said Heather. "Our photographer Andy Mars was amazing and we have so many gorgeous photos to choose from!"
Heather wore a tea length wedding dress from Cutting Edge Brides in Bexley back home in the UK. "It was simple but very pretty," said Heather. It is also a very good length for walking around Central Park. Scott had a gray suit with a black shirt. They looked stylishly co-ordinated with red as their color in the flowers, shoes and tie. Red shoes are also a great choice for walking around Central Park. The flowers were beautiful white roses and red gerberas, which we had delivered to their hotel on the morning of their wedding. Heather did her own hair and makeup with a little help from her brother's fiancée and her mom.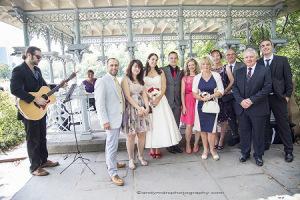 After the ceremony and photos in the Park they had a wedding cake on a park bench and then they took a limousine ride around the city for more photographs with fabulous sights in the background. On the evening of their wedding day they had a river cruise on the Bateaux New York. "This was an amazing experience and we would highly recommend this to others," said Heather. "We were treated fantastically throughout and had gorgeous food. The views were stunning."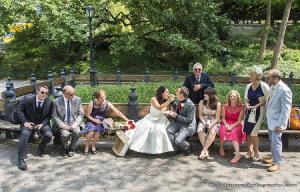 "The service we received from Claire and all at Wed in Central Park has been fantastic and we would 100% recommend them to anyone else who was thinking of marrying in New York. All of our ideas were taken on board, our questions answered quickly and fully and everything went so smoothly on the day. The flowers, officiant, photographer and musician arranged for us were all fantastic. We could not be happier with the service we received! Thank you so much for helping to make our day special, said Heather."
Thank you, Scott and Heather, for sharing your story with us and your fabulous photos. We all wish you the best of luck for your future together back in England. For more information on planning your own Central Park wedding, visit our website, or "like" us on Facebook for photos and more inspiring stories.