Heath Ledger was born on the 4th of April, 1979 in the city of Perth, Australia to mother Sally Ledger Bell and father Kim Ledger. He was most close to her sister Katherine, whom he later credited for encouraging him to be an actor.
As a child, he was really fond of Chess. He even won the Western Australia's Junior Chess Championship at the age of 10. At the same age, he found an interest in acting and performed the lead role of Peter Pan in a production by Guildford Grammar School. Heath was only 11, when is parents get divorced. He found peace in acting and dance and continued to act in his Grammar School.Later on, he did an extra in the movie "clowning around" and after that appeared in a TV Series called "Ship to Shore".
At the age of 16, after finishing his early graduations. He started looking for acting opportunities. He worked as a regular with contemporary actor Martin Henderson in the TV series "Sweat" in the year 1996, before debuting as a film actor in the 1997 emotional drama "Blackrock". This led him to get regular roles in 2 more TV series, which were produced by Americans. One of those TV Series "Roar" was good enough to expose Heath Ledger to the American Audience.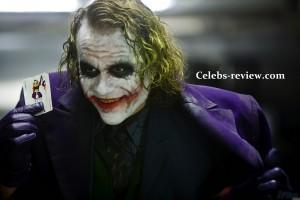 Finally, a 20 years old, Heath Ledger, bagged his breakout role in 1999 in the romantic comedy "10 things I hate about you". This film went to attain cult status among youths, and positioned Ledger as someone who was winning major roles beating greater superstars than him. He played the role of Mel Gibson's son in "The patriot" in 2000 and starred opposite Billy Bob Thornton in "Monster's Ball" and a leading role in "A Knight's Tale" in 2001. These films made his reputation in Hollywood as an actor with potentials to be a true leading man.
In 2005, Ang Lee casted Heath ledger with Jake Gyllenhaal in one of the most controversial films of all time, "Brokeback Mountain". He played the role of agay cowboy who had a lifelong love relationship with another cowboy played by Gyllenhaal. He received best actor nomination at the golden globe and the Academy Awards for his performance in Brokeback Mountain.
In the 2nd film on the latest Batman Franchise, "The Dark Knight". Christopher Nolan casted Heath Ledger for the role of the Psychopathic 'Joker'. His performance as the joker completely put a shadow on Christian Bale's role as the leading man "Batman/Bruce Wayne". He was being compared with the character of Joker played by Jack Nicholson in Tim Burton's "Batman" of 1989, which was an eloquent performance as well. Most people does like his portrayal of the Joker more than Jack Nicholson's.
He died on January 22nd, 2008, due to overdose of the sleep aid combined with other prescription drugs found in the post-mortem report. The coroner report confirmed his death as an accident. The Dark Knight was released six months after his death.He was posthumously awarded the Academy Award and the Golden Globe Award for the best actor in a supporting role category in 2009.
6 total views, 6 views today