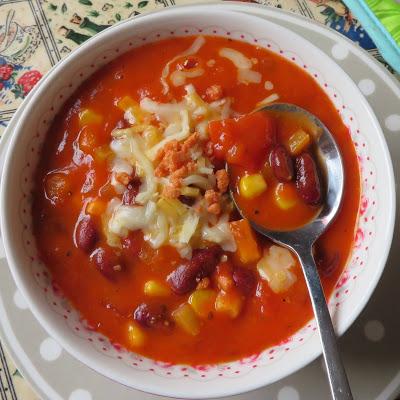 I am really excited to show you this delicious store cupboard recipe today for a Hearty Tomato & Bean Soup.  This makes a lovely, quick supper for those nights when you are rushed off your feet and yet your family is nipping at your heels wanting supper NOW!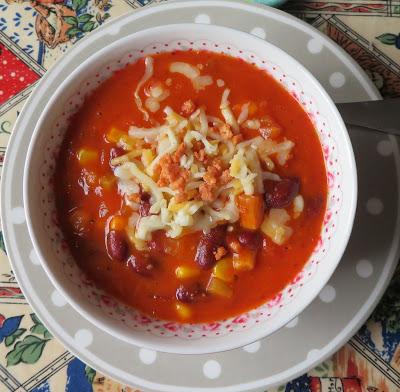 The original recipe was adapted from one of those recipe booklets that you used to be able to buy next to the til's in the grocery store back home. I think it was Pillsbury or one of those. This is a soup my children always enjoyed and gradually through the years I adapted to our own tastes and needs.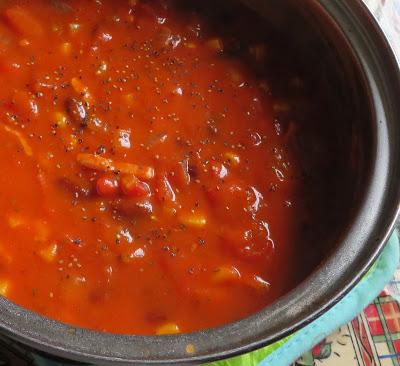 It makes great use of things most people have in their larders most of the time.  Tinned Beans, tinned corn, tinned tomatoes, tinned tomato soup . . .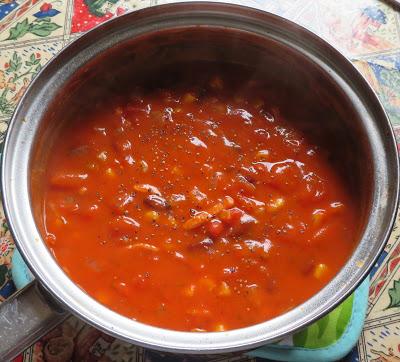 Fresh ingredients include onion and celery, which I am betting most people also have in their larder!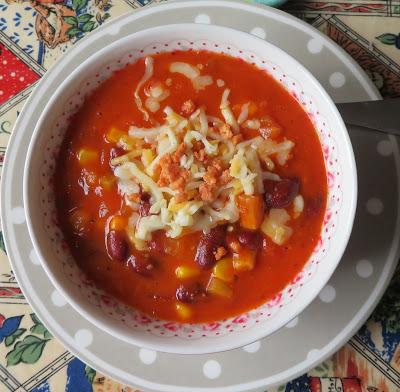 The original recipe called for cooking some bacon at the start, until the fat all rendered out, and then softening the celery and onion in that.  We are trying to stay away from processed meats as much as possible, so now I just use a knob of butter, about 1 TBS.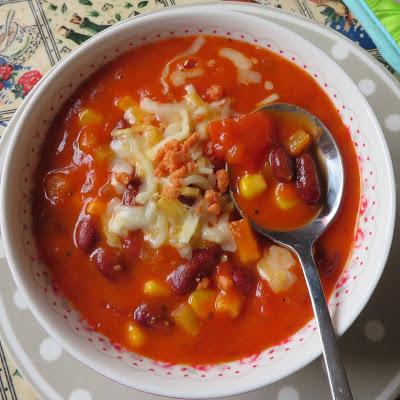 Once you have them softened it is just a matter of dumping all the cans into the soup pan. You do need to drain and rinse the beans but everything else goes in just as is.  I chop the whole tomatoes up in the tin with my kitchen scissors.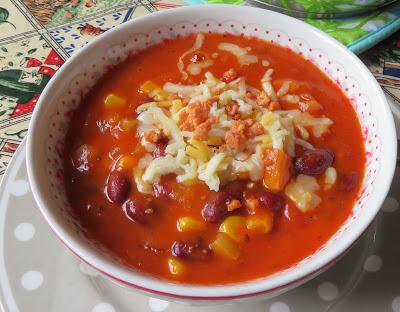 I also added to the seasonings . . .  giving it somewhat of a Tex Mex flair, with mild chili powder. I bring mine back from America. Over here in the UK, use some Taco seasoning, or just to your taste of the unadulterated chili powder they sell in the shops. Our chili powder here in the UK is unadulterated and pure, pure, pure knock your head off hot!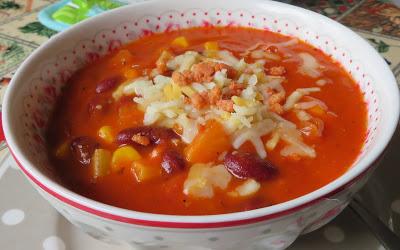 I made that mistake when I first moved over here. I was making chili roasted potatoes and I just added chili powder like I would have at home. YOU COULD NOT EAT THEM!  There was a mushroom cloud rising up in the air above them. VOLATILE!  Hot as heck!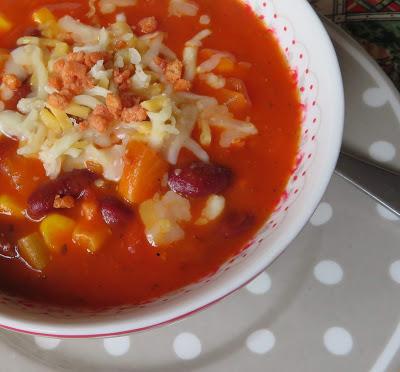 It uses a tin of condensed tomato soup.  This is something which isn't really common over here either, but you can find it in the tinned soup section of most shops. It is a condensed version of tomato soup that you need to add a tin of water to if you are going to eat it as soup.  In this recipe, you just stir it in as is.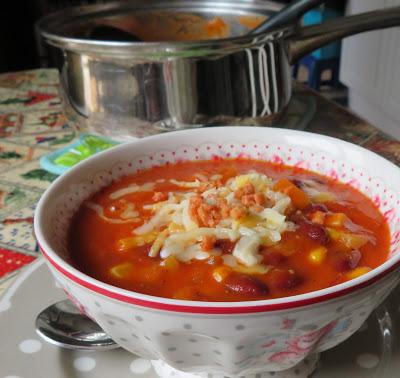 I'll be honest with you however, I have used a tin of British tomato soup with no problems whatsoever. So just use what you have condensed or not. It really doesn't make much of a difference.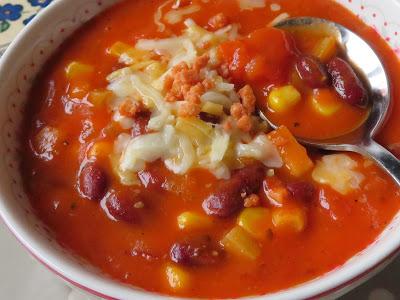 You do need to drain and rinse the beans, but the  tin of corn goes in, liquid and all. This helps to keep the soup from being
TOO
thick.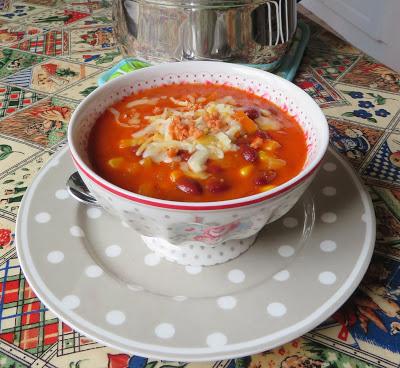 I add garlic powder and oregano  . . .  and then right at the end I stir in the juice of a lime.  Magnifico!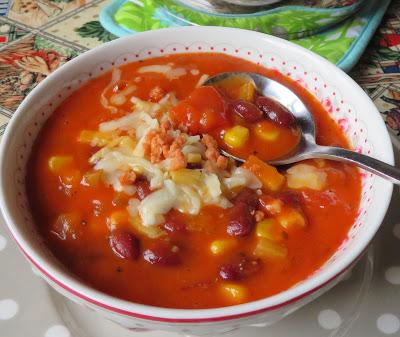 It adds just the perfect touch and adds a tiny bit of tang, which we really enjoy and which goes really well with the tomatoes, etc.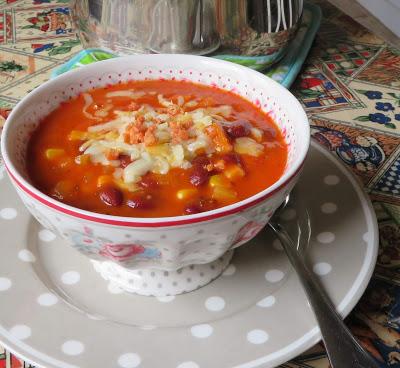 When you serve it you can sprinkle it with cheese.  Todd loves that, and I have sprinkled it with bacon bits that you use on salads, but that is completely optional! If you have opted to use bacon at the beginning, you can crumble that up and sprinkle some over each serving.
Yield:
6
Author:
Marie Rayner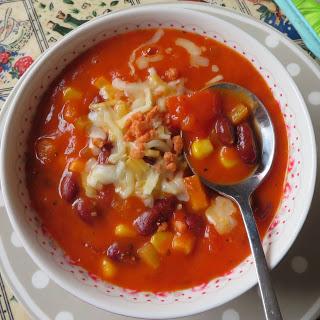 Hearty Tomato & Bean Soup
This hearty soup is quick to throw together, using store cupboard ingredients.  Deliciously satisfying.  Add a grilled cheese sandwich and every body's happy!
ingredients:
1 TBS butter
1 stick celery trimmed and chopped
1 medium onion, peeled and chopped
2 (400g) tins of whole tomatoes, undrained and chopped ((1 28-oz tin)
1 (400g) tin of kidney beans, drained and rinsed (1 15.5-oz tin)
1 (10  3/4 oz) tin of CONDENSED tomato soup (Bachelors over here)
1 (320g) tin of corn niblets, undrained (1 11-oz)
120ml water (1/2 cup)
1 tsp sugar
1/2 tsp garlic powder
1 tsp oregano
1 TBS MILD chili powder, or to taste
black pepper to taste
the juice of one lime
To serve:
grated cheddar to garnish
bacon bits (optional)
instructions:
How to cook Hearty Tomato & Bean Soup
Melt the butter in a large saucepan.  Add the onions and celery. Cook and stir until they are crispy tender. Stir in all of the remaining ingredients with the exception of the lime juice, including all seasonings. Bring to the boil.  Reduce to a simmer and cook over low for 10 to 15 minutes.  Taste and adjust seasoning as required.  Squeeze in the lime juice and stir.  Ladle into heated bowls to serve, garnished with cheese and bacon bits if using.
Created using
The Recipes Generator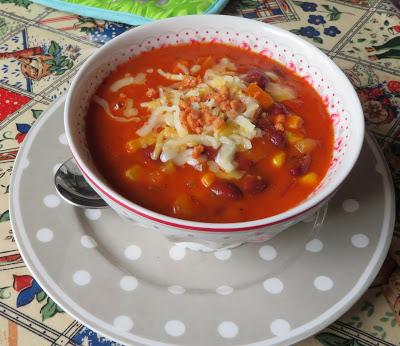 The original recipe suggested serving this with grilled cheese sandwiches.  That always went over really well with my family, but now with just Todd and myself, we just don't have as hearty appetites as all that!  We are happy with just the soup.  Todd enjoys a slice of buttered bread with his.  And that's that! 
Up tomorrow:
Cheesy Garlic Bread,
but maybe not.  I am undecided as of yet.  Watch this space.  I was going to send Todd out for a loaf of fresh French Bread in the morning, but we have someone coming to cut down our fruit trees, so we may scratch the purchase of French Bread. We will see how long they take!