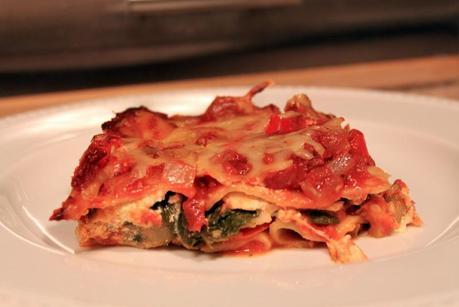 For my last recipe of 2011, I thought it would be fun to revamp the first recipe I ever created on my own: healthy vegetarian lasagna.
The husband absolutely loves lasagna, I think it might be his favorite italian meal. We rarely ordered it at restaurants though, for two reasons:
1) It's hard to find good vegetarian lasagna at most restaurants
2) Most veggie-friendly lasagna recipes are made with white pasta (no fiber), way too much cheese (too much fat/calories), and barely any veggies (which makes eating it kind of monotonous)
I really wanted to make a healthy version of lasagna without cutting the flavor, but I couldn't find a recipe for lasagna that sounded good anywhere!
So, with some massive encouragement from the husband (I was a timid beginner cook at the time), I started experimenting. I knew I could get pretty far using common sense: use a tomato based sauce and traditional italian cheeses, and bake it in the oven. I made healthy modifications that I snuck into the recipe: using whole wheat lasagna noodles instead of white, and adding more veggies to increase the nutritional value.
I remember serving the husband his first portion of the newly cooked lasagna, straight out of the oven. I remember staring at his face while he took a bite, praying that it would taste good. I remember being nervous. And then I remember the big smile on his face when he said, "this is the best lasagna I've ever had."
Success! And I was able to make it much healthier than traditional versions: double bonus! This meal has quickly become a favorite at dinner parties and potlucks, and is a great, hearty, one-dish meal.
Ingredients
Whole wheat lasagna noodles (uncooked)
4 fresh, organic zucchini
2 red bell peppers
1 bag of organic baby spinach
1 red onion, chopped
Garlic; minced
Dried oregano
Dried basil
Fresh thyme
1-28oz. can of crushed tomatoes (with Italian spices added–like basil, oregano, etc. if you can find that)
1 jar ready-made spaghetti sauce (I like the tomato basil marinara from Trader Joe's!)
Olive oil and cooking spray
Fat-free ricotta cheese
Low-fat shredded mozzarella
Shredded Parmesan or 4 cheese blend (I used this shredded 4 cheese blend from Trader Joe's that has Parmesan, Asiagio, Mozzarella and Fontina)
Directions – Noodles
Cook the lasagna noodles according to the package directions (leave them al dente)–salt the water, if you like.
Once they're done, lay them flat on foil and set aside.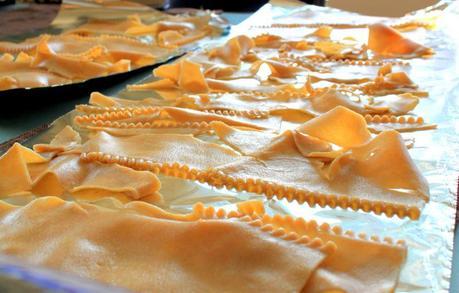 Directions – Vegetables
Quarter all 4 zucchini and thinly slice.
Thinly slice one of the red bell peppers (I cut the slices in half so they're not so long).
Mince 3 cloves of garlic.
Heat about 1 tbsp. olive oil in a pan over medium heat (I might have used a little less–maybe 2-3 tsp), saute the garlic, zucchini, red pepper together.
Add the whole bag of baby spinach at the end (when the zucchini/red pepper are almost done cooking).
Sprinkle oregano and dried basil to taste on top, stir, and let it cook a couple more min.
When the spinach is cooked, turn the heat down to low.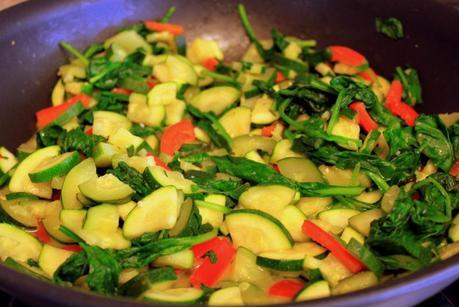 I loved using fresh herbs mixed with dried herbs to season the vegetables. Gave it a slow cooked and bright flavor at the same time.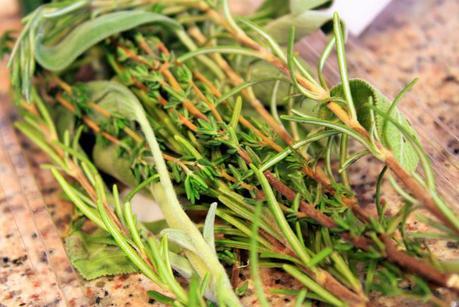 Directions – Sauce
Mince 2-3 cloves of garlic.
Dice half a red onion (If it's a small onion, dice the whole thing).
Dice the other red bell pepper.
Heat 2-3 tsp olive oil in a pot over medium heat.
Saute the red onion, garlic, and red pepper for a few min (until the onion starts turning a little translucent).
Add the crushed tomatoes.
Add dried oregano (I'm not sure how much I put–I basically sprinkled it over the top and stirred it in–maybe 2 tsp.).
Once the sauce is heated through, turn the heat down on low.
Directions – Cheese
Combine 1.5 cups of the ricotta cheese, 1 cup of the mozzarella, 1 cup of the Parmesan (or 4 cheese mixture if you can find that at Trader Joe's) in a bowl.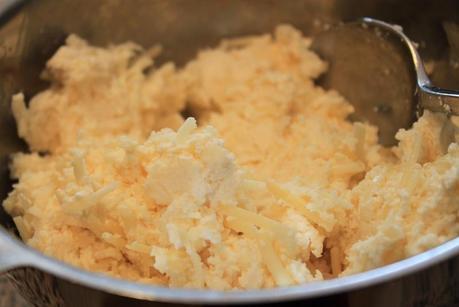 Assembly
I used a casserole dish to assemble the lasagna in–and sprayed the bottom of the dish with cooking spray.
Put a layer of sauce at the bottom of the dish (I did about half of the pre-made spaghetti sauce and half of the sauce I made myself–I did this for every layer except the top).
Put a layer of the lasagna noodles.
Put another layer of the sauce (1/2 pre-made, 1/2 self made).
Put a layer of the veggies.
Take the cheese mixture, and put little crumbles of the cheese mixture all over the veggie layer (don't try to spread it out, the little crumbles seemed to work well).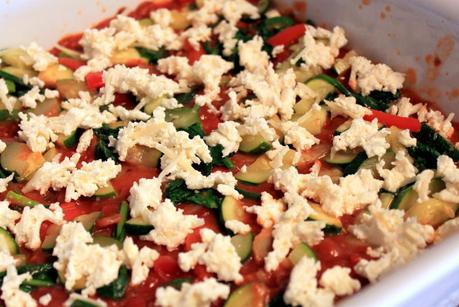 Put another layer of the lasagna noodles. Layer of sauce (if you have enough use the self made, otherwise add in the pre-made as needed). Layer of veggies. Cheese mixture crumbles. Layer of lasagna noodles. Layer of sauce (only self made). Sprinkle the Parmesan cheese all over the top.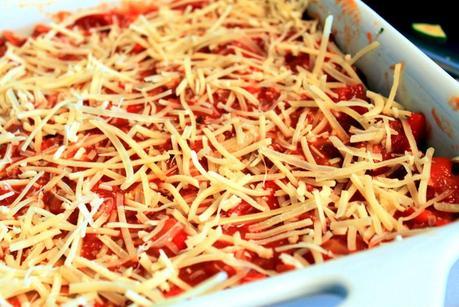 Cover with foil and bake at 350 degrees for 30 min. Uncover and bake for 5 min. longer until the cheese has melted.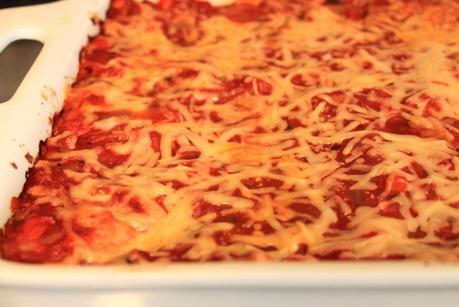 It's quite a process to make (takes about 2 hours including the baking/cooking time), but it's so worth it in the end! And it makes for great leftovers. I hope you enjoy this meal as much as we did!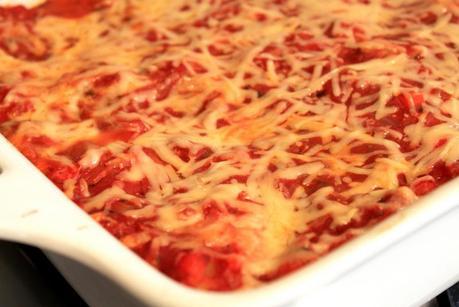 . . .
If you liked this post please:
- 
Subscribe to The Picky Eater
- 
Follow The Picky Eater on Twitter
- 
Follow The Picky Eater on Facebook
-  Noodles1. Cook the lasagna noodles according to the package directions (leave them al dente) – salt the water if you like2. Once they're done, lay them flat on foil and set asideVeggies1. Quarter all 4 zucchini and thinly slice2. Thinly slice one of the red bell peppers (I cut the slices in half so they're not so long)3. Mince 3 cloves of garlic4. Heat about 1 tbsp olive oil in a pan over medium heat (I might have used a little less – maybe 2-3 tsp), saute the garlic, zucchini, red pepper together5. Add the whole bag of baby spinach at the end (when the zucchini/red pepper are almost done cooking)6. Sprinkle oregano/dried basil to taste on top, stir, and let it cook a couple more min7. When the spinach is cooked, turn the heat down to lowSauce1. Mince 2-3 cloves of garlic2. Dice half a red onion (or if it's a small onion, dice the whole thing)3. Dice the other red bell pepper4. Heat 2-3 tsp olive oil in a pot over medium heat5. Saute the red onion, garlic, and red pepper for a few min (until the onion starts turning a little translucent)6. Add the crushed tomatoes7. Add dried oregano (I'm not sure how much I put – I basically sprinkled it over the top and stirred it in – maybe 2 tsp?)8. Once the sauce is heated through, turn the heat down on lowCheeseCombine 1.5 cups of the ricotta cheese, 1 cup of the mozzarella, 1 cup of the Parmesan (or 4 cheese mixture if you can find that at trader joes) in a bowlAssembly1. I used a casserole dish to assemble the lasagna in – and sprayed the bottom of the dish with cooking spray2. Put a layer of sauce at the bottom of the dish (I did about half of the pre-made spaghetti sauce and half of the sauce I made myself – I did this for every layer except the top)3. Put a layer of the lasagna noodles4. Put another layer of the sauce (1/2 pre-made, 1/2 self made)5. Put a layer of the veggies6. Take the cheese mixture, and put little crumbles of the cheese mixture all over the veggie layer (don't try to spread it out, the little crumbles seemed to work well)7. Put another layer of the lasagna noodles8. Layer of sauce (if you have enough use the self made, otherwise add in the pre-made as needed)9. Layer of veggies10. Cheese mixture crumbles11. Layer of lasagna noodles12. Layer of sauce (only self made)13. Sprinkle the Parmesan cheese all over the topCover with foil and bake at 350 degrees for 30 min
Uncover and bake for 5 min longer until the cheese has
Noodles
1. Cook the lasagna noodles according to the package directions (leave them al dente) – salt the water if you like
2. Once they're done, lay them flat on foil and set aside
Veggies
1. Quarter all 4 zucchini and thinly slice
2. Thinly slice one of the red bell peppers (I cut the slices in half so they're not so long)
3. Mince 3 cloves of garlic
4. Heat about 1 tbsp olive oil in a pan over medium heat (I might have used a little less – maybe 2-3 tsp), saute the garlic, zucchini, red pepper together
5. Add the whole bag of baby spinach at the end (when the zucchini/red pepper are almost done cooking)
6. Sprinkle oregano/dried basil to taste on top, stir, and let it cook a couple more min
7. When the spinach is cooked, turn the heat down to low
Sauce
1. Mince 2-3 cloves of garlic
2. Dice half a red onion (or if it's a small onion, dice the whole thing)
3. Dice the other red bell pepper
4. Heat 2-3 tsp olive oil in a pot over medium heat
5. Saute the red onion, garlic, and red pepper for a few min (until the onion starts turning a little translucent)
6. Add the crushed tomatoes
7. Add dried oregano (I'm not sure how much I put – I basically sprinkled it over the top and stirred it in – maybe 2 tsp?)
8. Once the sauce is heated through, turn the heat down on low
Cheese
Combine 1.5 cups of the ricotta cheese, 1 cup of the mozzarella, 1 cup of the Parmesan (or 4 cheese mixture if you can find that at trader joes) in a bowl
Assembly
1. I used a casserole dish to assemble the lasagna in – and sprayed the bottom of the dish with cooking spray
2. Put a layer of sauce at the bottom of the dish (I did about half of the pre-made spaghetti sauce and half of the sauce I made myself – I did this for every layer except the top)
3. Put a layer of the lasagna noodles
4. Put another layer of the sauce (1/2 pre-made, 1/2 self made)
5. Put a layer of the veggies
6. Take the cheese mixture, and put little crumbles of the cheese mixture all over the veggie layer (don't try to spread it out, the little crumbles seemed to work well)
7. Put another layer of the lasagna noodles
8. Layer of sauce (if you have enough use the self made, otherwise add in the pre-made as needed)
9. Layer of veggies
10. Cheese mixture crumbles
11. Layer of lasagna noodles
12. Layer of sauce (only self made)
13. Sprinkle the Parmesan cheese all over the top
Cover with foil and bake at 350 degrees for 30 min