Chinese ink and rice paper.
Do they ring a bell? When was the last time you laid your hands on them?
For me, I have not touched them in at least a decade or more. These materials are also not typical of what I use when I craft with Angel, so it was a pleasant surprise when I learnt that she would be using them in her third art project at heART Studio.
So, what was going to be the subject of her painting this time round? *hint: think of pandas munching away*
Yes, it's the Bamboo.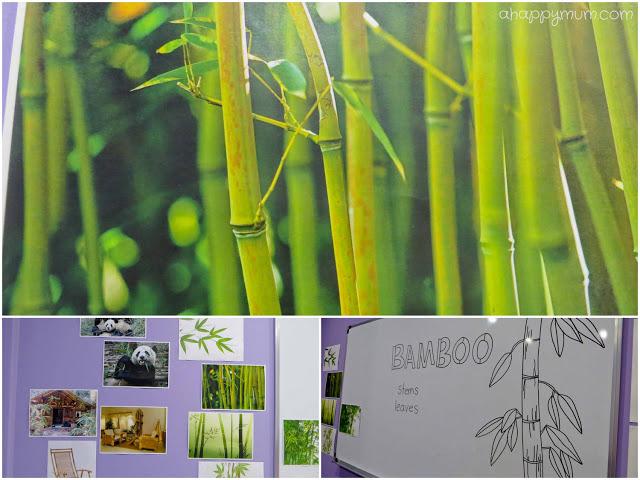 Initially, I was a little puzzled as to what kids can learn from painting something as simple as bamboo. I mean, it's not like drawing an elephant or an aeroplane. Bamboos are straight, slim and seemingly easy to draw. The truth is, something that looks easy to me might not be likewise to my girl and drawing a 'good' stalk of bamboo is not really a piece of cake after all.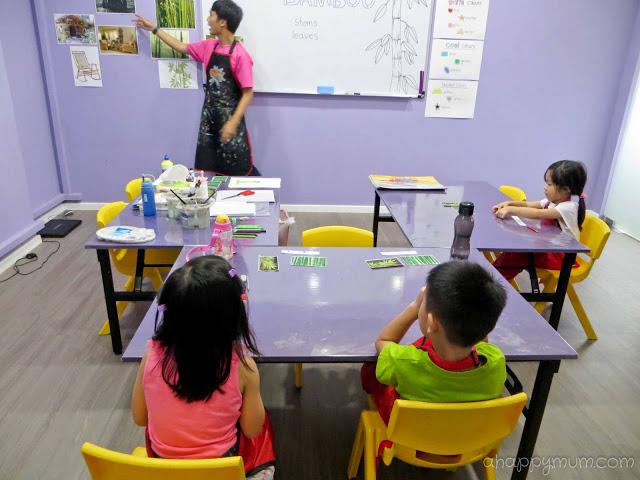 At heART Studio, it is not only learning about how to draw. I appreciate how Teacher Syafiq took time to explain on the bamboo plant, how it looked like and what it could be used for. Students were taught on words like 'furniture' and also learnt about how bamboo is the favorite food for pandas.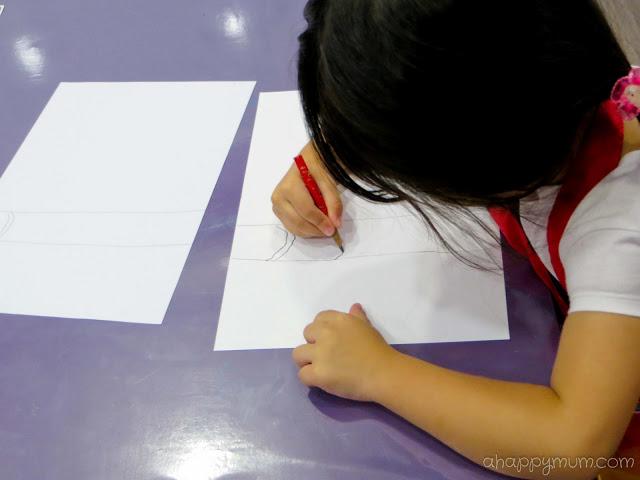 In her first lesson, Angel was taught on how to draw the bamboo using just a pencil and paper. From the stem, segments to the twigs and leaves, she was guided step by step and tasked to draw them on her own. I love how Teacher Syafiq tries not to hold her hand as much as possible but instead, demonstrate to her how it should be done and then let her repeat after him. Yes, there should be no spoonfeeding in art and craft!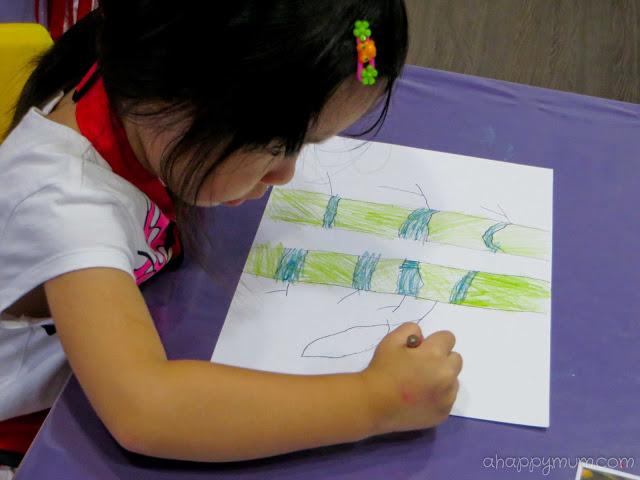 Next, she used color pencils to color the stems and proceeded to draw the leaves. I must say this was a challenge for her and her leaves would look either loopy or out of shape. The most important thing is to remember that in art, there is no right or wrong.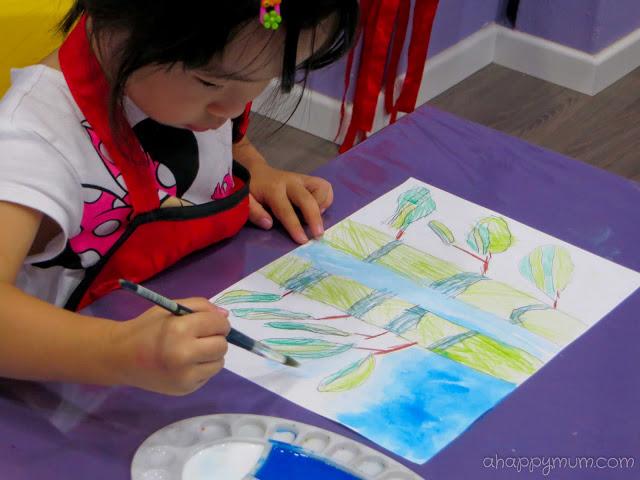 Knowing how kids love to paint, they were also given the opportunity to paint a blue background for their beautiful first piece of bamboo art.
******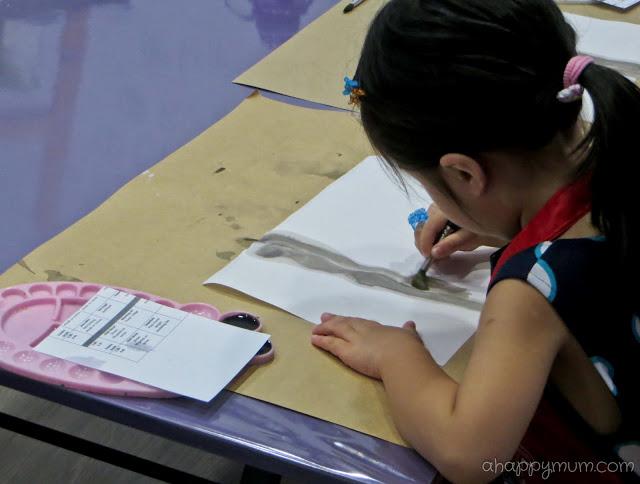 At the second lesson, it was time to bring on the chinese ink and rice paper. The thing about rice paper is that it is extremely thin and once you exert too much strength on your brush, it breaks. So the kids had to learn to be extra careful when dealing with this medium.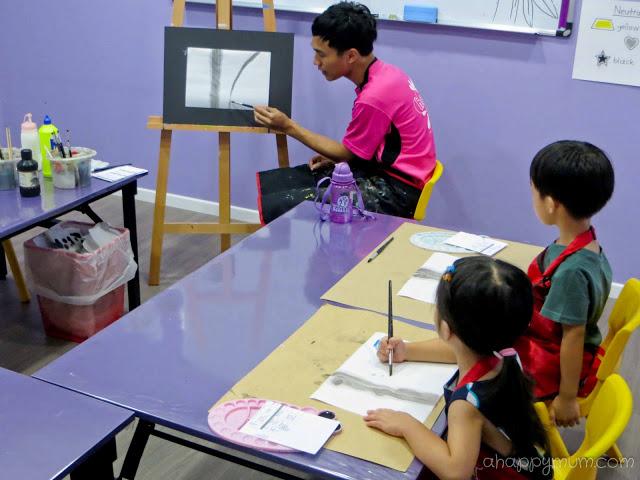 For Angel, it was not about using too much strength. It was about not being focused enough because as usual, she was easily distracted by her peers and the surrounding. So once, she placed her brush on the rice paper and then kept looking left and right instead of paying close attention to her work. And what did she get? Yes, a hole.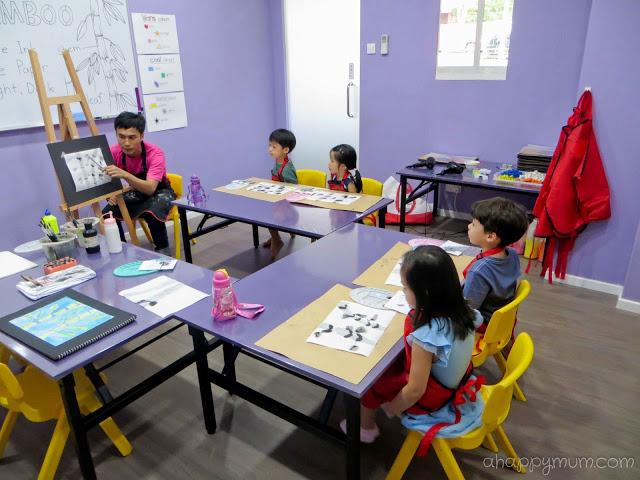 As you can see, Teacher Syafiq demonstrated how to draw the bamboo by using an easel stand of his own and making his own art piece. Of course, he would go around to supervise and provide assistance when needed but as much as he could, he did not hold their hands and draw for them.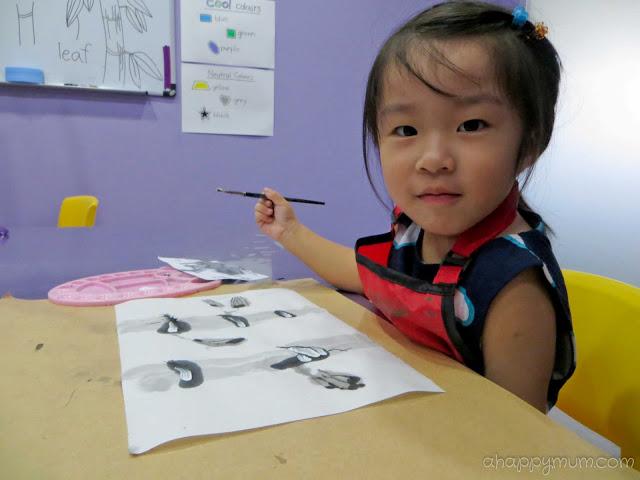 Having a hole in her art piece was not a big deal, what was more important was learning from it and taking care to exercise extra caution in future.
******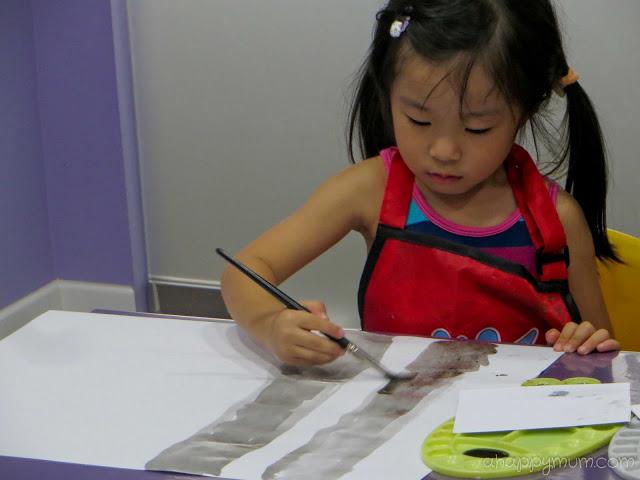 For her third and last lesson in this bamboo project, Angel worked on her final art piece which was done on a big piece of watercolour paper.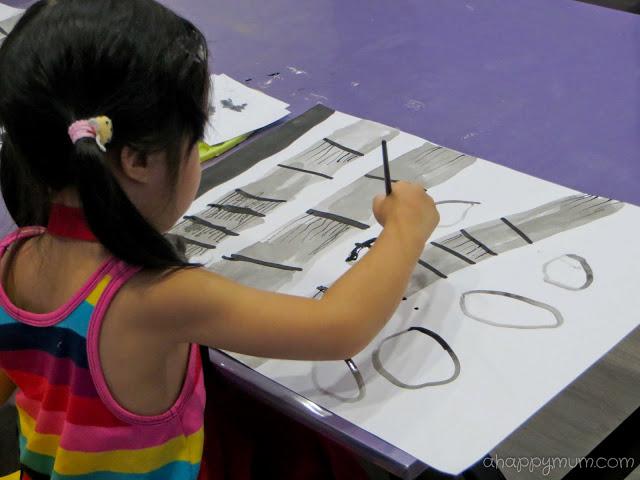 By using different shades of the chinese ink, she did her B&W bamboo painting. Besides using a paintbrush to paint the stems, segments and leaves, she also made use of a chopstick to draw the twigs and add in some fine lines for details.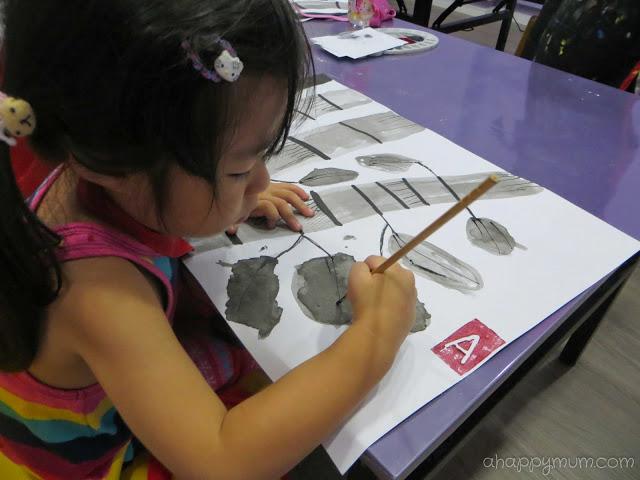 My favorite part was when they penned their names onto their artwork and had a red stamp for the first letter of their name, just like how Chinese painters like to use seals and imprint their names.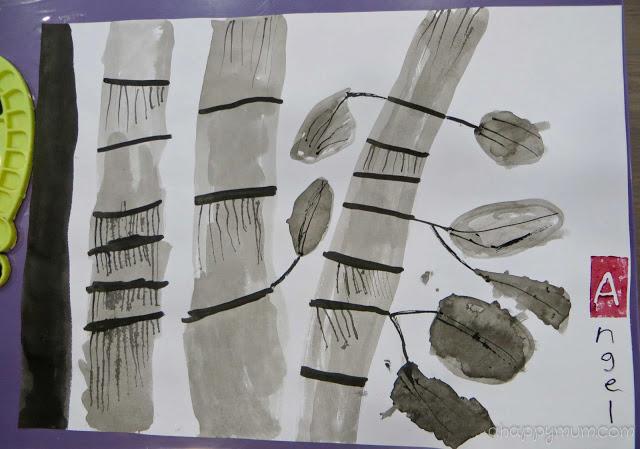 Voila! And this was Angel's final artwork for the bamboo project. See, I told you she had weird leaves. Nonetheless, this was great exposure for her and I bet she can't wait for her next art class at heART Studio.
Great news! The kind people at heART Studio have offered to let Angel attend another term of art classes so stay tuned for more reviews coming your way, including the story of how heART Studio started. We will also be painting some robots and fairies this week at their June Holiday workshop so don't forget to check out Angel's artwork!
******
heART Studio believes in providing quality Arts education for all their students to gain mastery in making art, to nurture their creative potential and to cultivate a community of artists and art lovers of all ages. Its class programmes include age appropriate activities uniquely designed to engage and inspire young artists, aged 3-12, to cultivate their creativity and learn technical art skills. For more information, visit www.heartstudiosg.com.
Disclosure: This is Part III of a series of reviews between heART Studio and A Happy Mum. Angel attended complimentary art lessons for the purpose of writing this review. No monetary compensation was received and all opinions are my own.