As I was scrolling through my iTunes 'Cover Flow' today, hearts started catching my eye (as they tend to do these days). Following is just a sampling of the heart-adorned cover art in my collection.
Flip through your music collection and let me know what other album cover art hearts you uncover! (I plan to make a huge mosaic of album art containing hearts.)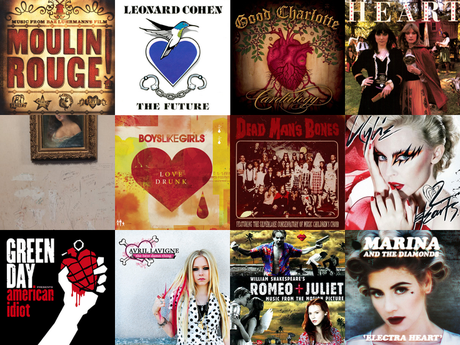 Album art heart-spotting – give it a try!
The artists, albums and singles represented here include…
Moulin Rouge! Music from Baz Luhrmann's Film (2001) – "One Day I'll Fly Away"
Leonard Cohen, The Future (1992) – "Closing Time"
Good Charlotte, Cardiology (2010) – "Sex on the Radio"
Heart, Little Queen (1977) – "Barracuda"
Dolorean, The Unfazed (2011) – "Country Clutter"
Boys Like Girls, Love Drunk (2009) – "Love Drunk"
Dead Man's Bones, Dead Man's Bones (2009) – "Pa Pa Power"
Kylie Minogue, X (2007) – "2 Hearts"
Green Day, American Idiot (2004) – "Wake Me Up When September Ends"
Romeo + Juliet (soundtrack) (1996) – "Kissing You" (Des'ree)
Marina and the Diamonds, Electra Heart (2012) – "Lies"