A healthy lifestyle is a key to happiness. It makes the body and soul happy, but with a hectic schedule, following a proper lifestyle becomes difficult.
Also, living in urban cities leads to exposure to environmental hazards like pollution, dust, allergies, etc.
So, it is important to take out some time for ourselves and prevent oneself from lifestyle diseases like heart diseases, stroke, diabetes, etc. Having a proper weight can avoid these diseases and make you live a healthy life.
Everyone wants to lose weight, but want it to happen without efforts. In fact, I have come across many patients asking me, is there any medicine to lose weight without diet and exercise?
The answer is "NO", medicine does help you lose weight, but a proper diet and exercise are equally important. Smaller easy-to-manage changes in our day-to-day lives will help to lose weight naturally.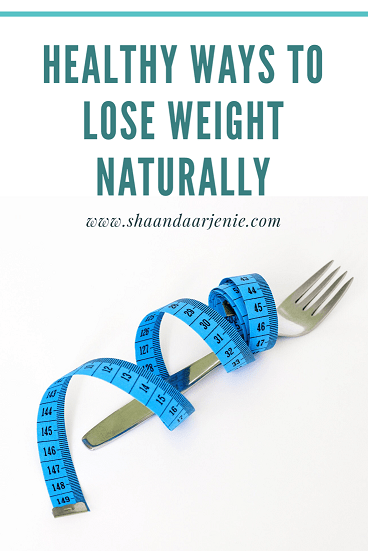 Pin It
Read on below steps for a Healthy Ways to Lose Weight Naturally
1) Drink lots of water
Water helps to reduce weight. Especially when you wake up in the morning, have a glass of water.
Water helps to clear our system, bring on metabolism rate and flush out the toxins. It is good for your skin too.
2)  Exercise Regularly
Indulge in physical activity you enjoy like dancing, swimming or brisk walk for 25-30mins at least 4 times a week.
If you have a sedentary lifestyle, do take a 5-minute break every 45 minutes at work and go for a quick walk or take office stairs and count the steps.
You can also do LEG SWINGS for those 5 minutes.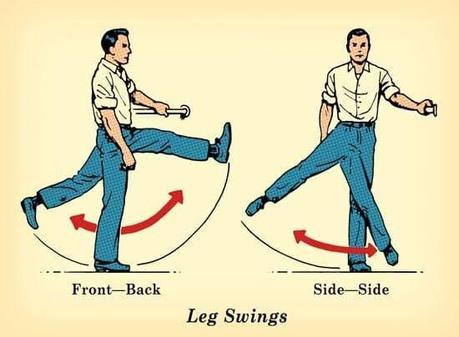 3) Eat Healthily
Start having healthy foods like fruits, green vegetables, salads, yogurt, nuts, legumes and seeds to your daily routine apart from three meals (breakfast, lunch, dinner), this way you will feel more satisfied and energized throughout your day.
Eat smaller meals more often. Cut down on your salt intake and have it wisely.
Also Read: Natural Ways to Increase Haemoglobin
4) Sleep Well
Make sure you sleep on time and get complete 7hours of rest.  Many reports suggest that sleep deprivation creates an impact on hunger hormones and one craves for energy-dense, high-carbohydrate foods.
So to lose weight and for a healthy life, a complete good sleep is a must.
5) Stress Less
Do not take the stress of your weight and deal with it positively. A healthy mind leads to a healthy weight. So follow your lifestyle accordingly.
Also Read: What to eat and NOT to eat during Diarrhoea
6) Ayurvedic medicines
Ayurvedic medicine does help in reducing the weight loss, but as I said earlier, in order to complement the benefits of this medicine, proper diet and exercise are essential.
Dr. Vaidya's has come up with an exceptional Ayurvedic medicine for cholesterol and weight loss-
Weight Reduction Pack which is 100% natural with no side effects.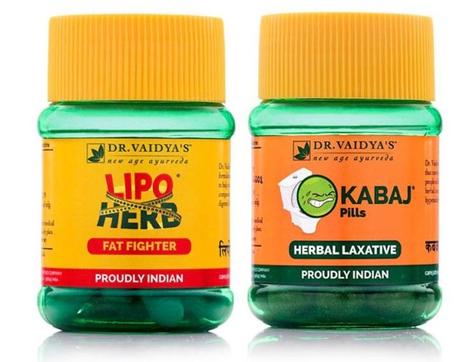 WEIGHT-REDUCTION-PACK
The pack consists of 2 products-
1. Lipoherb
It comprises of herbs such as Harda Ghan, Amla Rasayan, and Shuddha Guggul Powder which stimulates the metabolism of the fat cells thereby burning any excess body fat.
This will help in controlling your cholesterol levels, reduce appetite and weight.
2. Kabaj Pills
It is essentially an ayurvedic medicine for constipation which stimulates bowel movements and offers instant relief from the pain and discomfort caused due to constipation.
This, in turn, helps the body get into a better routine, thus improving the metabolism, and consequently helping in weight loss.
These pills effectively remove all the excess fat from the body and provide protection from obesity.
The product is easily available at their online store and on Amazon
*Note: Before starting any weight loss medicine kindly take consultation from a doctor at +91 98202 91850.
What do you do to lose weight? Would love to know, do share your story on comments below.
*Disclaimer: The content in this post is purely meant for educational purpose only and not meant to be a replacement for a doctor consultation, nor is it a medical recommendation or prescription of treatment.
*PC: Pixabay, google
*Disclosure: This post contains affiliate links and I may receive a small commission if you purchase through them at no extra cost to you.