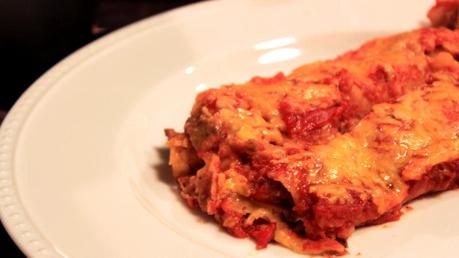 This recipe is another oldie but goodie.
It's also one of those "I-was-first-starting-out-cooking-didn't-know-what-I-was-doing-but-somehow-it-turned-out-good" recipes.
The husband and I love Mexican food, and whenever we're at a Mexican restaurant the hubby, without fail, will order enchiladas. Sometimes he'll mix it up with a taco, but there will always, always be enchiladas.
I don't blame him, I mean, enchiladas are really tasty. The warm, cheesy goodness along with the spicy sauce is almost too hard to resist.
Unfortunately most restaurant enchiladas are full of fat, and the vegetarian versions rarely have anything except cheese inside. So you end up eating corn tortillas with cheese and sauce. Not the most exciting enchilada, albeit still amazingly tasty.
I decided to make a version at home that was still as flavorful as the restaurant kind, but just a bit healthier. It was a success: the husband loved them, and it's become a staple in our house.
The Ingredients
10 small corn tortillas (70 calories each)
2 15oz cans tomato sauce
1 15oz can fire roasted diced tomatoes with chiles
1 tsp dried oregano
1 tsp ground cumin
1/2-1 tsp garlic powder
Dash of cayenne pepper (optional)
1 cup vegetable broth
Frozen bell pepper mix
Frozen yellow corn mix (optional)
1 cup reduced fat Mexican cheese blend
1 15oz can refried black beans
Taco seasoning
It's no secret that I love Trader Joe's, and so I got most of the ingredients above from TJs. Here are pics of some of the key ingredients (peppers, black beans, and tomatoes/tomato sauce), in case you need to find them!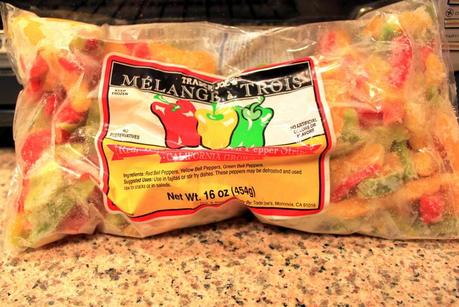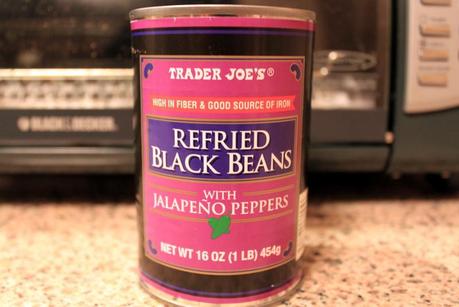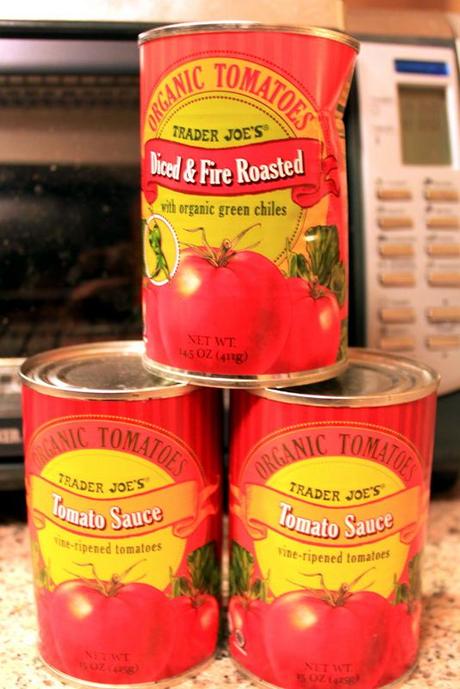 The Directions
Step 1: Preheat oven to 350 degrees. Combine frozen bell peppers and frozen corn in a non-stick skillet and saute (with no oil) on medium heat. Add a healthy serving of taco seasoning to taste. Cook for 10-15 minutes until the peppers are heated through.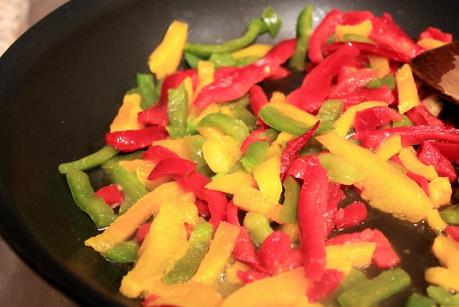 Step 2: Heat the 2 cans tomato sauce, diced tomatoes with chiles, cumin, oregano and garlic powder in a large pot. Add a dash of cayenne if you like things spicy. Once heated through, blend with an immersion blender, and add broth until the sauce is the consistency you like. (For a thinner sauce, add more broth).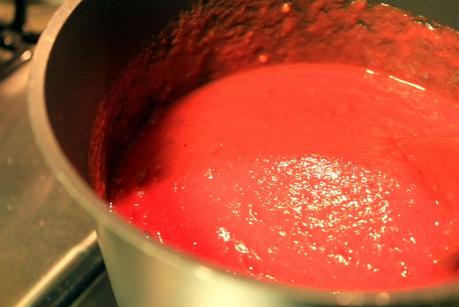 Step 3: Heat up refried black beans over medium heat and add taco seasoning to taste. Warm corn tortillas in the microwave (wrap in a paper towel, heat for 40-60 seconds until warmed through).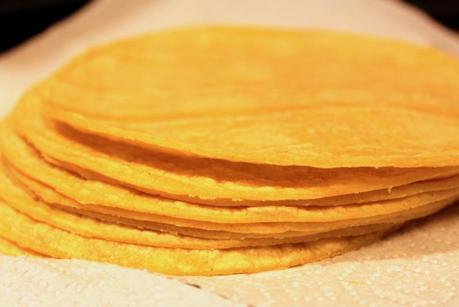 Step 4:
Now it's time for assembly! In a large casserole dish, begin creating the enchiladas: Take a corn tortilla, spread refried black beans down the middle (about 3-4 Tbsp), top with veggie mixture, top with 1-2 Tbsp cheese, roll.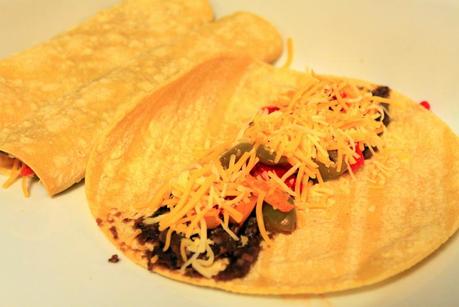 Step 5: 
Once all the enchiladas are rolled up in the dish, top with the enchilada sauce and the remaining cheese.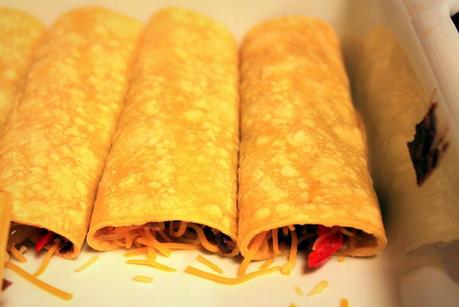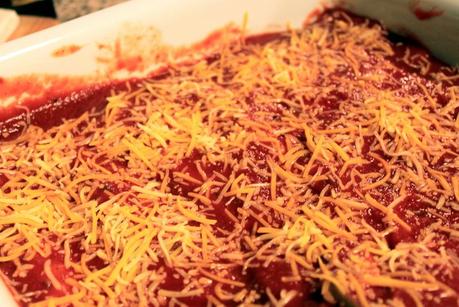 Step 6: 
Bake, covered with foil at 350 degrees for 10-12 min. Remove foil, heat for another 7-9 min or until cheese is melted and bubbly.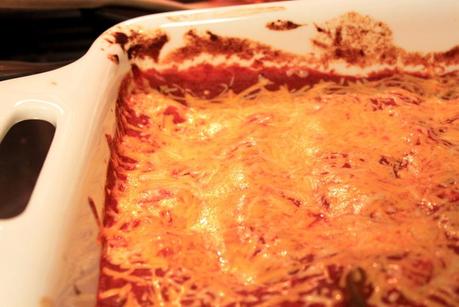 These enchiladas pack a nutritional punch: the fiber from the black beans, veggies and corn tortillas + the protein from the cheese and beans makes for a really well rounded meal. Oh, and definitely make your own enchilada sauce – it literally takes 5 minutes and is so worth it!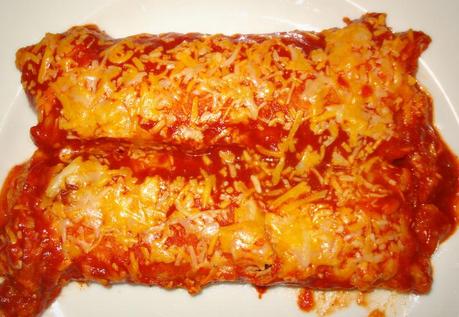 You can also customize these enchiladas any way you like: if you don't like too much cheese, add less of it. If you want different veggies – go ahead and mix it up! The possibilities are endless.Two enchiladas was a good serving size for me, the hubby had four. Makes sense since he's a boy and is practically double my size. Ok, not exactly double – I'm 5 feet tall, he's 6 feet tall. But that's close enough.

Hope you enjoy this dish as much as we do!