This post may contain affiliate links. Please read my disclosure.
These delectable Healthy Vegan Scones with Pumpkin are a delightful addition to any breakfast or brunch! They are filled with all the flavors and aromas of fall and are drizzled in a drool-worthy homemade maple glaze. Ready in 30 minutes and easily made gluten-free too!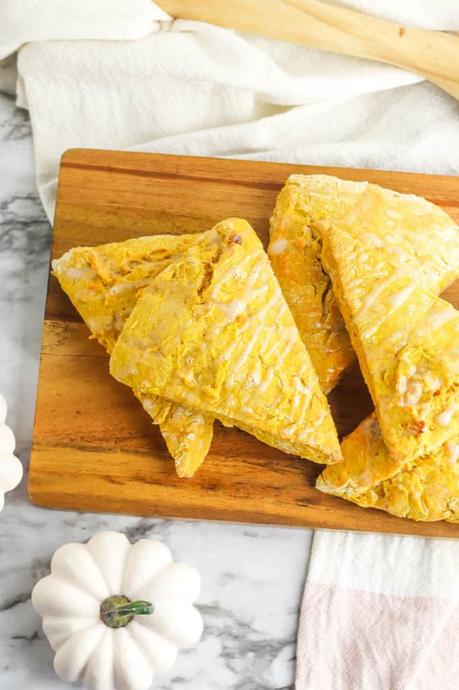 There is never a wrong reason to make a batch of these vegan scones. They are moist, tender, subtly sweet, and filled with all the ingredients I love when the weather begins to chill.
Scones are often a classic addition to most brunch or breakfast tables. But truth be told, the traditional version of a scone will run you about 350-400 calories and anywhere from 20-30 grams of sugar! That's more than a full sized Snickers candy bar!
I knew there had to be a better way to enjoy one of my favorite baked goods in a lightened-up way. These vegan scones are just that!
Each scone is perfectly sweet, soft, crumbly and will remind you of your favorite bakery scone - but you can enjoy it completely guilt-free! It's positively heavenly and I can't wait for you to try it.
Tools and Equipment You'll Need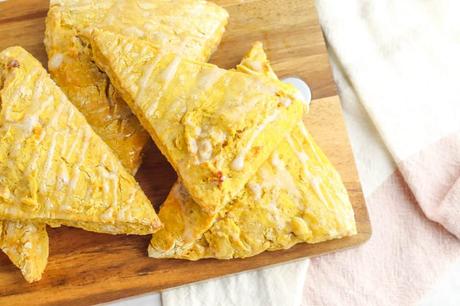 Recipe Ingredients and Notes
Flour: This recipe uses a combination of all purpose and white whole wheat flour for added whole grains. For even more fiber, you can try this recipe with whole wheat pastry flour instead of the all purpose flour.
Sugar: These scones have only 6 grams of sugar for one giant scone! But if you want a sweeter scone, I recommend using 1/4 cup brown sugar and 1/2 cup powdered sugar (which would give you a scone with 9 grams of sugar per scone!)
Pumpkin: Since these scones are fall-inspired, I used pumpkin puree in them. But you could very easily replace the pumpkin with your favorite add-in for this recipe - blueberries, nuts, or chocolate would all work well.
Oil: I recommend using coconut oil in this recipe to keep these vegan friendly. You can also use olive oil, but it will change the flavor of the scones slightly.
Step by Step Instructions
Step 1: Preheat oven to 425 degrees and prepare a baking sheet by lining with parchment paper. In a large bowl, whisk together the flour, whole wheat flour, sugar, baking powder, cinnamon, pumpkin pie spice, and salt.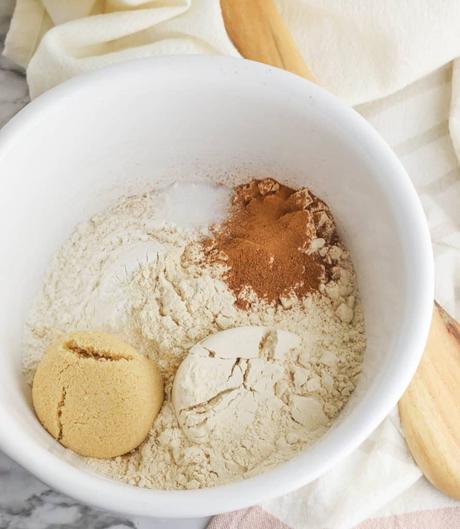 Step 2: Add the oil and use pastry blender or fork to blend until the mixture resembles coarse sand.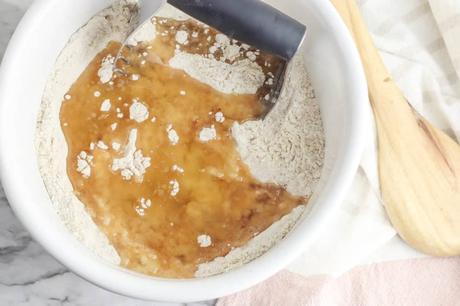 Step 3: Add the pumpkin puree and almond milk and stir to combine.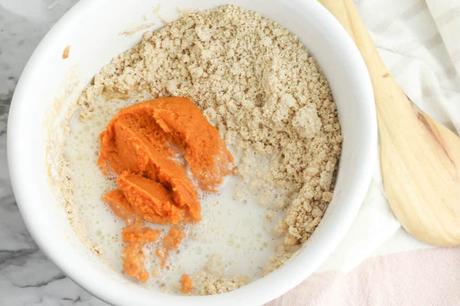 Step 4: When the mixture resembles a wet dough, turn the dough out onto a floured surface. Knead the dough 10 to 12 times, then flatten the dough into an 8-inch disk.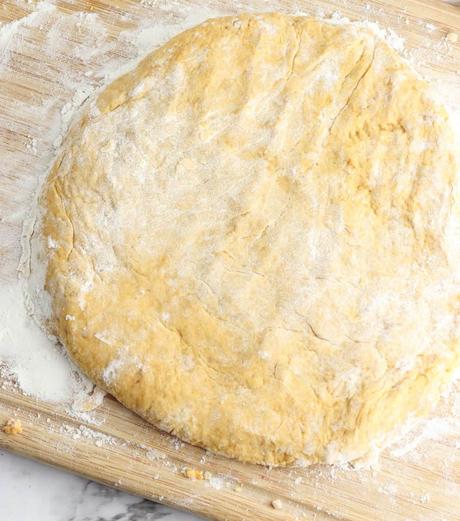 Step 5: Use a pastry cutter or pizza cutter to cut the dough into 12 wedges.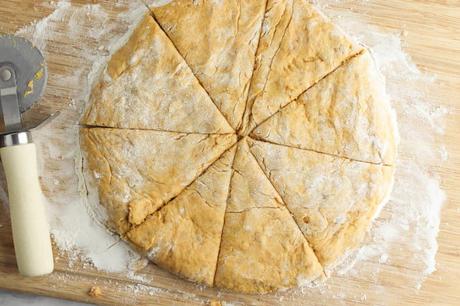 Step 6: Place the wedges two inches apart on the lined baking sheet.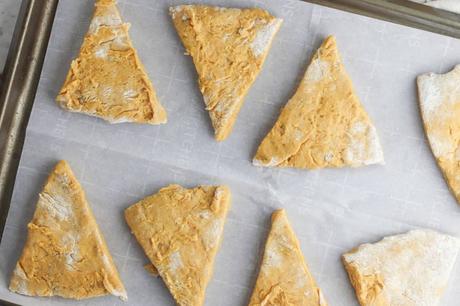 Step 7: Bake for 14 to 16 minutes, until golden brown.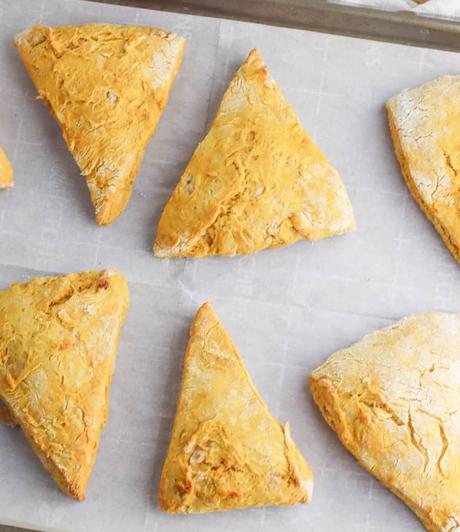 Step 8: Remove the scones from the oven and prepare the glaze by whisking together the powdered sugar, maple syrup, and almond milk until smooth.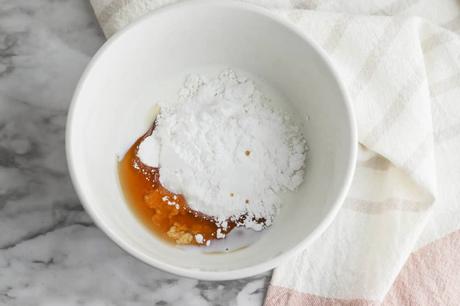 Step 9: Drizzle the glaze over the warm scones and serve.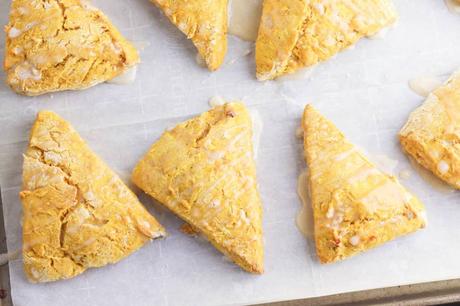 What Makes These Vegan Scones Healthy?
While there is some refined sugar in these vegan scones, they are definitely a few things that make them much healthier than other scones:
Low Calorie and Low Sugar: Each scone has under 200 calories and only 6 grams of sugar per serving! That's half the calories and less than half the sugar of a traditional scone.
Antioxidants: Cinnamon, pumpkin puree and almond milk all share one thing in common...antioxidants!
Dairy-Free: Whether you can't tolerate dairy or you eat a vegan diet, this pumpkin scone recipe will fit your needs. It doesn't have any dairy and tastes great too.
Will Kids Enjoy These Scones?
Oh yes! If your kids love anything that is sweet or foods with pumpkin, then they will be excited to try these vegan pumpkin scones. Not only do they taste appetizing, but they are also really pretty and inviting too. Kids (and adults) can't resist munching on one.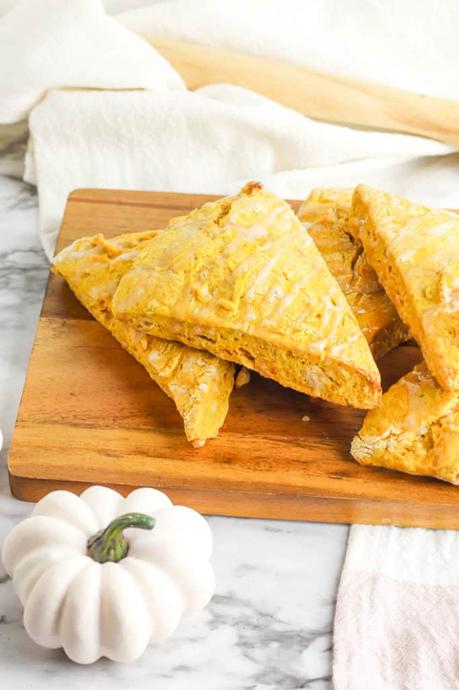 Recipe FAQs
Are Scones and Biscuits The Same?
There are some similarities between biscuits and scones, but they certainly aren't the same thing. While biscuits tend to be fluffier, lighter, flakier and more savory, scones have more dense texture and are savory or sweet. Both can be eaten by themselves or served with jam. Although scones tend to have fruit in them, they can also be great with jam on them as well.
Can I Use Fresh Pumpkin?
Yes, you can use canned or fresh pumpkin, and they will both work well. If you use fresh pumpkin, you will need to puree it in a blender or food processor before making the scones. If you don't then the scones will have some chunks, and they won't be as appealing.
How Long Do Scones Last? Can You Freeze These Vegan Scones?
Scones are always going to best served when they are freshly made; however, they will last 1-2 days. After the vegan scones have cooled, then you can put them inside of a food storage container. Make sure the lid fits well, and they can be kept airtight. They are still safe to eat after 2 days but certainly won't taste near as good.
To Freeze: Leave the icing off and let the scones cool completely. Transfer to an airtight container and freeze. To defrost: Thaw in the fridge overnight and then heat in the microwave or in the toaster oven. Make the icing right before you decide to serve them and drizzle on top once they are warm.
Top Tips For Making Healthy Vegan Scones
Don't forget the parchment paper or a silicone mat for baking. This will prevent the scones from sticking to the pan and will turn out much nicer.
Make sure you don't overwork the dough, so the vegan scones have the right texture.
Make sure to leave space between the scones on the baking sheet. They will rise and spread as they bake, so they need to be at least two inches apart.
You can use vegan butter, vegetable oil, or olive oil instead of the coconut oil.
To make these gluten free, you can use Bob's Red Mill 1:1 Gluten Free Baking Flour
Feel free to omit the pumpkin puree and add in another fruit or filling. Blueberries, dried cherries, currants, chopped apples, nuts and seeds, lemon would all work well.
For even more fiber, feel free to substitute whole wheat pastry flour for the all purpose flour.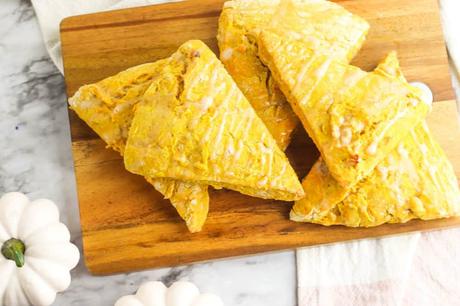 If you have tried this Healthy Vegan Pumpkin Scones Recipe or any other recipe on my blog, then please rate it and let me know how it turned out in the comments below! You can also FOLLOW ME on
FACEBOOK
,
TWITTER
, INSTAGRAM, and
PINTEREST
to see more delicious, healthy, family friendly food!
Check Out These Incredible Breakfast Recipes!
Healthy Vegan Scones with Pumpkin