Looking to start the New Year on a better note? Then take advantage of the current Healthy Living Bundle sale. Available for two days only! *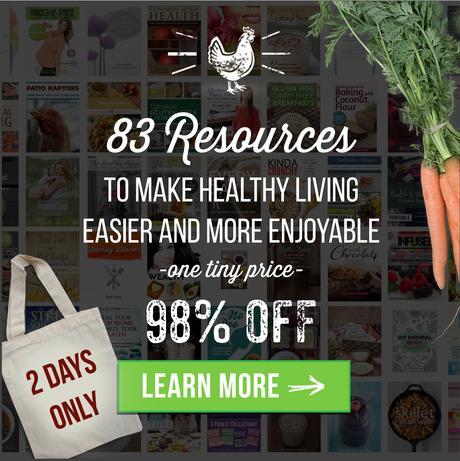 Don't you wish you had affordable short-cuts to make healthy living easier?
I get it. You want the best for your family. You want to raise healthy kids, have strong immune systems, be more fit and energetic, and be intentional about creating a natural home, but sometimes it just feels so hard.
There's a lot to learn and the internet can be more than a little overwhelming at times.
I know what it's like to feel that healthy living shouldn't be this difficult, and it shouldn't have to cost so much, either! Don't you ever wish someone would just tell you exactly what you need to know and how to make these changes for less?
When you have the right info and tools at your fingertips, it all comes together so much more easily. You know what to cook for your family. You're more confident in choosing natural alternatives. You can easily replace store-bought products with DIY options that really work. You feel better (and even look better, too). Healthy living becomes less stressful and more enjoyable.
That's why Stephanie and her team have put together the Ultimate Healthy Living Bundle for the fourth year in a row. Each year, they're amazed at how many families are saying "yes!" to their health and taking them up on this super short opportunity to get a complete collection of natural-living resources for a crazy low price.
You sort of need to see it to believe it, but the package includes 83 digital products on topics like natural remedies, essential oils, real food recipes, paleo & allergy-friendly eating, fitness & weight loss and much more. All together, it's worth over $2,400!
Plus, it comes with almost $250 worth of bonus products including:
Green Kid Crafts - FREE craft box ($19.95 value)
Perfect Supplements - $15 gift certificate toward any Perfect Brand product ($15 value)
TriLight Health - $15 off select TriLight products ($15 value)
MadeOn Skin Care - FREE BeeCool Muscle Balm Stick and Natural Lip Balm Combo (value $15.25)
The Maca Team - FREE Organic Gelatinized Yellow Maca Powder, 8 oz. ($15.44 value)
Get Kombucha - FREE 2-week supply (15 ml) of Kombucha Pro: Liquid Probiotics (value $29.99) OR FREE 1-ounce bag of Custom Organic Kombucha Tea Blend (value $16.99)
Orglamix - FREE Mineral Eye Shadow Trio ($18 value)
Experience Life - 4 FREE digital guides (value $27.95)
Grove Co. - FREE Seventh Generation Laundry Detergent, Fabric Softener and stain remover, 60 Day VIP Trial, and FREE shipping with a $20 minimum purchase for new customers ($32.66 value) OR a FREE 1-year VIP Membership for existing customers ($39.95 value)
Meal Garden - 6 months of Meal Garden FREE (value $35.70)
Besides being so incredibly helpful and inspiring, one of the things I like best about the bundle is the price. By offering the bundle for a short time only, they're able to give you access to over $2400 worth of amazing products for a whopping 97% off!
Here's how it works:
Visit their website, take a quick look at all the goodness that comes in this package, then click "Get my copy now!" to go through their simple 3-step checkout process.
You'll receive an email with a login to their online access portal, where you'll begin downloading your eBooks, signing up for your eCourses, and redeeming your free bonus products.
Use their Getting Started Interactive Guides to pick the area you want to tackle first and start making healthy changes!
The most important detail, though, is that this bundle is available for just 2 days! After Thursday night, December 29th, the sale ends and you'd have to buy all of these products individually.
I'd hate for you to miss out, so click HERE to learn more or buy the bundle.
It's even backed by a full money-back happiness guarantee, so you can know for sure that it's right for you.
No one should have to put off a healthier lifestyle because it costs too much or they can't get the help they need. Our family has felt so much better by making changes to the way we eat, the products we use, and how we take care of ourselves.
It's made all the difference in the world and I want the same for you and your family.
Hurry though ... the sale finishes soon!

* This post contains affiliate links. Should you make a purchase through these links, I will receive a small commission at no additional cost to you.