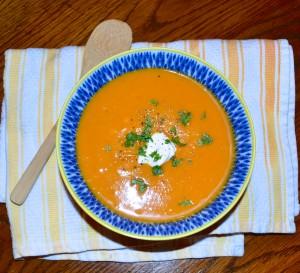 With Senegal being one of the biggest producers of peanuts in the world, peanuts feature prominently in their cuisine. Naturally high in protein and healthy fats, peanuts also pack a heavy caloric weight. This soup provides the same rich, hearty peanut flavor as its traditional counterpoint, but with lightened up fat and calories. Chickpeas provide more protein, and stretch the rich peanut flavor, and hearty greens add bulk and a host of healthy benefits. Sweet potatoes provide lots of vitamin A, and tomatoes are rich in lycopene. This soup makes the perfect start to a Senegalese dinner, or as a healthy and satisfying lunch on its own. Serve with a dollop of plain yogurt or sour cream and a sprinkling of parsley or whatever herbs you have on hand. 

Ingredients:
1 tablespoon peanut oil
3/4 cup shelled roasted peanuts, chopped 
1 medium red onion, diced
1 tablespoon fresh ginger, minced
3 cloves garlic, minced
1 dash cayenne pepper (optional)
6 cups vegetable stock
2 large sweet potatoes or yams, peeled and diced
10 plumb tomatoes, diced
1/2 lb kale or collard greens (or whatever hearty green you have available)
2 cups cooked chickpeas
1/4 cup peanut butter
Salt and pepper to taste
Plain yogurt or sour cream and parsley to garnish (optional)
Directions:
In a large, deep skillet, heat the peanut oil over medium heat, and add the peanuts, red onion, ginger, garlic, and cayenne pepper. Sauté until the onions have softened, 6-8 minutes. 
Next, add the cayenne pepper, stock, and potatoes and bring everything up to a boil. Lower to a simmer, and cook uncovered for 10-12 minutes, or until the potatoes are very soft. Add the tomatoes, kale, chickpeas, and peanut butter, and cook for another 5 minutes. Season to taste with salt and pepper. 
* If you'd like a smoother, creamier soup, puree your soup in a blender or food processor before adding the kale.