This post may contain affiliate links. Please read my disclosure.
Healthy Hot Chocolate with Cinnamon is a divinely rich, warm, spiced drink that's perfect for the cold weather. Thick, creamy, and fragrant, you won't get enough of the intense chocolate flavor in this recipe. Healthy, low in added sugars, but so delicious that it's family (and kid) friendly!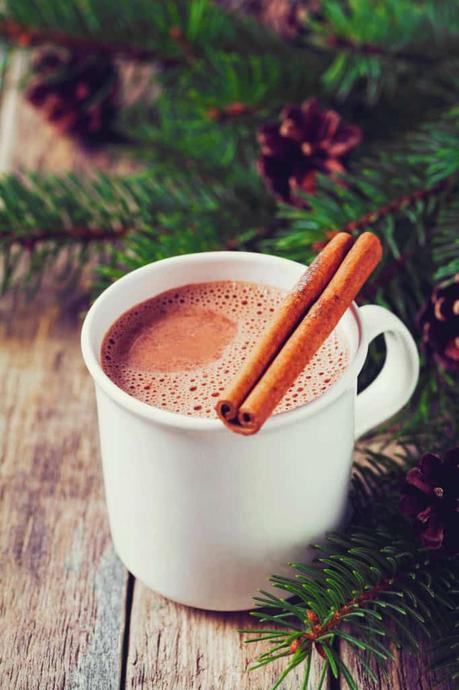 Hot chocolate is one of my favorite holiday recipes. What I don't love is that it's usually loaded with calories and sugar, which makes it a once-in-a-while indulgence instead of an every day drink. Although this recipe looks like it's decadent, it's actually made with all natural, healthy ingredients and is totally guilt-free!
Kitchen Tools and Equipment You'll Need to Make this Healthy Hot Chocolate with Cinnamon
What makes this hot chocolate with cinnamon healthy?
1 cup (8oz) of traditional hot chocolate has 250-300 calories and 35g sugar (almost much as 2 full sized Snickers bars!) But thanks to these healthy swaps, this healthy hot chocolate recipe is just as delicious but much better for you!
Organic, low fat milk: Some fat is important to make this hot chocolate feel rich - but you don't need full fat milk to accomplish that! I also used organic milk in this recipe, to avoid the presence of antibiotics, hormones, etc.
Ceylon Cinnamon and Ground Cardamom: Both of which have anti-inflammatory, antioxidant, and antimicrobial effects
Backstrap molasses: Rich in calcium, magnesium and iron, and is a low glycemic sweetener
Less added sugar! This whole recipe has only 5g added sugar for a giant, 12oz cup.
How to Make this Healthy Hot Chocolate with Cinnamon - Step by Step
Step 1: Heat a large saucepan over medium-high heat. In a small bowl whisk together the cocoa powder, all of the spices, and salt (everything on the ingredients list except the milk).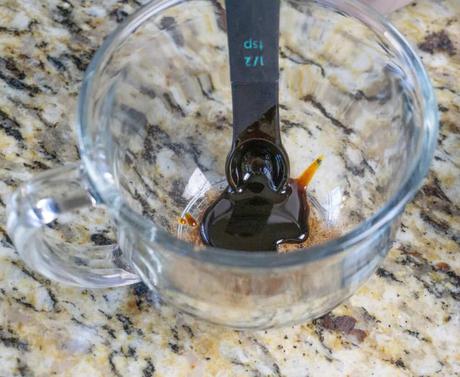 Step 2: Pour half the milk into the saucepan and add in the cocoa powder mixture. Whisk until smooth and all the lumps are removed. Add the rest of the milk and whisk together until combined. Heat the hot chocolate mixture until very warm (but not boiling). Pour the hot chocolate into mugs and enjoy!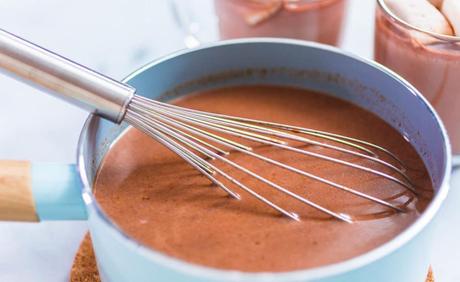 Will the kids enjoy this Healthy Hot Chocolate?
Yes!! Hot chocolate is a kid favorite and this one is no exception. If your kids are a little more sensitive to spice, you can always reduce the amount of spice (and even reduce the amount of cocoa powder) to make the flavor less strong for little palates. You can also add some fun toppings like homemade whipped cream, mini marshmallows, or dark chocolate chips for more of a dessert feel.
Can you store leftover hot chocolate?
Absolutely! Just let it cool first to room temperature, and store in an airtight container for up to 2-3 days in the fridge. To reheat, just stir and warm in the microwave.
What is the difference between cocoa powder and cacao powder?
Cacao powder is considered "raw" because the beans are fermented, and then processed at low temperatures and then milled into powder. It's got a much more bitter flavor than cocoa powder, but it does have a higher amount of minerals and nutrients due to it being less processed. Cocoa powder is created when the beans are fermented and then processed at a much higher temperature / roasted. This gives cocoa powder a milder, sweeter flavor (and less acidic in taste). The tradeoff is that it may have less of the natural nutrients of the cacao bean due to the additional heating. But it's still much much healthier than using whole chocolate to make hot chocolate!
What to Serve with this Healthy Hot Chocolate with Cinnamon
There are so many options for mix-ins for hot chocolate and this recipe is no exception! You could go the traditional route and add homemade whipped cream, dark chocolate chips, or mini marshmallows as toppings. Other fun mix-ins include:
Peanut Butter or Caramel. If you're going this route, I'd remove the other spices from the recipe and keep the cinnamon and vanilla only!
Maple Syrup or Honey instead of Molasses
2-3 drops of Peppermint Oil and a pinch of salt (if you go this route, omit the other spices from the recipe except the vanilla)
Cayenne pepper - a great addition if you want your hot chocolate to have a little bit of a kick!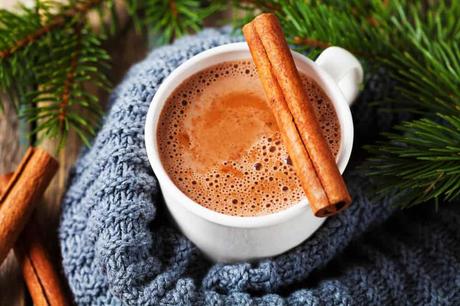 If you need to make this vegan, use unsweetened almond or coconut milk (just make sure it doesn't have carrageenan added)
For some more decadence, add homemade whipped cream (just whip heavy cream until peaks form - no need to add sugar to it!)
When you're cooking the hot chocolate on the stove, make sure you don't let it boil (this will scald the milk and change its consistency). The key is to heat it until little bubbles start to form on the side of the pot but it's not boiling yet.
To save time, you can also blend all of the ingredients in a blender first, and then heat on the stove or even in the microwave.
If you want to have zero added sugars, just omit the molasses. The hot chocolate will be on the bitter side (like very very dark chocolate) but will still have good flavor from the spices and natural sweetness of the milk!
Top Tips for Making Healthy Hot Chocolate with Cinnamon
Be sure to check out these other healthy chocolate recipes!
If you have tried this Hot Chocolate with Cinnamon recipe, or any other recipe on my blog, then please rate it and let me know how it turned out in the comments below! You can also FOLLOW ME on FACEBOOK, TWITTER, INSTAGRAM and PINTEREST to see more delicious, healthy, family friendly food!
Healthy Hot Chocolate with Cinnamon