This post may contain affiliate links. Please read my disclosure.
Traditional copycat Reese's eggs gets a healthy, low sugar twist with these homemade peanut butter eggs. You only need 4 ingredients to enjoy creamy, craveable chocolate peanut butter magic. Perfect for Easter!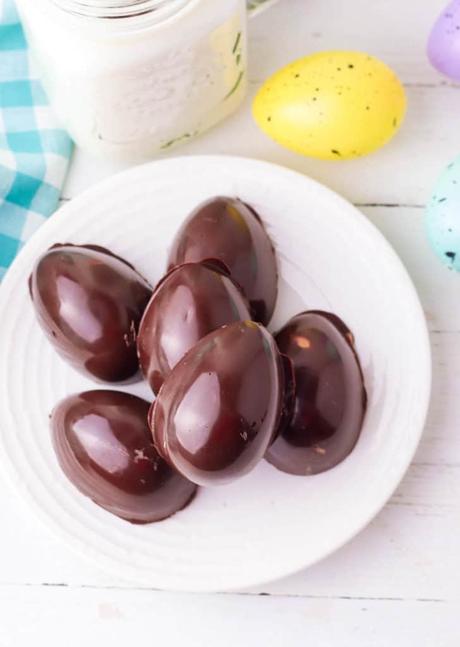 These homemade peanut butter eggs are one of my favorite super easy treats to make!! Thanks to just 4 ingredients, you can whip these up just about anytime of the year.
These copycat Reese's eggs were inspired by my desire to make one of my favorite childhood desserts just a little bit healthier. Because as much as I like to eat healthy, I'm a sucker for Reese's eggs. There is just something about the combination of chocolate and peanut butter that is so deliciously satisfying when you're craving something sweet! But what I don't love is the hydrogenated oils and processed ingredients.
Which is why these homemade peanut butter eggs are so great! They are all-natural, lower in sugar than most desserts, but taste just like Reese's eggs! Now that's an easter egg recipe I can get behind 🙂 This one is especially fun to make with kids - they'll have a blast making their own easter eggs in the kitchen!
These Peanut Butter Eggs Only Need 4 Ingredients
I played around with this recipe and found that simple is better. I also wanted to keep it as close as possible to the true Reese's peanut butter egg taste that we all know and love - just without all the sugar and hydrogenated oils.
While it's not an exact copycat, the taste is close enough, especially considering you can eat them guilt-free!
It might seem a little too good to be true, but trust me on this, these 4 simple ingredients are all you need:
Dark chocolate chips: I went with dark chocolate (80% or higher) for this peanut butter egg recipe because it's lower in sugar than milk chocolate and tends to be dairy free (for a vegan option). I also think the slightly less sweet flavor is deliciously balanced by the honey.
Natural peanut butter: I love natural peanut butter because you can find it with no added and unhealthy ingredients. I recommend using peanut butter that has a little salt in it though as salt really complements the flavor of dark chocolate. If yours is just ground up peanuts, you might want to add a pinch of sea salt.
Honey: This was the obvious choice for me as I like to avoid highly processed and refined sugar as much as possible. Honey offers many benefits that sugar lacks and is lower on the glycemic index, so it doesn't mess with your blood sugar as much. If you're vegan, just use maple syrup to substitute!
Coconut oil: I find that the subtle nutty hints in coconut oil pair perfectly with chocolate and peanut butter. Plus, while other oils would work, they wouldn't be quite as healthy. Coconut oil is made up of medium chain fatty acids, which have a better effect on cholesterol levels than, say, canola or vegetable oil.
How to Make Homemade Peanut Butter Eggs with Step by Step Instructions
All you need is a silicone egg mold, the 4 ingredients listed above, and a saucepan. But you might not want to make this recipe look too easy or your kids will beg you for it all the time!
Step 1: Melt the dark chocolate in 30 second intervals in the microwave, stirring between each interval.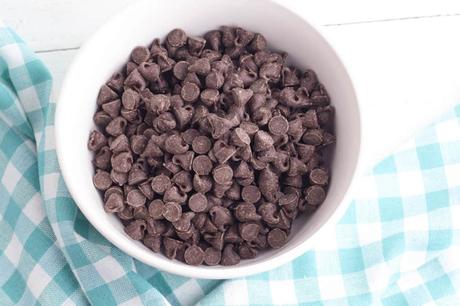 Step 2: When the chocolate is melted, spoon a small amount in each egg mold and use the back of the spoon to spread the chocolate up the sides of the egg shape.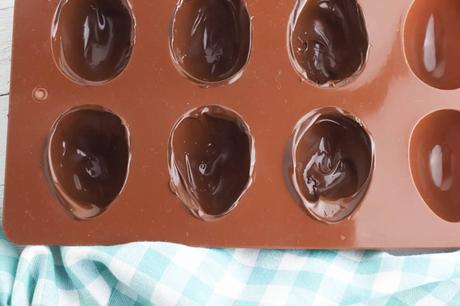 Step 3: Place the mold in the refrigerator to chill for 20 minutes. When the chocolate has hardened, prepare the peanut butter mixture by heating the peanut butter, honey, and coconut oil in a skillet over low heat. Stir the ingredients together until melted and well combined.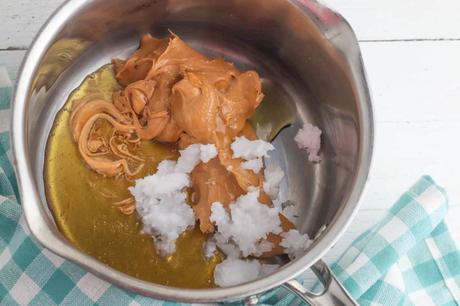 Step 4: Spoon the peanut butter mixture over the chocolate layer and place in the refrigerator to chill for 10 to 15 minutes.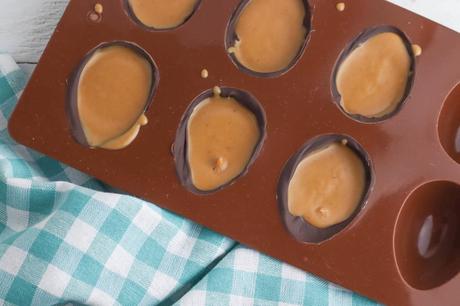 Step 5: When the peanut butter layer has set, reheat the remaining chocolate until melted. Spoon a thin layer chocolate over the top of the peanut butter layer. Return the mold to the refrigerator to chill for another 20 minutes.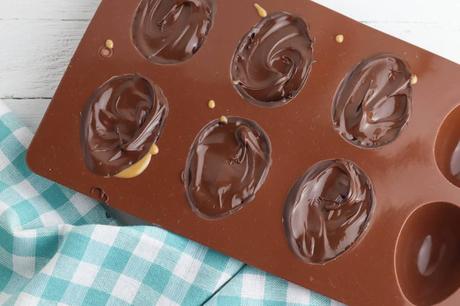 Step 7: When the final layer of chocolate has hardened, remove the eggs from the mold and serve.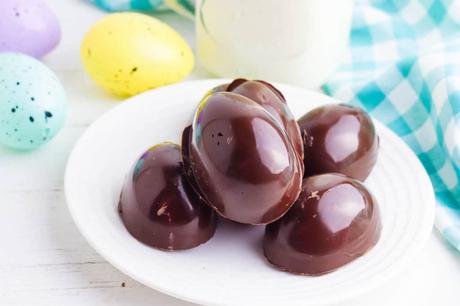 Storing and Freezing Healthy Peanut Butter Eggs
This is a great no bake dessert that can be made ahead of time and stored for later. In fact, these healthy peanut butter eggs keep well for 2-3 weeks in the refrigerator.
If you want to keep them longer than that, I recommend flash freezing on a baking sheet, making sure no eggs are touching. Once frozen completely (usually a few hours), transfer to an airtight bag or container.
When stored this way, homemade Reese's eggs should last a good 6 months in the freezer. Just thaw in the fridge overnight before serving.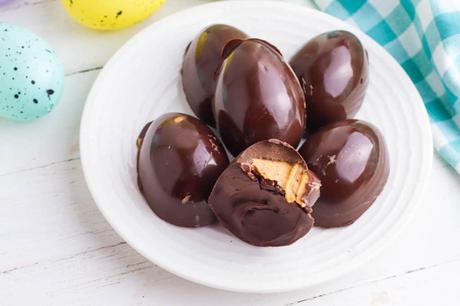 Recipe Variations
Try Other Nut Butters: If you want, you can easily substitute other nut butters - almond, cashew or sunbutter would all work well. Sunbutter would make this treat nut-free and allergy friendly!
Try Other Chocolate: You can easily use semisweet, white chocolate, or milk chocolate without having to make any other changes ratio-wise. So don't miss out on this delicious Easter treat just because you don't have dark chocolate.
Make it Vegan: These copycat Reese's eggs are already naturally gluten free. To make them vegan, use dairy free chocolate and maple syrup instead of honey!
Tips to Make These the Best Homemade Reese's Eggs You've Ever Had
Don't be intimidated by this so-called "fancy candy." You probably already have what you need to make Reese's eggs at home. To ensure your success, make sure to follow these tips:
Don't skip the chilling stages in steps 3 and 5. It's very important that the first layer of chocolate and then the peanut butter filling have time to harden slightly before moving to the next step. Otherwise, they won't look as pretty 🙂
Add Salt if Needed: Much to my family's delight, I've tested this peanut butter egg recipe many times. The ratio of honey, oil, and natural peanut butter is, I believe, just right. Still, different brands of peanut butter vary slightly in their ingredients. So if yours aren't salty enough for your liking (because let's be honest, Reese's eggs are pretty salty!), you can add salt to the mix. Stick to natural sea salt or Himalayan pink salt.
Tempering Is Not Necessary: If you've heard that chocolate candy melts or proper chocolate tempering is the only way to get that shiny look to candy eggs, just trust the recipe. I think you'll be pleasantly surprised!
Try Making Peanut Butter Cups! While I love this quintessential easter egg recipe, it's the same one I would use for dark chocolate peanut butter cups. Just use a mini cup chocolate mold instead and enjoy year-round.
Whether you make them for Easter or just as a healthy candy alternative, I highly encourage you to give these 4-ingredient dark chocolate peanut butter eggs a shot!
They just might become your new favorite Easter basket treat!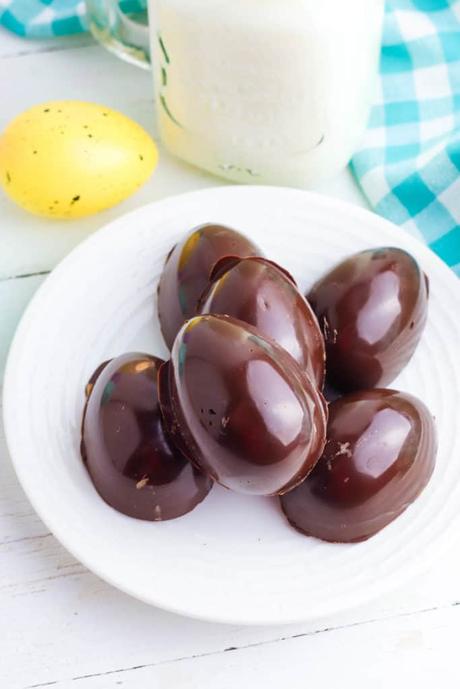 Want more peanut butter or chocolate dessert recipes? Or maybe some inspiration for Easter appetizers?
You'll love these:
Healthy Homemade Peanut Butter Eggs [Just 4 Ingredients]