This post may contain affiliate links. Please read my disclosure.
This healthy guacamole recipe is easy and simple to make. It's a great variation on the authentic Mexican recipe. It's perfect to serve as a topping on tacos and enchiladas, or great as a dip with some chips.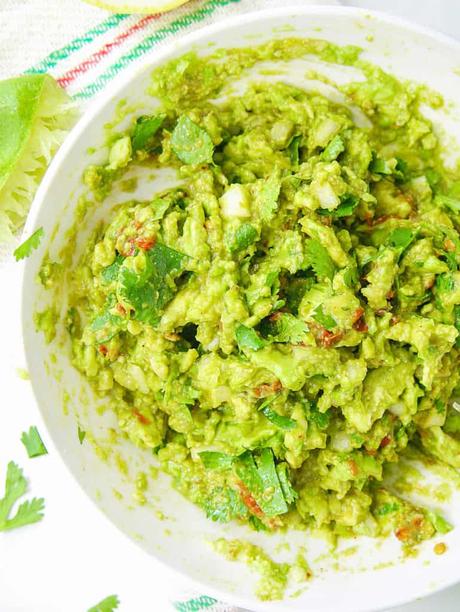 How good does that look? I love Guacamole. I love the texture of it, the flavor, and the add-ins you can use to spice it up (I once had guacamole with balsamic vinegar and goat cheese in it - delicious!).
My husband loves guacamole, or "guac" as we lovingly call it, and oftentimes I will come home from work only to find him sitting at the table with a bowl of guac, a bag of chips, and a book.
I enjoy making Guacamole at home, because it's so easy and you just can't beat that fresh taste. There are so many guacamole recipes out there, but so far, this recipe has been my favorite. It's the perfect twist on a traditional guacamole.
The addition of spices in this recipe takes it to a whole new level. Cumin, coriander, chili powder and cayenne give a hit of heat that is amazingly well balanced with the avocado and the citrus juices. If spice isn't your friend, you can easily omit the cayenne pepper.
After I made this, I couldn't wait to dig in. I think I ate a quarter of it while I was making it!
Kitchen Tools and Equipment You'll Need to Make this Healthy Guacamole Recipe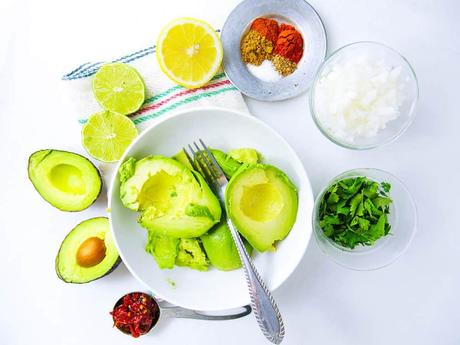 How to Make this Healthy Guacamole Recipe - Step by Step
Step 1: Remove flesh of avocado and add to a bowl. Mash coarsely with a fork.
Step 2: Finely chop onion, chipotle peppers, tomatoes, and cilantro. Add to bowl.
Step 3: Squeeze lemon and lime juice over the top of the avocado. Add spices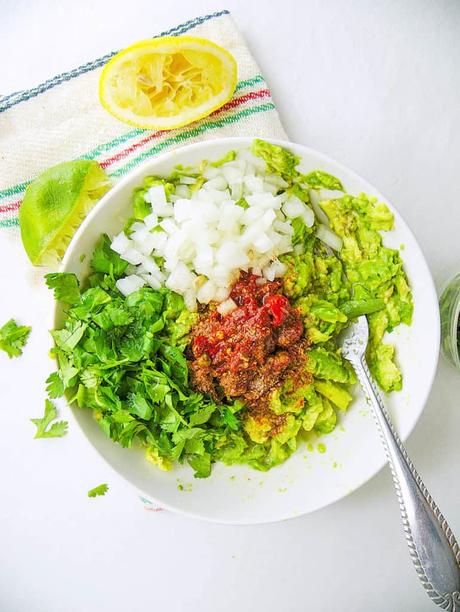 Step 4: Mix to combine. Add salt and cayenne pepper to taste.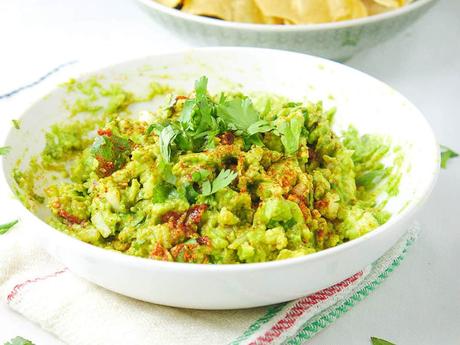 What makes this a Healthy Guacamole recipe?
Healthy Fats: Avocados are one of the few fruits that are high in healthy monounsaturated fat which are the "good fats" your body needs.
Avocados are a Superfood: Avocados are considered a superfood because they are full of vitamins and minerals in a small package. A third of an avocado contains 20 different vitamins and minerals in only 80 calories. Some of the vitamins and minerals include vitamin K, folate, vitamin C, potassium, B5, B6, and vitamin E.
High in Potassium: Avocados contain more potassium than bananas. Potassium has been linked to lowering blood pressure.
High in Fiber: You may not know that avocados are also very high in fiber. One serving of an avocado contains 27% of your daily recommended fiber.
Low Calorie: One serving of guacamole (this recipe makes 10 large servings!) is less than 90 calories.
Will the kids enjoy this healthy guacamole recipe?
My kids love avocados, and most kids do. It's a very milk tasting fruit with a creamy texture when served alone. When I make this healthy guacamole for my family I reserve a small portion for the kids before adding the chipotle peppers and cayenne. That way my husband and I still enjoy the spice, and the kids enjoy their milder guac too!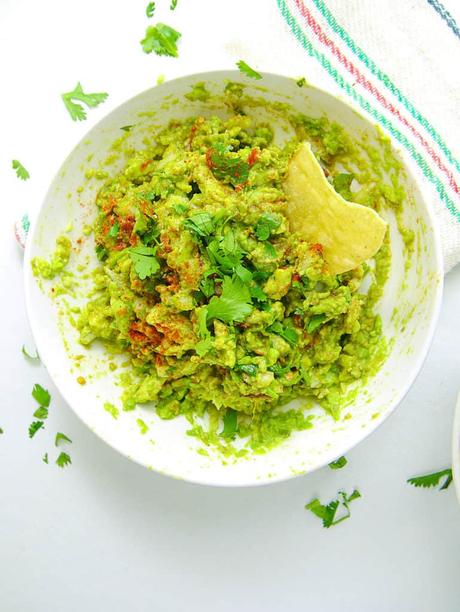 What is guacamole made of?
Guacamole is made from avocados, onion, sometimes tomatoes, cilantro, and lime juice. Other add ins that are common include jalapeño pepper, garlic, salt variety of spices. This healthy guacamole recipe uses avocados, chipotle peppers, onion, cilantro, lemon, lime, cumin, coriander, chili powder, salt, and a hint of cayenne pepper.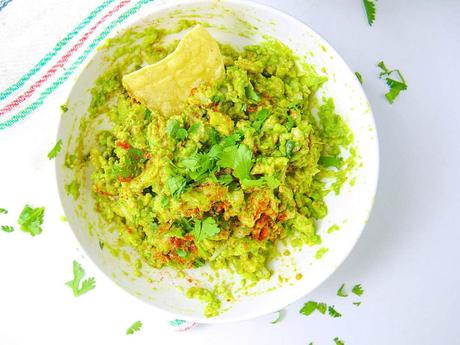 Is it safe to eat guacamole after its turned brown?
When guacamole turns brown it's because it was exposed to air. There's an enzyme in avocados that causes it to turn brown when exposed to air. Squeezing lemon or lime over your avocado will help prevent it from turning brown, but if you don't finish all your guac in one sitting, and wrap it up for later, scrape the brown part off until you reach the green guac. That is still good to eat.
Should guacamole have tomatoes?
Some guacamole recipes call for tomatoes, and some don't. I like adding tomatoes to guacamole because I like the extra acidity they bring. The key is to seed and dice your tomatoes before adding them to the guac, in order to make sure they don't make the guac too watery.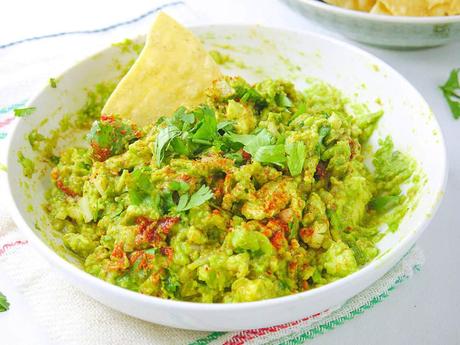 What do you serve with this healthy guacamole recipe?
Guacamole is such a versatile dip or spread. My favorite way of eating this healthy guacamole is with my homemade baked tortilla chips. Here are some other ideas of ways to use this healthy guacamole recipe.
Use it as a topping for Mexican food.
As a dip with tortilla chips.
On sandwiches
As a topping for tortilla soup.
With whole wheat pita, or organic all-natural corn chips.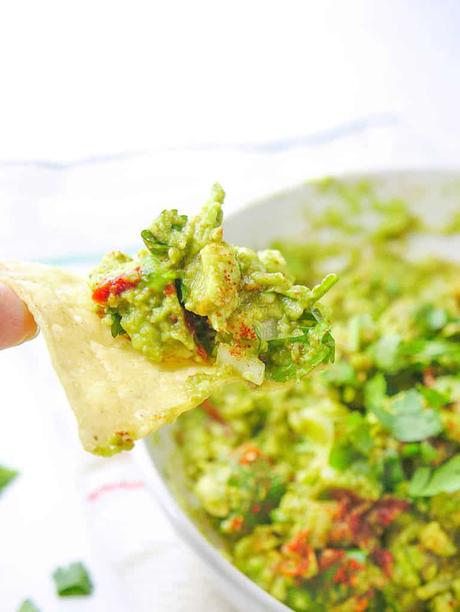 Use ripe avocados.
Use fresh cilantro leaves for maximum flavor.
Use fresh lemon and lime juice, not the bottled varieties!
Seed and dice your tomatoes so they don't make your guac too watery
For kids, omit the chipotle and cayenne.
You can make this guac as smooth or as chunky as you like.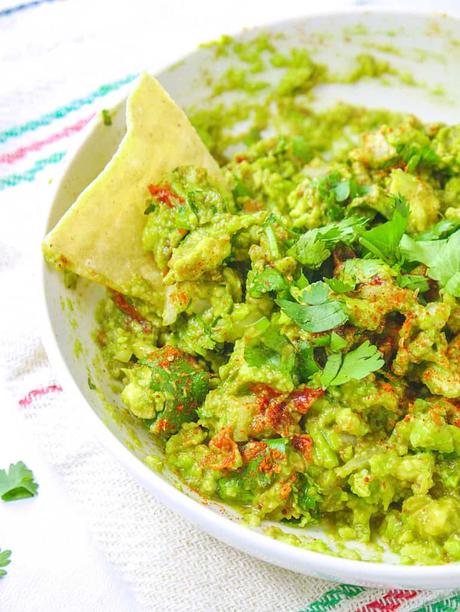 Top Tips for Making this Healthy Guacamole Recipe
Be sure to check out these other healthy Mexican recipes!
If you have tried this healthy guacamole recipe, or any other recipe on my blog, then please rate it and let me know how it turned out in the comments below! You can also FOLLOW ME on , , and to see more delicious, healthy, family friendly food!
Healthy Guacamole Recipe