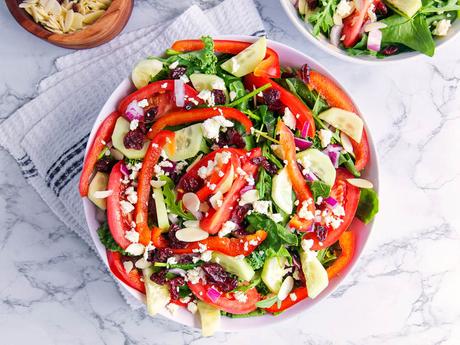 When I make salads, I tend to add a large variety of ingredients to them because plain green salads are a little boring to me. Also, if you're making a salad as a meal - you need to bulk it up with things that are healthy but will still keep you full! This healthy greek salad with feta is one of my typical lunches or light dinners. It also works really well as a side in a bigger spread, but is hearty enough to keep you full for a long time!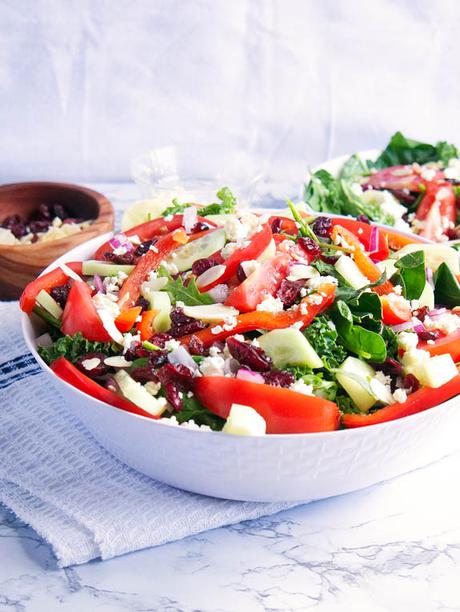 I absolutely love the different textures and flavors in this salad. Every bite has a little something different, which keeps it interesting! This salad is pretty kid friendly too - you may just have to cut up the veggies and greens into smaller bites - similar to a chopped salad.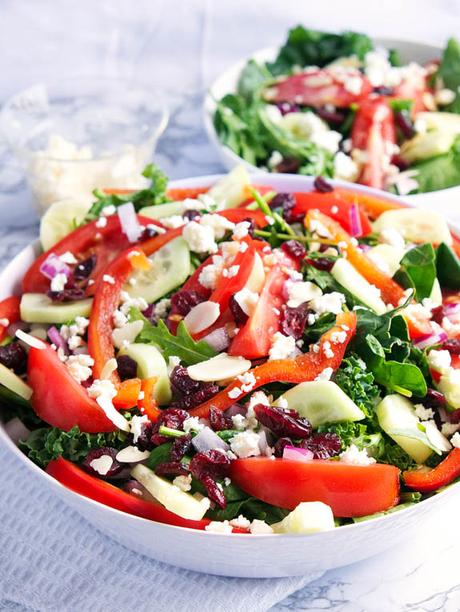 For a dressing, I just make a super simple vinaigrette with olive oil, balsamic vinegar, garlic, salt and pepper. The salad itself is so flavorful and fresh that you don't need much in terms of a dressing! This salad will keep for 3 days in the fridge when dressed, about 5 days if you keep the dressing on the side.
This is also a great dish to bring to a potluck or picnic - I used it during the holidays and it was a hit!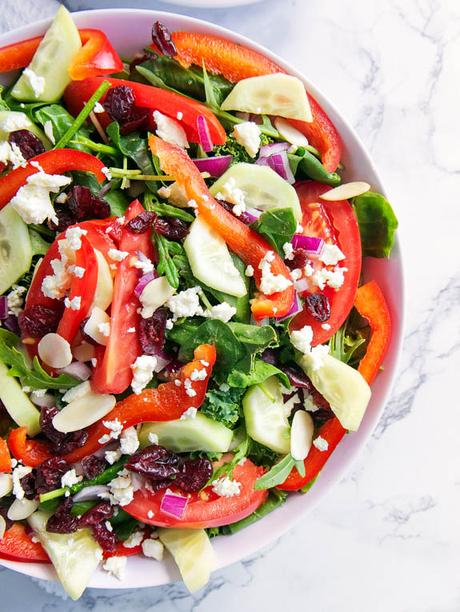 Kitchen Tools I Used for this Recipe:
The Ingredients
2 bags of mixed greens - about 12oz total (spinach, kale, arugula, baby lettuces)
1/4 red onion, diced
1 Red Bell Pepper, cut into thin slices or diced
1/2 an English Cucumber, cut into thin slices and halved
3-4 Roma Tomatoes, quartered and diced
2 tbsp Sliced toasted almonds
1 tbsp dried cranberries
1/4 cup Feta Cheese Crumbles
1 15oz can chickpeas, rinsed & drained (optional, if you're making this as an entree, I'd definitely add it)
2 tsp olive oil
2 tsp balsamic vinegar
1 garlic clove minced
1/4 tsp salt (more to taste)
1/8 tsp black pepper (more to taste)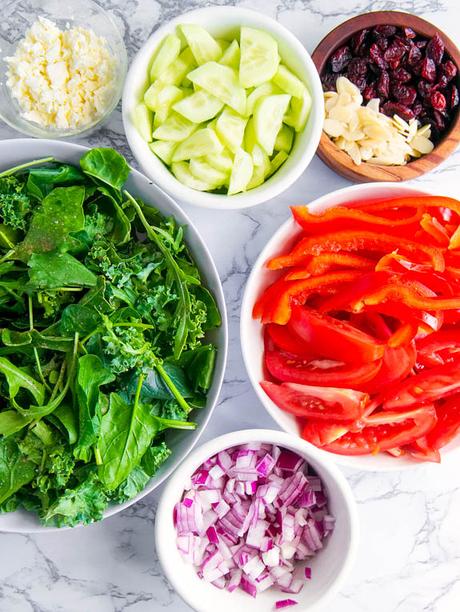 The Directions:
Step 1: Make your dressing. In a small bowl, whisk together the olive oil, balsamic, garlic, salt & pepper. Set aside.
Step 2: In a large salad bowl, add the greens first, and then top with the rest of the veggies (tomatoes, cucumbers, red pepper, onion). Then add the cheese, cranberries and almonds.
Step 3: Toss with the dressing. Season to taste with additional salt and pepper as needed.
Healthy Greek Salad with Feta