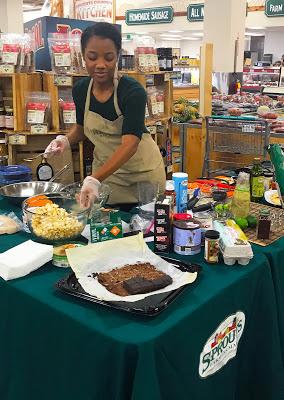 The Atlanta Falcons will be playing in Super Bowl LI after defeating the Green Bay Packers to become the 2017 NFC Champions. As you can imagine, within minutes of the win, everyone in the city of Atlanta began planning Super Bowl parties. However, many of us have been working diligently to meet our resolution goals and are looking for healthy options to typical game day fare.
Luckily, Sprouts Farmer's Market teamed up with trusted food and nutrition expert Marisa Moore, RDN, to demonstrate several easy and healthy recipes to help score extra points with game-day guests while dodging deep-fried snacks and sidestepping junk food.
She began with her healthy spinach dip with whipped cottage cheese instead of mayo and plenty of garlic for flavor and spice. The beauty of this dip is that it can be served hot or cold. Chicken and spinach quesadillas made with a light smattering of Monterey Jack cheese folded into corn tortillas are a wholesome alternative to ooey-gooey nachos. Marisa uses corn tortillas rather than the commonly-used flour tortillas for an extra dose of fiber and protein.
Everyone knows you cannot have a Super Bowl party without the brownies… Marisa makes her version with black beans (yes, black beans) to substitute for a portion of the fat while still creating a moist and fudge-like chocolate treat. And no, there is no "beany" flavor. She shared her recipe made with products from Sprouts so you can taste for yourself.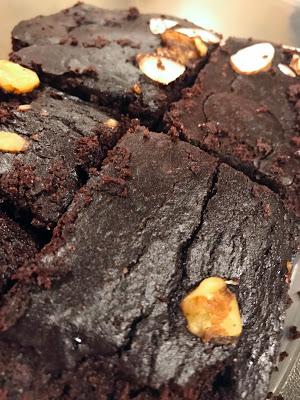 1 can Sprouts no-salt-added black beans, rinsed and drained
1 cup Sprouts unsweetened cocoa powder
3 eggs
3 tablespoons Sprouts extra-virgin coconut oil
½ - ¾ cup turbinado sugar
1 teaspoon ground cinnamon
1 ½ teaspoons vanilla extract
1 teaspoon baking powder
1 teaspoon baking soda
Pinch of salt
½ cup chopped walnuts or almonds (optional)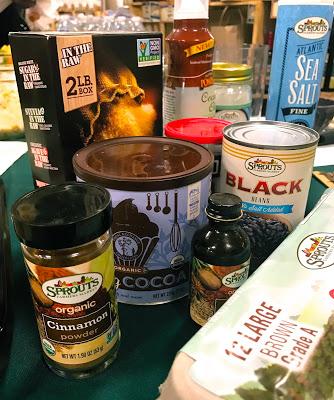 Preheat the oven to 350°F. Lightly spray an 8 x 8 baking dish with cooking spray.
Blend all ingredients in a mixing bowl with a mixer or food processor. Pour the batter into the greased baking pan and bake uncovered for 25-30 minutes, until the center is set.
Let cool and cut into serving size pieces. Refrigerate leftovers (of course, there probably won't be any!)


Disclosure: Although we received a stipend for attending this event, all content, photos and opinions are original and unsolicited.