Chicken paremesan is an all-time favorite of many folks. And, this chicken paremsan, a healthy version recipe, is a new twist on this iconic recipe!
Basically, it's easy We're not using marinara sauce. But, hey, if you want to use it, do so! Because it will be even richer and tastier. For now, however, we're going to use nice fresh heirloom tomatoes to replace the marinara sauce. You could certainly substitute Roma tomatoes, several nice slices per piece of chicken.
A few basic steps and you're all set to make this recipe. And, if you like caprese salad, you're gonna think you've got your caprese on a crispy piece of chicken with melted ooooeeeee goooooeeeeee mozzarella!
Now, I'm an olive lover, and if you are, too, I think you'll find that the addition of both kalamata and green olives just gives this healthy chicken parmesan an extra dimension of flavor and texture. There's nothing better than baked olives!
Give it a try and see if you miss your chicken parm the traditional way. Hey, you can always return to it. It's not a permanent break up! xoxo ~ally
And, if you want to go with a lean ground chicken for your meatballs, then this recipe of mine for chicken chorizo meatballs is truly fabulous and so simple! It's a PIN star!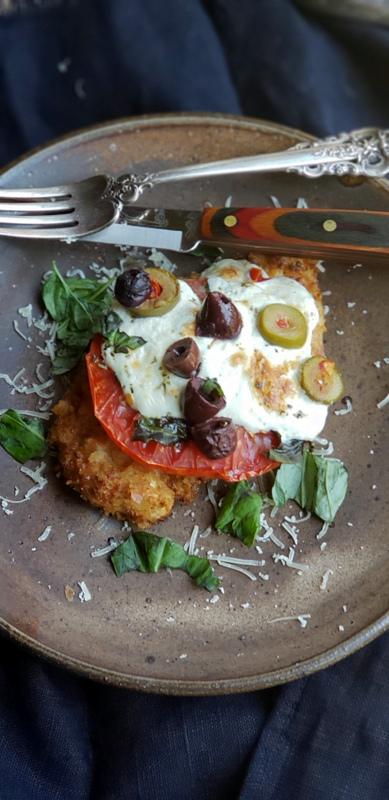 Ingredients
Preheat oven to 375 then turn to broil
4 chicken breasts, boneless, skinless, butterflied and sliced in halves yielding eight thin breasts
1 cup panko crumbs
1 cup French fried onions, crushed in food processor
1 cup buttermilk
1 egg
3 tsp. Italian seasoning, divided
1 tsp. coarse ground pepper
2/3 cup extra virgin olive oil, divided
6 large tomatoes, each sliced in 3-4 slices
12 oz. mozzarella, sliced
½ cup fresh basil leaves, packed
1 tsp. red chili flakes
1 tsp. sea salt
¾ cup olives, black and green with pimento, sliced in halves and thirds (optional)
Instructions
In a small bowl, whisk together one-third cup olive oil, one teaspoon Italian seasoning, salt, and red chili flakes. Set aside.
Combine the panko and crushed fried onions in a pie plate.
Put the buttermilk in another pie plate. Whisk in the egg, two teaspoons of Italian seasoning and pepper.
Put 3-4 chicken breasts in the buttermilk mixture. Toss and coat well. Shake off one piece at a time and coat with the bread crumb mixture. Place on a parchment paper covered cookie sheet. Repeat with the remaining chicken breasts.
Put a large cast iron skillet (10-12" diameter) on medium high heat. Let it get hot. Add one-third cup of the olive oil. Let it get hot. Add two to three chicken breasts and fry on each side to a golden brown, about two minutes per side.
Remove to a clean parchment paper covered cookie sheet. Continue until all the chicken breasts are browned. Place equal numbers of tomato slices on the chicken breasts. Lay on fresh basil leaves then the mozzarella on top of the leaves. Drizzle the olive oil/Italian seasoning mixture (in first step) on all the chicken.
Loosely cover the cooking pan with doubled foil. Bake for about 22-24 minutes. Remove foil. Turn oven to broil for about 2-3 minutes to brown the cheese.
Remove, replace foil and serve immediately.
https://allyskitchen.com/healthy-chicken-parmesan/