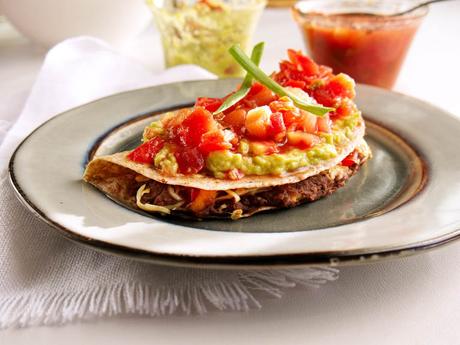 Quesadillas are one of those meals that just about everyone likes.
Warm, crispy tortillas, melted, gooey cheese, and any assortment of toppings make this classic comfort food at its best.
My husband loves Mexican food, and quesadillas are no exception. But the way he used to make quesadillas made me cringe: white tortillas, with just cheese inside, cooked on a skillet with too much oil!
When we first got married, I was determined to make a healthier version of a quesadilla that he would still eat and enjoy. And I'm glad to say that these healthy black bean quesadillas did the trick!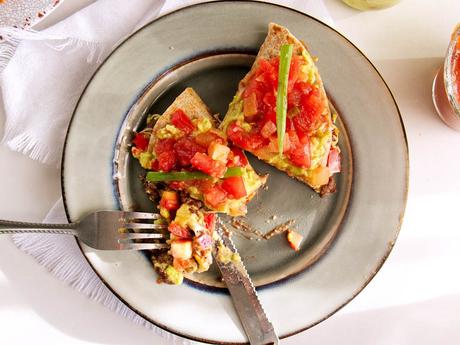 So how did I make over this classic recipe in a healthy way? With just a few simple swaps that even my husband's picky palate could not reject! They were:
A sprouted wheat tortilla instead of a white tortilla: more fiber, same great taste and texture.
Organic, refried black beans for the filling instead of just cheese: adds more fiber and protein to the dish.
The addition of some finely chopped veggies for some fiber, antioxidants and texture: I used bell peppers, onions, and tomatoes but you can use any combination you like!
Cheese - but just not as much! Same gooey-ness, less calories.
Light and refreshing toppings like fresh salsa and guacamole
Used extra virgin olive oil cooking spray instead of oil to cook the quesadillas: You get the same crispy texture on the outside without adding all that extra fat!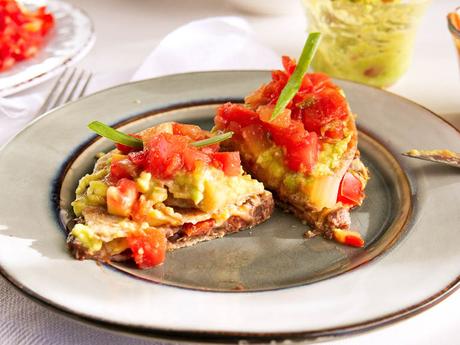 Doesn't my healthy version look just like the real thing?? I promise it tastes just like it too! But my version takes care of all of the nutritional problems with "regular" quesadillas (no fiber, too much fat/oil/cheese, no veggies, etc), so you can enjoy it guilt-free.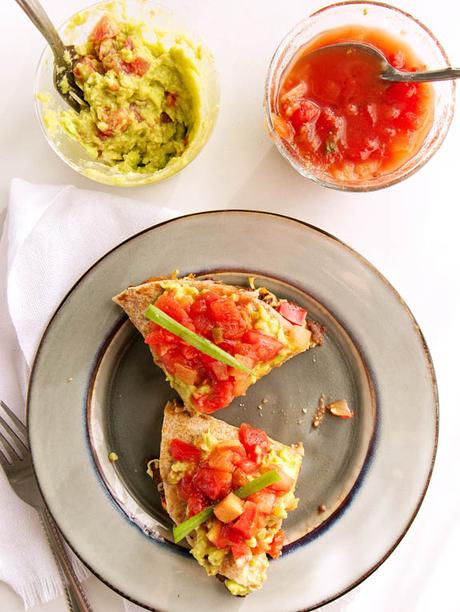 This recipe is family-friendly, super easy to make (ready in 30 minutes!) and kid-friendly too. In fact, this is one of Layla and Ayan's favorite meals! I guarantee that if you make this recipe, you'll end up with a fiber & protein packed meal that's absolutely delicious, and is sure to satisfy even the most die-hard quesadilla fans.
Kitchen Tools I Used for This Recipe:
The Ingredients:
4 Sprouted Wheat Tortillas (1 per quesadilla)
1 cup Mexican shredded cheese blend (1/4 cup per quesadilla)
1 cup Refried black beans (1/4 cup per quesadilla)
Taco Seasoning (to taste)
2-3 roma tomatoes, diced (1/4 cup per quesadilla)
1/2 red onion, diced (1 tbsp per quesadilla)
1 red/orange/yellow pepper, diced (1/4 of a pepper per quesadilla)
Toppings: Salsa and Guacamole (2 tbsp salsa + 1 tbsp guacamole per quesadilla)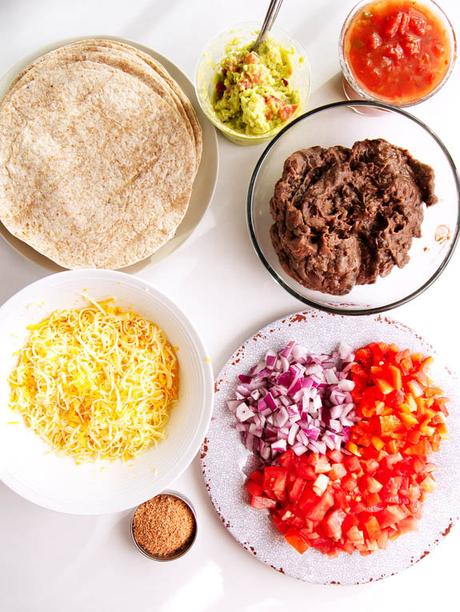 The Directions:
Step 1: Heat beans over the stove on medium heat. Add taco seasoning to taste and stir until combined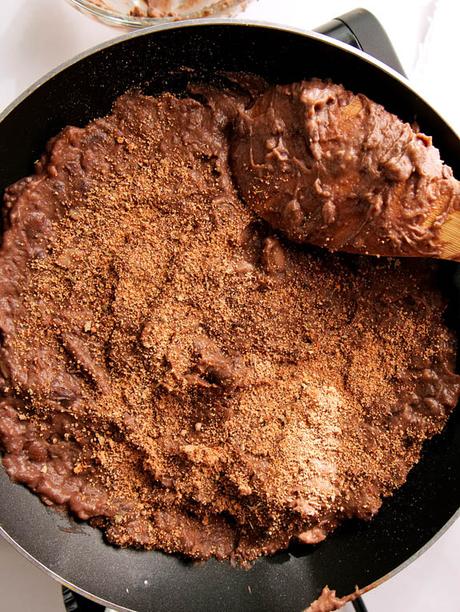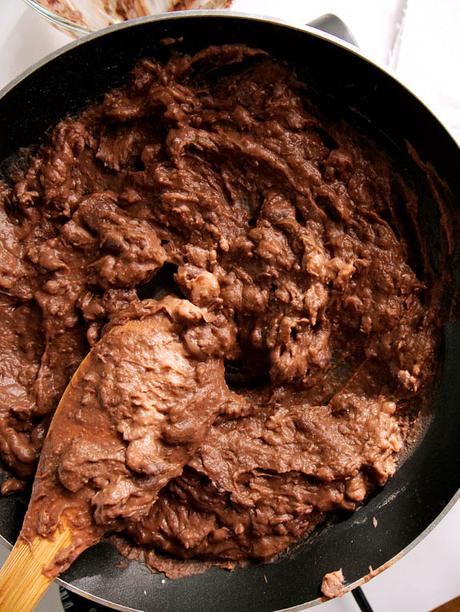 Step 2: Heat a large pan over medium to medium-low heat, spray with olive oil cooking spray. Add tortilla to the pan.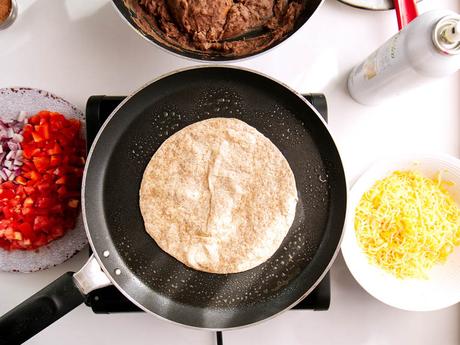 Step 3: Assemble quesadillas: one layer of beans, one layer of cheese (1/8 cup), a layer of onions & peppers, and another layer of cheese (remaining 1/8 cup)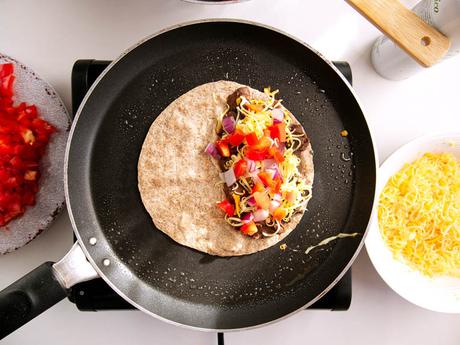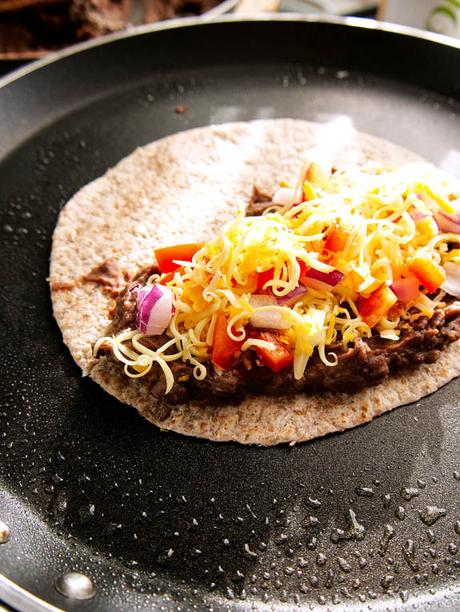 Step 4: Grill the quesadillas in the pan until both sides are browned and crispy and the cheese has melted. Top with diced tomatoes, 1 Tbsp guac and 2 Tbsp salsa.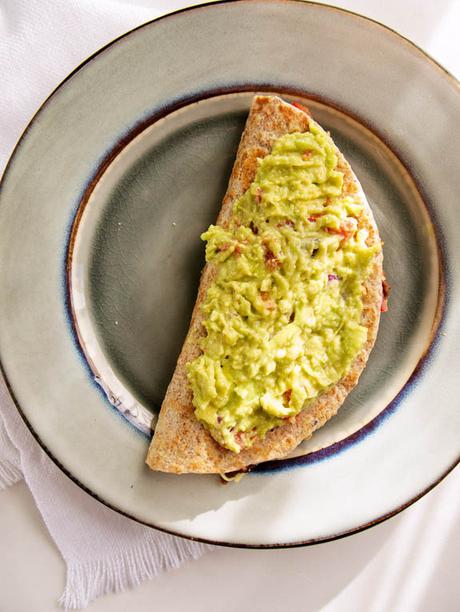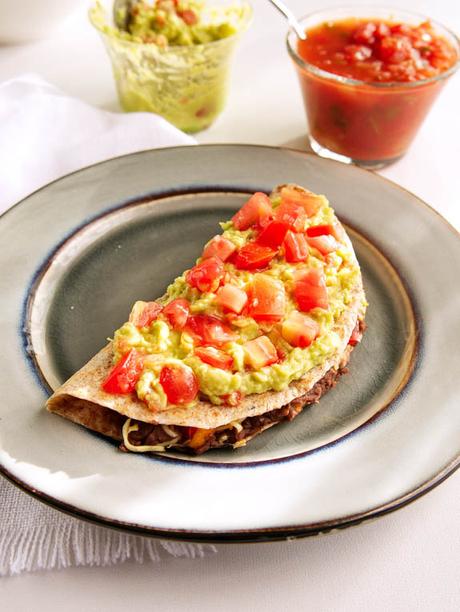 This is the perfect weeknight meal! I hope you and your family enjoy this recipe as much as we do!
Healthy Black Bean Quesadillas