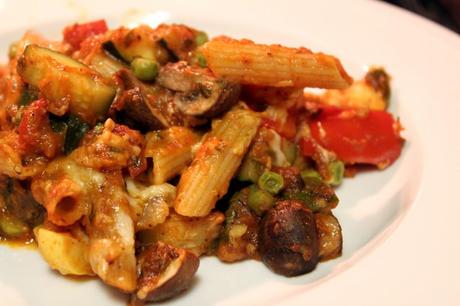 Today is my birthday, and it's also a special day because it's 3 days away from my 4 year wedding anniversary (July 8th), and 4 days away until the hubby and I move into our new place (July 9th)! So in honor of my birthday, I thought I'd share one of my favorite recipes that I recently made – a healthy version of Baked Ziti ("Healthy Baked Penne with Roasted Vegetables"). This is one of those recipes that is so comforting and homey, but also amazingly flavorful that makes it seem like it came from a fancy restaurant.
The first time I made this my husband LOVED it – he said it was hearty and couldn't believe it was good for him too. I created this recipe from a FoodNetwork recipe I found from Giada De Laurentis. The original recipe is much less healthy (which you can see in my modification notes below in purple). But I promise, this version doesn't skimp on any of the flavor from the original!
The Ingredients
2 red peppers, cored and cut into 1-inch wide strips
2 zucchini, quartered lengthwise and cut into 1-inch cubes  
2 summer squash, quartered lengthwise and cut into 1-inch cubes
4 cremini mushrooms, halved

(I ended up using about 8 cremini mushrooms)

1 yellow onion, peeled and sliced into 1-inch strips
1/4 cup extra-virgin olive oil 

I used about 1.5 Tbsp extra virgin olive oil

1 teaspoon salt, divided
1 teaspoon freshly ground black pepper, divided
1 tablespoon dried Italian herb mix or herbs de Provence

(I didn't have this, so I used 2 tsp dried oregano + 2 tsp dried basil + garlic powder and a pinch of crushed red pepper)

1 pound penne pasta

(I used whole wheat penne)

3 cups marinara sauce (store bought or homemade)

(I used Trader Joe's Tomato Basil Marinara)

1 1/2 cups frozen peas, thawed
1 cup grated fontina cheese; 1/2 cup grated smoked mozzarella; 1/4 cup grated Parmesan, plus 1/3 cup for topping

(I used about 1-1.5 cups of cheese total, and I used a fontina, mozarella & parmesan blend)

2 tablespoons butter, cut into small pieces 

I omitted this – you don't need it!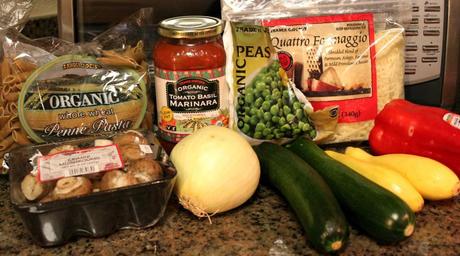 The Directions
Step 1:
Chop all the veggies and preheat your oven to 450 degrees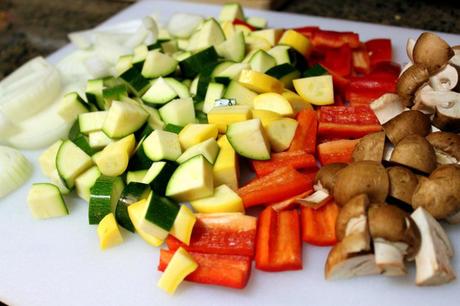 Step 2: 
On a baking sheet (or in a casserole dish/large pan), toss the peppers, zucchini, squash, mushrooms, and onions with olive oil, 1/2 teaspoon salt, 1/2 teaspoon pepper, and dried herbs. Roast until tender, about 15 minutes.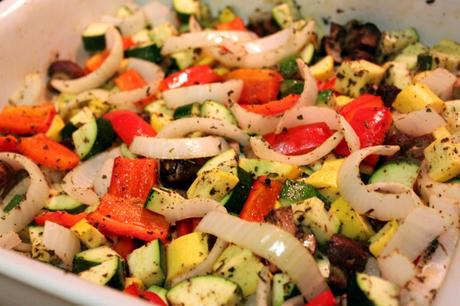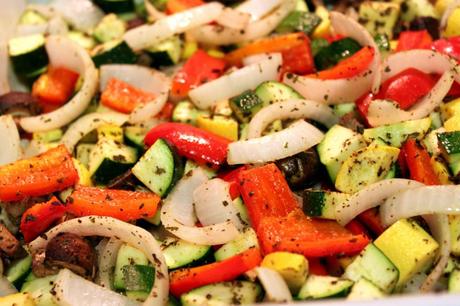 Step 3: Meanwhile, bring a large pot of salted water to a boil over high heat. Add the pasta and cook for about 6 minutes. Since you will be cooking the pasta a second time in the oven, you want to make sure the inside is still hard. Drain in a colander.
Step 4: Once the veggies are done, toss the drained pasta with the roasted vegetables, marinara sauce, cheeses, peas, 1/2 teaspoon salt, and 1/2 teaspoon pepper. If you used a large casserole dish/pan to roast the veggies in, you can just dump all of the additional ingredients (pasta etc.) into that pan to mix everything together (that's what I'd recommend!). Using a wooden spoon, gently mix, until all the pasta is coated with the sauce and the ingredients are combined.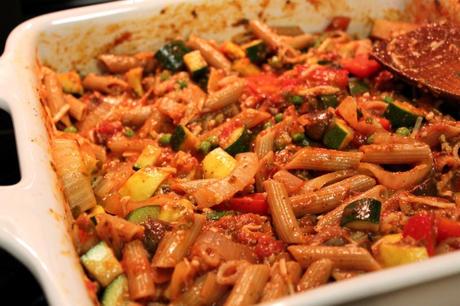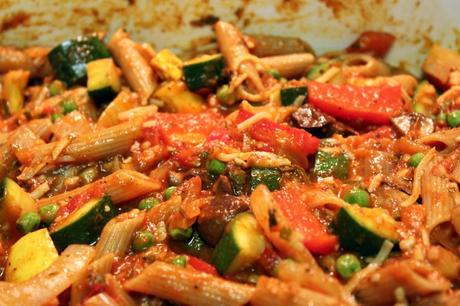 Step 5: Top the pasta with the remaining cheese (about 1/3 cup).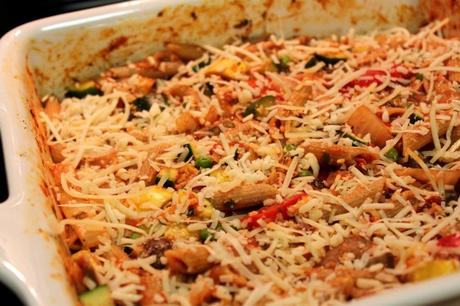 Step 6: Bake until top is golden and cheese melts, about 25 minutes.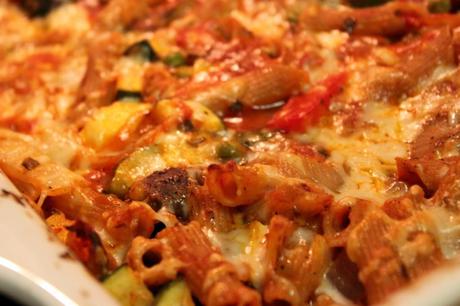 I love how gooey and bubbly the cheese gets once it's all melted!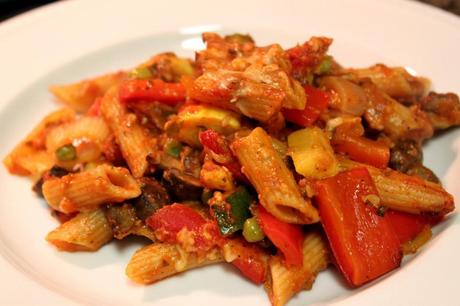 The veggies were perfectly cooked, and the whole wheat pasta gave the dish a great nutty quality. This is definitely a husband favorite in our recipe book!