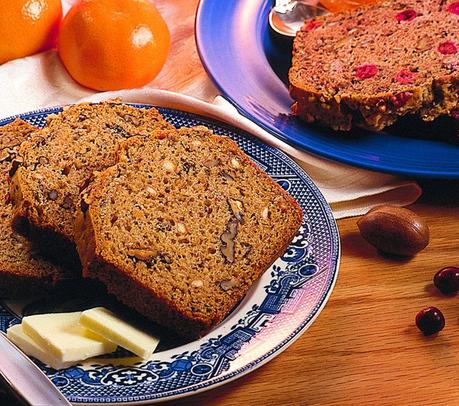 Banana bread is one of my favorite morning baked treats in the world. There's just something about it that is absolute perfection, I mean who doesn't love bananas and walnuts surrounded by doughy goodness?
Unfortunately, most banana breads really should be called banana cakes. They're loaded with fat and calories – because honestly, they're pretty much like a cake. Whenever I'm at a breakfast buffet and there's banana bread as an option, I always try to steer clear of it, and limit myself to 1-2 bites at the most.
The husband can usually polish off a piece of banana bread without thinking twice, and somehow it doesn't show up anywhere (don't you hate how men always seem to get away with stuff like that?

). But obviously, it's not good for him either because on the inside, the sugar and fat is still affecting his body. [He looks at me and gives me the "I know, I know" look].
I've been on a quest to find a healthy banana bread recipe for a while now, because I was determined to find a way to enjoy this treat that I love so much. And finally, I came across this recipe from a friend, and it was delicious!
The Ingredients
2 large eggs
¾ cup sugar
4 very ripe to overripe bananas
1/2 cup chopped walnuts
1/3 cup buttermilk
1 tbsp vegetable oil
1 tbsp vanilla extract
1 cup all purpose whole wheat (or white) flour
¾ cup whole wheat pastry flour
1 tsp cinnamon
1/8 tsp all spice
1/8 tsp nutmeg
½ tsp salt
2 tsp baking powder
½ tsp baking soda
The Directions
Preheat over to 325. Spray a loaf pan with cooking spray and dust with flour.
Mash the bananas in a small bowl with a fork. Beat eggs and sugar with an electric mixer until thick, about 4 minutes.
Add bananas, buttermilk, oil and vanilla extract and mix again until well combined, about 1 minute.
Sift in remaining dry ingredients, and beat until blended, about 2 more minutes. Pour batter into prepared loaf pan.
Bake about 1 hour, or until golden brown on top and fork inserted in center comes out clean. Turn out onto rack and let cool. Slice and enjoy!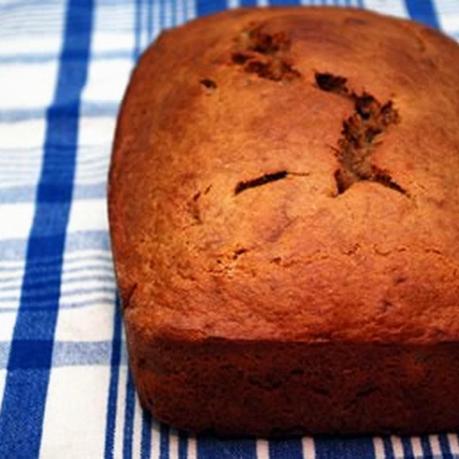 Now, for the twist. If you don't like bananas, but still want the moistness that comes with this banana nut bread recipe, you can make a simple nut bread recipe by substituting 1-2 cups of split pea puree for the bananas.
How does this work? Here's how to make the puree:
Add 2 ½ times the amount of water as split peas or lentils. Bring to a boil, reduce heat, cover and simmer for 45 minutes–the longer they cook, the thicker and softer they become. Stir frequently. Cool slightly and do not drain. In small batches, mash or pureè lentils or split peas with a sieve, food mill, blender, food processor, or potato masher. Pureè should be the consistency of canned pumpkin. Add water to thin, if needed.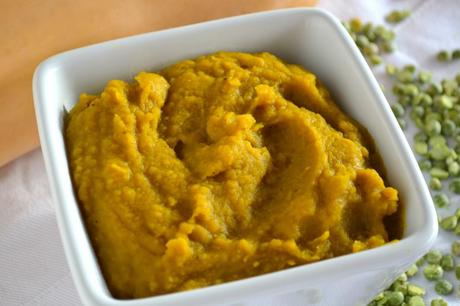 I wouldn't add both the puree and the bananas, I'd add either one or the other. And the split pea puree counts as a wet ingredient, so when you're combining ingredients, make sure to add it to the wet ingredients bowl!
This recipe makes 12 thick slices (or 24 thinner slices), and the nutritional info is definitely more guilt-free than most banana bread recipes. One huge slice (for the 12 serving portion) has ~180 calories, 2-3g fiber, 4g protein, and with the bananas, about 17g sugar. Without the bananas, the sugar content goes WAY down. Hope you enjoy this recipe as much as I did!