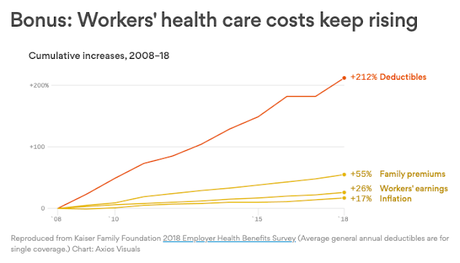 Health care is shaping up to be an important issue in next year's election -- maybe the most important issue. It's not just because millions of Americans are unable to afford health insurance (and that number is growing under Trump), but even those with health insurance are being squeezed. The cost of both insurance and medical care/drugs are rising exorbitantly, while life expectancy in the U.S. is dropping.
The chart above and the articles below are
from Axios.com
:
Health insurance through an employer — the way most Americans get it — costs an annual average of almost $23,000 to cover a family. That's enough to 

buy a new Volkswagen

every year.
And while those costs keep rising, Americans' life expectancy is falling.
By the numbers: 

The U.S. spent $3.6 trillion last year on health care.
We spend far more than any other rich country, but are no healthier for it.
Between the lines: 

We don't spend so much because we go to the doctor more than people in other countries. It's because we pay much higher prices for the same services — MRIs or a knee replacement or new drugs. And those costs keep going up.
Our actual health

 isn't great, either.
Americans' life expectancy has been declining for three straight years — the first time that's happened in decades. 

That's largely a product of the opioid crisis, and in part because the U.S. spends its money on treating physical illnesses, rather than on prevention or mental-health treatment.
--------------------------------------------------------
All the bad parts of the health care system — poor health, high costs, inadequate access — are worse in rural areas, 
Axios' Marisa Fernandez reports.
"This rural disadvantage

 is unprecedented," said James Kirby, a federal health researcher.
Mortality rates are higher in rural areas, and many of those disparities are getting bigger.

Women in rural areas are more likely to die from pregnancy-related deaths than urban women. Two-thirds of these deaths are preventable.
Between the lines: 

Operating a health care practice, especially a hospital, in a rural area is tough: There aren't many patients, and a large proportion of them are covered by Medicare or Medicaid.
More than 100 rural hospitals have closed since 2010, and those still up and running have slashed some services for patients in order to survive, according to a study published this month by Project HOPE. 

It can also be hard to recruit doctors to work in rural areas.
--------------------------------------------------------
Soaring health care costs are bad news for patients and taxpayers, but great news for the very profitable health care industry, 
Axios' Bob Herman writes
The big picture: 

The health care industry has profited heavily in 2019. Expect more of the same in 2020.
Most health care companies are immune from the trade war, and Washington isn't about to impose any cost controls. And the industry will continue to benefit from the GOP tax cuts.
Hospitals'

 rush to issue new debt signals they will find ways to fill beds. 
Pharmaceutical companies 

will keep hiking the prices for popular treatments and fighting off cheaper competitors.
Insurers

 are benefiting from the rising popularity of private Medicare Advantage plans.
UnitedHealth, the largest health insurance company by revenue, just forecasted a very profitable 2020, in line with Wall Street's estimates.
Pharmacy benefit managers 

have faced challenges to their business models in states, but the biggest ones have insulated themselves by merging with insurance companies.
Speaking of health care mergers,

 expect more of them, even after the spate of blockbuster deals over the past few years.
--------------------------------------------------------
Here's where the leading Democrats stand on how to fix our health system:
The way Democratic presidential candidates talk about "Medicare for All" has shifted and sharpened over the course of the campaign — and Medicare for All has gotten less popular in the process.
When Sen. Bernie Sanders 

introduced his Medicare for All bill in 2017, all of his likely 2020 rivals in the Senate signed on as cosponsors, and many Democrats treated Medicare for All as a catch-all or a loosely defined goal.
What they're saying: 
Sanders

 hasn't changed at all. He has tweaked the details of what his plan covers, but still makes the same forceful case for a national plan with no copays, deductibles, premiums or coverage limitations — paid for by tax increases.

Sen. Elizabeth Warren 

still backs Sanders' version of the national health plan, but has said she would pursue a public option first, then a full-scale single-payer program later.

Pete Buttigieg

 has long supported a public option, not Medicare for All, though his criticism of single-payer has gotten more aggressive as he (and Warren) have climbed in the polls.

Joe Biden

 also has a clear position on Medicare for All: He's against it. He, too, prefers a public option. "The party's not there. The party's not there at all," he told "Axios on HBO."