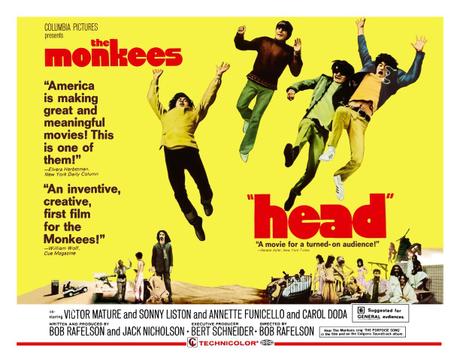 "Hey, hey, we are The Monkees

You know we love to please

A manufactured image with no philosophies

We hope you like our story

Although there isn't one

That is to say there's many

That way there is more fun"
Attempting to explain the plot of Head is truly an exercise in futility. The above quote comes less than 10 minutes into the movie, so you certainly can't say this movie makes any false pretenses. Pretty much everything mentioned in this chant is what Head delivers. (Although I wouldn't say it's a "no philosophies" movie since it does have some political moments in it.)
If you've ever wondered what would happen if the members of The Monkees got together with Jack Nicholson and spent the weekend taking drugs and brainstorming ideas for a movie, look no further than the movie Head. No, really, that actually is how this movie came about. Apparently every crazy idea they came up with made it into this one movie.
You could say that Head is an abstract satire of TV/music stardom, but there really isn't one main story; it's more of a series of vignettes and musical numbers that deal with themes like free will.This is a movie that truly has a little bit of everything: Davy Jones doing a parody of Golden Boy with Annette Funicello, Mickey Dolenz assaulting a Coke machine, a parody of The Perlis of Pauline, a cameo by Frank Zappa, The Monkees being terrorized by a giant Victor Mature, lots of 60s psychedelia, and of course, lots of music.
Given the non-linear nature of the film, Head simply isn't going to be everyone's cup of tea. But despite that, I'm one of the people who loves this movie. It doesn't make sense in the way that people traditionally expect movies to, but it has a lot of interesting things going on in it. The soundtrack is absolutely fantastic. In terms of editing and visuals, it's a really fascinating movie to watch. There's plenty of comedy in it. All things considered, this movie is endlessly entertaining to me. The fact that it doesn't have a conventional plot, but still manages to be so entertaining, makes it the kind of movie that's perfect to watch if I've really mentally exhausted myself at work that day. I don't have to think about it, it makes me laugh, and I love the music in it — after a long day, it's pretty much everything that I could possibly want. But just because I don't have to think too hard about it doesn't mean it's totally without meaning; I really do like the way it handles the themes of freedom.