HC Unit, I don't even really know what that means, but four of them seem to make a non-excessing (or no-net-charge) Helium atom, the first Nobel gas. Twenty of them seem to make a non-excessing (or no-net-charge) Neon atom, the next Nobel gas. Twelve of them therefore have four valence gaps in their ring or cycle... i.e. Carbon 12.
I suspect that the 'atomic structure' of the larger-ring atoms is based on the arrangement of the previous 'nobel' atoms otherwise seen as four kinks in the HC12 chain i.e. Carbon would have a 'structural' or 'virtual'  +0-0  Helium at the core of its twelve with the eight remaining outer HCs-in-the-chain offering the valence of what we call four outer shell electrons in particle-speak.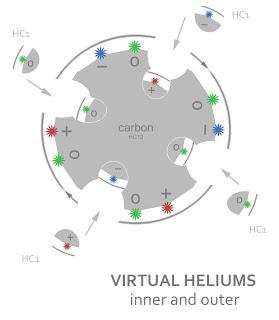 We make the 'virtual helium' in the HC12 chain by taking the first HC of each three-HCs in the twelve chain, this gives us the classical +o-o of Helium while retaining the cycle of the twelve HCs that line up to make the Carbon atom. Each of the remaining eight HCs in the chain is paired off as either a o- or a o+ standing out from the 'atom'. This allows a single HC valency to move into the gap left in the Carbon12 chain forming four new 'virtual helium'  +o-o  i.e. no net charge rings.