While it's not the hardest thing in the world to go and get sex in Bangkok, it's pretty difficult to find a girl who knows what she is doing in the sack. If you read my site you will have seen the banners for various Bangkok escort sites, they are my sponsors and help me run the site by paying my hosting costs and 'research' money for other articles.
This article will give you a breakdown of what you should expect when hiring a Bangkok escort for the night.
What to expect
You can either call, email or speak to live chat (when they are online) to book a session. You pick the girl of your choice from the list and she comes to your hotel or condo. She won't be dressed in a short-skirt or anything too relieving, the idea of Bangkok escorts is to be discreet and professional
You usually pay the girl or girls when they arrive. This is the standard process and then you get down to whatever it is you want to do ;).
How much do Bangkok escorts cost?
It depends on the type of service you need and how many hours you booked.Prices tend to start from 5,000 baht upwards. Bangkok escorts may cost more than soapy girls or other types of massages in Bangkok but here you won't get messed about, girls giving up after 25 minutes and begging for a tip or all the other crap that ruins the whole experience.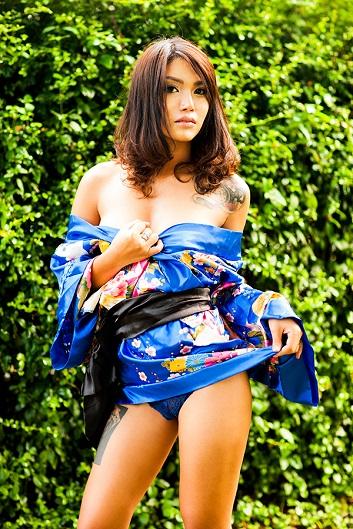 The idea of these escorts services is to provide a top notch experience. You book 2 hours - you GET 2 hours of fun.
Generally speaking Bangkok escorts offers a much better service than your regular massage girl, they have been told how to act, behave and is a service which you pay for quality.
Benefits of using an out-call service
There are several benefits, these include:
Shy guys - Perhaps you don't like Soi Cowboy or Nana, don't want to speak to girls or strike a deal, using a Bangkok escort cuts this crap out. Perhaps you have special requests but feel too shy in asking the girl if she can perform them, on escort sites in Bangkok everything the girl can do is listed.
Convenience - The biggest plus to using the service is the convenience, you don't have to trawl along Sukhumvit to find the right girl, make an effort to visit a club or even put pants on. Bangkok escorts come straight to your door.
Get them to dress up- The escort sites that are on my site offer role-play and a bunch of uniforms you can have the girls wear for your pleasure.
Girls are checked - All Bangkok escort girls listed in this article are checked every 3 months. Don't worry about booking an appointment with the doctor, you'll be safe.
Weekend girlfriend - If you want to go to the beach or up north but don't fancy doing it alone, you can hire any of these girls to be you traveling partner for the weekend.
How to order out-call escort services
Simple, use any of the links I mentioned on my site. They are the best in the business, used by business men, expats and tourists.
If you are into women then check out bangkokescort.com or if you like ladyboys and want to keep it discreet check out ladyboysbangkok.com.
If you ever get tired of walking around not being able to find a sexy girl or keep visiting massages where the girls are giving you a lousy experience, check out one of my sponsors and let me know how you get on.
With the quality of girls in Bangkok massages going down, the next time you want some action consider trying out a Bangkok escort.
This was a guest post on behalf of bangkokescort.com (written by me obviously)