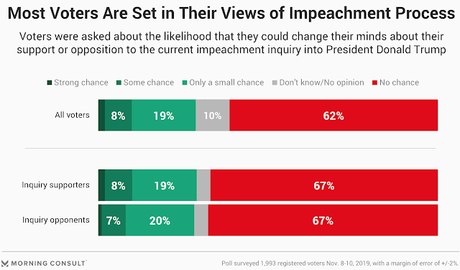 The chart above is from a recent Morning Consult Poll -- done between November 8th and 10th of a national sample of 1,993 registered voters, with a 2 point margin of error.
As the public hearings begin on the impeachment of Donald Trump, the Democrats are hoping those public hearings will convince a significant majority of voters that impeachment is the correct option. But can they accomplish that? Or have the voters already made up their minds?
This poll shows a majority of about 62% say they have made up their minds about impeachment, and there's no chance they will change that. And that's true of both sides -- with 67% of those supporting impeachment and opposing impeachment say they won't change their minds.
That does leave many people to convince. Only 27% say they could change their minds, and another 10% with no opinion either way.
Fortunately for the Democrats, they don't need to convince a lot of people. With about half the population already supporting impeachment, if they can just get about half of those saying they could change their minds then they would have a clear majority favoring impeachment and removal.