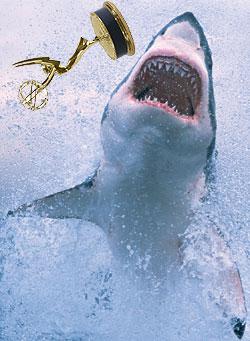 Personally, I have officially decided that the Emmy's are not worthy of my interest anymore.
To have snubbed the entire cast  of True Blood (with the exception of the wonderful, Alfre Woodard) makes my blood boil.
I think that just because True Blood is campy, fun and oftentimes outrageous that the Emmy voters don't take it seriously. I just don't get it. Whether the show is in a "supernatural" genre or not, the acting, writing, producing, in addition to the technical work should be rewarded for it's excellence.
However, I take some comfort in the fact that many times, real true art doesn't get recognized because it goes out on the edge and pushes the envelope. In my opinion, True Blood is one of the shows that does just that and am not alone in this opinion.
At Watch with Kristin, she writes in her article entitled, "Five Biggest Emmy Nomination Snubs" about True Blood' saying: "Last year, it crashed the Outstanding Drama Series race. Today, it just crashed, dropping out out of the glamour category, despite picking up four nominations overall. On the upside, Alfre Woodard, a longtime Emmy favorite, nabbed the series' first-ever acting nod, for Guest Drama Series Actress. On the downside, that means Anna Paquin and Stephen Moyer were denied again."
I agree that Anna and Stephen both deserved Emmy nods, but the biggest travesty is the most noticable omission of Denis O'Hare and his exceptional performance of Russell Edgington; I find it unforgivable.
I am done with the Emmy's until they start to recognize the excellent work done on True Blood!  So, for me, The Emmy's have jumped the shark!
Please show HBO you love True Blood and think it deserved better by leaving a comment by clicking on ADD COMMENTS above!
~lynnpd