So our wedding venue is booked, or 'on hold'.  So what is on the menu?  Our plan was to have a classic, formal dining reception with an entree and main, and source a small wedding cake from somewhere in Sydney. (Remembering we are only expecting to serve 25-30 guests).  Doesn't have to be too extravagant – although I was kinda in love with this >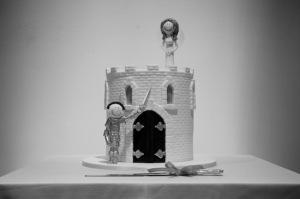 But the cakeage costs were a bit of a shock.  But … we are told if we serve a full menu (entree, main and dessert), the cakeage cost is all forgotten(!)  And not only that – it actually works out to be exactly the same cost to serve our guests an entree, main, dessert, and wedding cake, as it would to serve an entree, main and wedding cake.  So either we save money = no wedding cake, or we follow tradition = and our guests have dessert and cake and coffee with petit fours.
SO we know one thing for sure – there will be no lolly bar, despite how adorable they are.  (Image: Ooh La La Lolly Bar).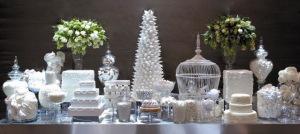 Nor any food items as bonbonierre.  Because otherwise our guests will be waddling away from our wedding!  But what about the "wedding" cake?  Yay or nay?  We are not into the whole 'cake smash', or 'cake in the face' routine.  But, it will be our wedding day after all.
So that got me thinking.  Not that I am big into DIY, but what if I baked the cake?!  Shock, horror – Mr. J will read this and say – "Jen, baking?  Yeah, … nahhh".  But we don't need a tiered cake, and surely it can't be that hard?  Right?