Friday, it's dreary, humid, and dark but really, I'm older now and beyond the funk induced by the DC area's unpredictable weather.  I should say that I'm wiser, not just older, although I am definitely older.  Ha!!  I have hope today and I have focus.  Prince George's County is not all that it could be but it's moving mostly in the right direction.  Meeting with the Prince George's County Social Innovation Fund's (PGCSIF) Forty UNDER 40 cohort, County Executive Baker, his staff and invited guests to discuss how the cohort could be an active part of the county's solution was a great addition to my week.  PGCSIF Managing Director ToniaWellons charged us all  "to move from good to great."  County Executive Baker acknowledged that "We have the greatest potential for growth" but right now the road to Prince George's County needs developing.   A lot was said that evening but what encouraged me was the willingness of residents to work for better by partnering with the Transforming Neighborhoods Initiative and other county programs to innovate and offer more than just snarky critiques.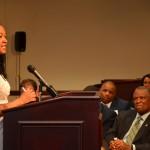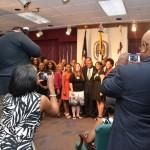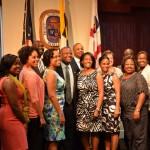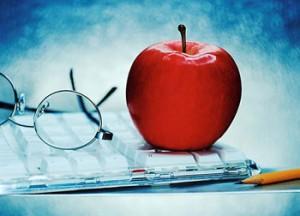 Speaking of critiques, we all have one as it pertains to our education system here, even County Executive Baker has complained about late school buses and uneven school performances, great in some areas but lacking in others.  Now the state of Maryland is eligible to receive $250 million in federal funds from the Race to the Top Program, after Maryland approved new teacher evaluation systems in Prince George's County Public Schools and 20 other Maryland school systems.  From the Washington Times, "The plan approved Thursday bases 15 percent of each evaluation on the statewide Maryland School Assessment, or MSA, standardized test, said Maryland State Education Association Vice President Cheryl Bost."   Wow. I would not want this if I was a teacher and the article does mention that teachers see this as punitive, "Nationally, many teachers viewed the requirement as punishment. This, Maryland State Superintendent of Schools Lillian Lowery said, is far from accurate. "The evaluation plans are designed to improve professional development for educators, first and foremost — not as a punishment system," she said.

 About 70% of the revenue generated in Prince George's County is from property taxes and reports show those property taxes will be bringing the county more money.  Median home price just jumped again; from $170k to $220k.  The Washington Examiner reported, "Prince George's County led the area in terms of price growth in May, reported Corey Hart of the Real Estate Business Intelligence Index. Bidding wars and low inventory issues affecting other part of the metro area now also are prevalent in the county. The median average price rose 18.8 percent, from $170,000 to $220,000, following a strong showing in April with a 10 percent increase. Closed sales also were up by 11 percent.  While Prince George's still lags behind the rest of the region because of foreclosures, things are looking up in neighborhoods such as Mount Rainier, University Park and Hyattsville."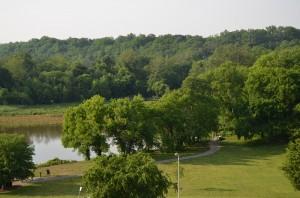 Schoolhouse Pond, Upper Marlboro
I am sure to leave in the sentence about us lagging behind the rest of the region because that is the harsh reality.  I had some crazy Tweets from what looked like a anti-PGCo spammer who just kept sending out messages to all PGCo media outlets about how the county's real estate was at the bottom of Maryland's list.  NEWSFLASH: I know and I don't care.  Maybe in all our striving to recover the real estate market, we shouldn't price hard working people out.  How about that?  I love that there is so much beauty in my neighborhood and I'm not house poor and hungry as I take it all in.