Apple pie and ice-cream is one of life's greatest dessert parings so, as you only live once, YO! Sushi has combined them both in an East meets West twist to create the Japple Pie. Enjoy hot apple and vanilla gyozas with black sesame ice cream, all held in a large crisp waffle cone, complete with your very own syringe of 'sweet stuff'; salted miso caramel sauce.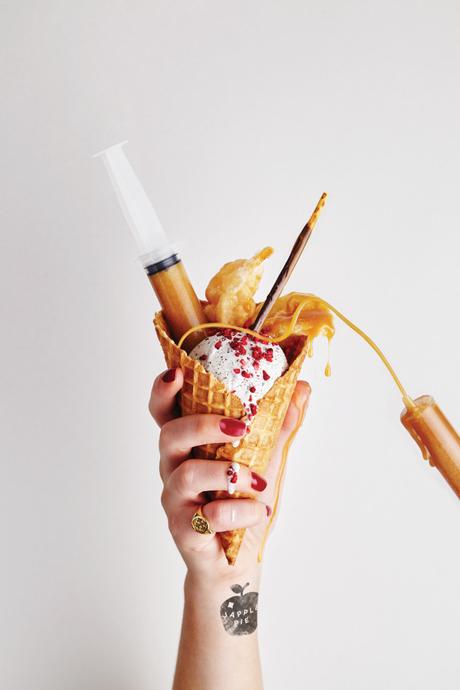 Available from July at most restaurants, the Japple Pie is the second YOLO dish to be launched in YO! Sushi's new 'snooze and you lose' specials series. But, you'll need to live in the #yoment if you want to try the newest hybrid dish on the block as it will only be available for a matter of weeks – a bit like the British summer sun.
 Japple Pie: The Low Down £4.90
Hot apple and vanilla gyozas (crispy fried dumplings) with black sesame ice cream nestled in a large crisp waffle cone, topped with raspberry crumble and served up with your own personal syringe of salted miso caramel sauce so you can squirt as much, or as little 'sweet stuff' as you like. Japan's original chocolate pocky stick finishes off this awesome summer treat perfectly! An indulgent hot and cold treat to be enjoyed inside or out – this treat is also available for takeaway.
Each YOLO dish has been created with a distinct YO! twist by Group Executive Chef, Mike Lewis, "I've developed a unique mash-up of classic dessert combo's but all with a distinct Japanese flavor. Shiro Miso for the salted miso caramel sauce is slightly unexpected but a perfect ingredient to balance the sweetness of this dessert, with the syringe adding an element of fun."
Creative Brand Director Liz Norris says, "Ditch the same old ice cream treat and live in the #yoment with the unique flavor combinations of our new Japple Pie. As this dessert will only be on sale for a fleeting period of time, be sure to make a date with YO! Sushi from the beginning of July and catch pure joy in a cone before it goes. Life is short, eat dessert first."
A social media drive will support the whole YOLO campaign encouraging people to become part of the YO! community by sharing their life's 'YOLO moments' using the hashtag #yoment and inspiring others to live like 'You Only Live Once'. A #yoment can be little or large, it's something brilliant that you've done and don't want to forget about, or something you want to do in the future so get sharing!
Keep up to date with the latest from YO! Sushi at www.yosushi.com  or via Facebook and Twitter@YOSushi