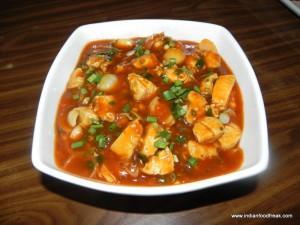 Chatuchak Fried Rice2
Hashtag used to be a least used key for those of us who have seen the days of the typewriter, the difficult-to-get- telephone lines and then the digital telephone box that used to be brought by either an expat uncle or bought from the custom notified shops. The Hashtag used to be known as the pound sign for the strangest reason; sources on internet tell me it was because in old English typewriters the pound key used to be on number 3. Then with the advent of credit cards and tele-information the Hashtag became the key you press to indicate correct information has been entered. You must be wondering why am I reminiscing about this and that is because the day I visited Hashtag I felt like the correct information has be entered ! It was one of the few places I can safely say that has value for me not only in commercial terms but also flavour, service and innovation. It's truly the new-age Hashtag – the one we use to Tweet !! The one that marks and touches everything that relates or is important; in my case Food!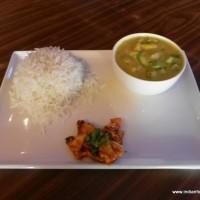 Burmese Mixed Veg Curry
We started with a delightful mocktail – November Breeze; an apple juice, cranberry, vanilla ice-cream combination that was delightfully refreshing. We moved on to the cocktails (in the middle of the afternoon on a working day!). First one was Delight; a white rum, coconut, fresh cream, kiwi crush combination and it was true to its name. The second was B53; a stonger version of B52 and the Triple Sec is replaced by Vodka. Served in a medium shot-glass with Baileys and Kahlua, it sure was a zany bomber. I loved it and wished it wasn't afternoon (You know what I mean – I would have downed a few more no doubt if I didn't have to go and work!)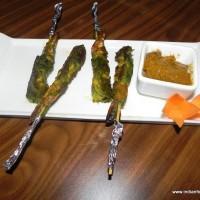 Charmoula Prawns
Hashtag has a huge starters and breakfast menu (misnomer as breakfast menu is served all day till 12.30 am) and so well priced keeping in mind the young college crowd or the yuppie professional, that you would naturally tend to order more even if each dish carries 6 pieces each. We started with the starters Charmoula Prawns (Rs. 189); green masala encrusted grilled pieces of flavour-bursts. The prawns were fresh, succulent and so beautifully spiced one could make a meal of those.  The Rice balls (Rs. 199) were so well spiced that I did not even notice that they were vegetarian. The Jalopeno Poppers (Rs. 119) can become a vegetarian cheese lover's addiction.  Next were the Cordon Bleu Chicken (Rs. 149); chicken mince lightly spiced meatballs eaten with sweet chilli sauce. The Chicken Satay (Rs. 149) was soft tender and tasteful. Usually in places like these I have found the chicken to be rubbery and hard – no such thing here. I am not a huge fan of peanut flavor and yet loved them alongwith their mildly flavoured peanut sauce. The Conjee Drumlets (Rs. 139); signature dish of Hashtag were crumbed drumsticks so succulent and tender I dare if a person can resist after eating one!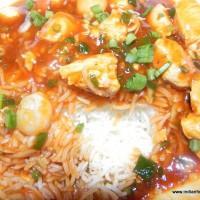 Chatuchak Fried Rice
The mains were Chatuchak Fried rice (Rs. 149) and Burmese Mixed Vegetable curry rice (Rs. 199). The chatuchak rice a sweet sour chicken chunk sauce on steamed rice had all the right flavours in balance but the surprise dish was the Burmese curry which had a rich creamy coconut flavor with zucchini and mushrooms.
It was too good to be true. So I must admit, I ordered home delivery to check on the quality and boy! Was I pleasantly surprised! It had the same quality and flavours. In short I believe Hashtag is indeed a treasure that you would want to tag and revisit often for the sheer value, quality and service that it offers.
Ratings out of 5
Food: 4 | Ambiance: 3.5 | Service: 4 | Overall: 4
Meal for Two without Alcohol: Rs. 750 Approximately plus taxes| Alcohol: Yes | Credit Card: Yes|
Timing: 9 am to 1.30 am
Address: SVP Nagar, Lokhandwala Road, 4 Bungalows, Andheri Lokhandwala, Andheri West, Mumbai
Rice balls
Jalapeno poppers
Honey noodles with Butterscotch Icecream
Cordon Bleu Chicken
Congee Drumlets
Chicken Satay