Star Wars fans will certainly be queuing up this Christmas to get their hands on this guy.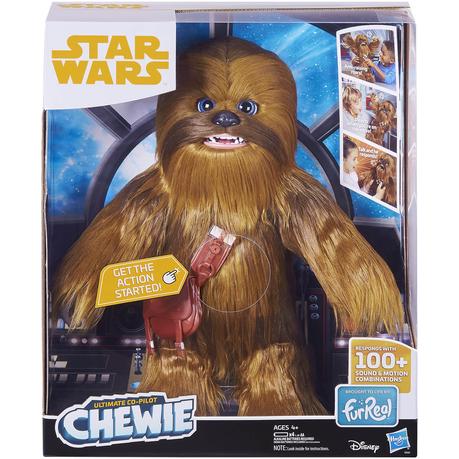 This being Chewie, or Chewbacca which is his full name. He's a big furry interactive bear like creature. He is kind of cute but with a slightly fierce look to him. Chewie comes with his batteries installed and therefore ready to use straight from the box.
Now I'm not the biggest Star Wars fan myself. To be honest I was never really into it at all when I was younger and still not. My kids so like Star Wars and have seen all the recent movies. I do recall my younger brother having the big Millenium Falcon on his Xmas list for many years but never actually getting one. I think it was rather pricy back then. Well Chewie here doesn't come cheap either. In fact if you want to own a FurReal Chewie then expect to pay at least £124 for one. Yes this certainly is one of those "big main presents"
So your probably asking yourselves - what does Chewie do? Watching this video on you tube may just answer that.
Well Chewie has over 100 sounds and motion combinations and yes he sounds just like the real thing from the movies.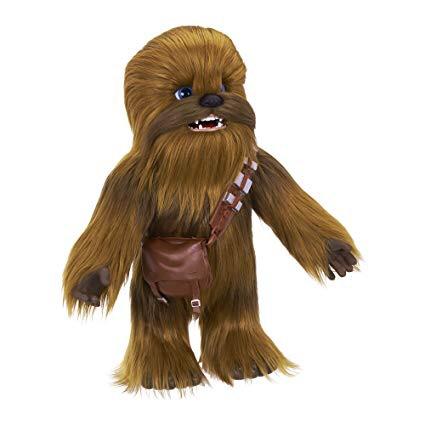 He talks in the familiar Wookie language, a lot of what he says isn't that understandable. He also lifts his arms, makes other movements and even sleeps and snores when lying down. He does quite a few things, a lot of roars, but he doesn't walk; which for over £100 is a slight disappointment. He will react to voices and sound.
Fans of Star Wars will no doubt be eager to get hold of Chewie to add to their collections and who knows, perhaps in 20/30 years time Chewie May just triple in price for avid collectors. Just like the old and now much sought after Millenium Falcon. He is quite a fun furry friend for the little ones but I can't help thinking that this will end up one of those toys at the bottom of the toy box. I get that this is part of the big Star Wars franchise but in my opinion it's very overpriced.